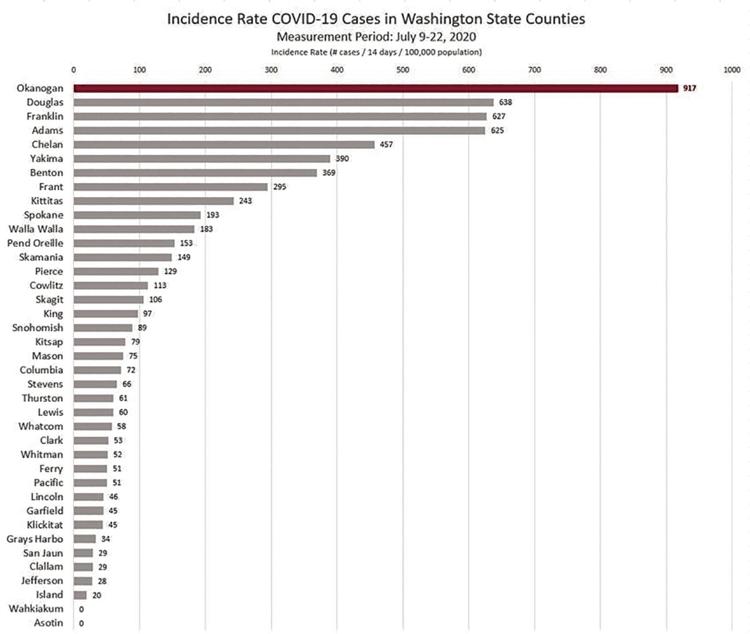 OKANOGAN — With more than 400 new positive cases of COVID-19 in the past two weeks, Okanogan County has the highest incident rate of cases in Washington state. 
As of late last week, the county incident rate (number of cases/100,000/14 days) was 989.9. The next-highest incident rate in the state is in neighboring Douglas County at 638. 
Ferry County has an incident rate of 51. 
In the past two weeks, cases of COVID-19 grew by 423 in Okanogan County, bringing the total case count to 724 as of Friday morning, according to Okanogan County Public Health. 
Total cases by city include Brewster, 452; Carlton, four; Coulee Dam, one; Loomis, two; Malott, 19; Nespelem, 10; Okanogan, 29; Omak, 98; Oroville, 23; Pateros, 39; Riverside, four; Tonasket, 34; Twisp, one; Winthrop, six; unidentified, two. 
As of Monday, there were eight Okanogan County residents hospitalized at Central Washington Hospital in Wenatchee, according to Confluence Health. Of the COVID patients at the facility, an additional six are from Chelan and Douglas counties. 
Five deaths have been reported in Okanogan County. Public Health has not released any information on the latest two deaths. 
In Ferry County, 20 cases have been reported, including 13 in the past 14 days. 
According to the Northeast Tri-County Health District, nine cases are from Inchelium area, four are reported in the east (Kettle Falls, Orient and Laurier), four are from the Republic area, two are in the Keller/Nespelem area and one is reported in the north (Curlew, Malo, Danville) area. 
Last week several new restrictions were imposed under Gov. Jay Inslee's "Safe Start" economic reopening plan. 
It has been four months since the governor announced the state's "Stay Home, Stay Healthy" order. Since then, cases in the state have risen from 2,000 to almost 50,000, and deaths have increased from 110 to nearly 1,500, according to Inslee. 
To combat the rising numbers, the Inslee and state Secretary of Health John Wiesman changed guidance and regulations around restaurants, bars and fitness centers, plus weddings and funerals. The changes also affect family entertainment centers, movie theaters and card rooms. 
"We do not take these steps lightly. We know every prohibition is a challenge for individuals and business owners," Inslee said. "But we know that if we fail to act, we expose people and businesses to even greater risk down the line." 
In a memo July 28, Inslee said gatherings are not to exceed 10 people in Phase 3 counties. The existing limitation of five individuals in Modified Phase 1 and Phase 2 is unchanged. 
Okanogan County is in Phase 2; Ferry County is in Phase 3. 
Inslee also clarified his ban on live entertainment. 
"All live entertainment is prohibited except performances outdoors for members of the same household where social distancing of a minimum of 10 feet is always maintained from the entertainer and facial coverings are worn by all individuals," Inslee's memo said. 
"Live entertainment" refers to any activity in which an individual (or individuals) perform for an audience of an individual or individuals, where all are physically present. The prohibition applies without regard to the nature or location of the event, whether the performer receives compensation and whether the performer is featured or in the background. 
The prohibition does not apply to household members within their own homes. 
Other restrictions that went into effect this week include: 
• Alcohol service, including beer, wine, and spirits, service must end at 10 p.m. 
• Vending and other game areas, including billiards, darts and video games, are prohibited. 
• In Phase 3, table size is reduced to five individuals, and occupancy is reduced to 50 percent 
• Bar-area seating is prohibited in all phases. 
• For restaurants, indoor dining at the same table is limited to members of the same household. 
• Indoor service at taverns, breweries, wineries and distilleries is prohibited. 
• If a brewery or winery also has a restaurant license, it may continue restaurant operations pursuant to the safety requirements for dine-in restaurants and taverns. 
• If a temporary structure is erected to provide outdoor service, the structure cannot be enclosed by more than two walls. The limitation on walls applies to both rigid and flexible walls. 
• Indoor family entertainment and recreational centers, including miniature golf, putt putt, bowling alleys, indoor go-karts, arcades and substantially similar activities, are prohibited. 
• Indoor card rooms are prohibited. 
• Indoor movie theaters are prohibited until Phase 3. In Phase 3, indoor movie theaters are limited to a capacity of 25 percent. 
Effective Aug. 10, restrictions to religious weddings and funerals will apply in all phases. 
• Indoor occupancy is limited to 20 percent or 30 people, whichever is less, if six feet of physical distancing between households can be achieved. Outdoor ceremonies are limited to 30 people, and at least six feet of physical distancing between households is required. 
• Consistent with existing guidance, indoor ceremonies are prohibited in Phase 1. 
• Only ceremonies are permitted, and they must follow all other provisions of the "Religious and Faith-based Organization COVID-19 Requirements." 
• Receptions are prohibited.