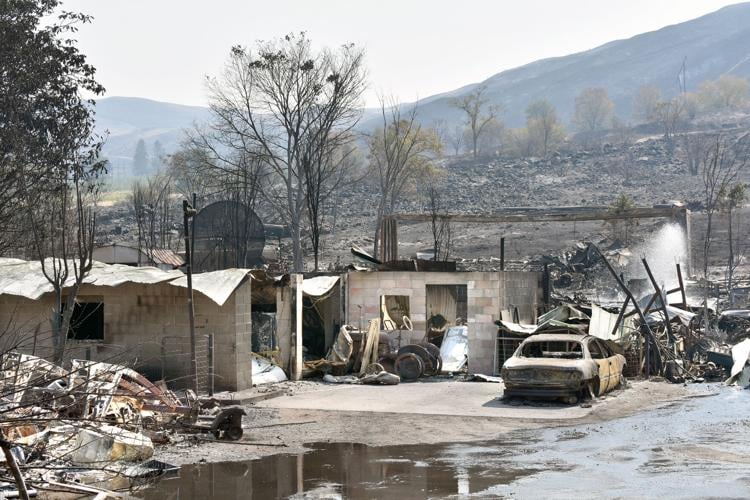 Cold Springs blaze claims toddler's life; mill burns
OMAK – Okanogan and Douglas counties' battle against the Cold Springs and Pearl Hill fires entered its second week Sunday night as firefighters from around the region attacked the fires on several fronts.
As of Monday morning, Sept. 14, the Cold Springs Fire had burned across 188,852 acres of land and was 50 percent contained. The Pearl Hill Fire was at 223,730 acres as of late Sunday night, Sept. 13, with 87 percent containment.
The fires' cause is under investigation.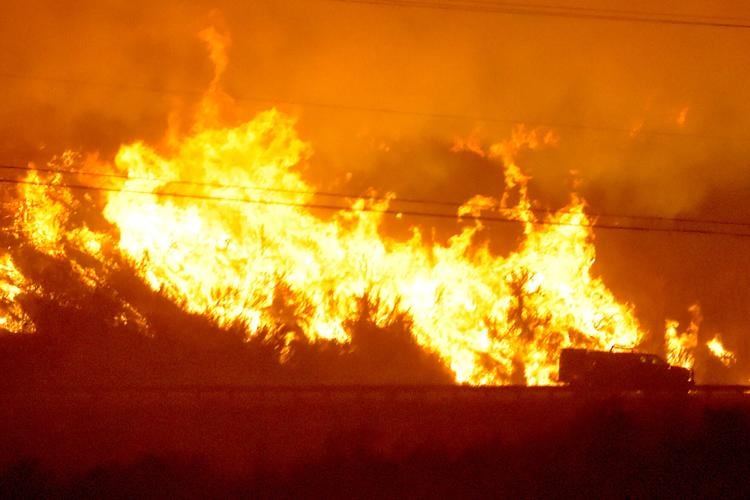 Combined, the fires have charred at 412,482 acres of land and are some 156,474 acres larger than the Carlton Complex Fire of 2014.
The fires actually are one, but have been separated administratively by county. The Cold Springs Fire was reported to the Okanogan County Sheriff's Office at 9:29 p.m. Sunday, Sept. 6, and took off south across the Colville Indian Reservation from its ignition point southeast of Omak. By 3 a.m., it had crossed the Columbia River and continued racing southward through Douglas County.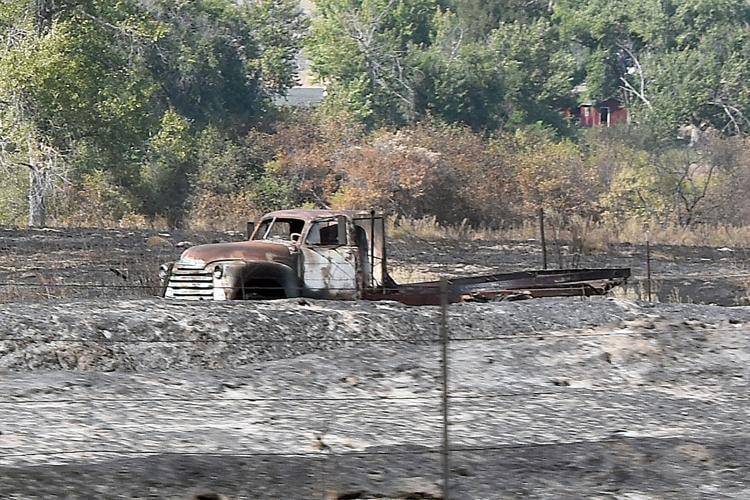 Omak Fire Chief Kevin Bowling said the Cold Springs blaze was perhaps five acres when he and Fire District No. 8 Chief Ed Townsend arrived the night of Sept. 6, but fierce winds moved the blaze quickly through grass and sage.
During the fire's early hours, mostly all firefighters could do was try to stay ahead of the flames, do structure protection and notify residents, said Bowling.
"It was just not safe in some areas" to try making a stand against the flames, he said.
Firefighters also were hampered by looky-loos who clogged roads.
"It was hard for us to get around" at times, he said.
During the week, the fires burned several homes in Bridgeport and northern Douglas County, threatened Mansfield, burned three buildings at the former Omak mill and threatened the Haley Creek area, where several homes burned during the 2015 Tunk Block Fire.
Several homes and other buildings were lost on the Colville Indian Reservation, but no count has been made yet.
Commissioner of Public Lands Hilary Franz, who visited the area Sept. 14, said a count will be made as soon as possible.
The Cold Springs Fire has claimed one life, that of a from Renton.
Jake Hyland, 31, and Jamie Hyland, 26, and their child, Uriel, 1, apparently had recently inherited property off Cameron Lake Road and were in Okanogan County dropping off items on Sunday, Sept. 6 – before the fire started. Extended family reported them missing after they failed to return home on Monday.
The family was found by a Colville tribal Department of Natural Resources boat crew along the Columbia River on Sept. 9. All suffered burns; the child died. 
No one else has been reported missing or injured in the fire.
On Sept. 8, the former Omak mill burned in an explosive conflagration that sent burning debris raining down on areas north and east of the mill site on Jackson Street. No off-site structures were lost.
Although firefighters were on the scene already, the fire burned so fast and so hot that it couldn't be stopped and the building was destroyed, its shell left partially collapsed.
In the greater fire area, firefighters with Northeast Washington Incident Management Team No. 3 were continuing to concentrate on the Haley Creek and mill areas as of Sept. 14.
Crews also are continuing to assist power companies with hazard trees near power lines.
Around 305 people are assigned to the fire.
Columbia River Road from Omak to Nespelem remains closed. Highways 97, 17 and 155 were opened as of Friday morning.
Gebbers Farms, which has multiple holdings in the Brewster area both off and on the reservation, evacuated one guest housing location and took the workers to another housing site about a half mile away, said spokeswoman Amy Philpott.
"This was done out of an abundance of caution," she said. "No one was hurt, and the fire never even reached the evacuated housing."
The workers were returned their original lodging location.
The Gebbers family, which also owns Gamble Sands golf resort, "is fortunate not to have experienced any property damages," she said.
"As members of the community, our hearts go out to those who have experienced losses from the fires," said company President Cass Gebbers.
On the Pearl Hill Fire, a roughly square area bounded by Highway 172 on the north and west, Highway 17 on the east and more or less along Highway 2 on the south remained under a Level 2 evacuation status as of Friday morning, according to the Douglas County Sheriff's Office. Bridgeport was at Level 2, while Bridgeport Bar remained at Level 3.
The blaze burned a swath from Bridgeport to Highway 2, destroying several structures along the way including several homes in Bridgeport. No count of lost buildings is available.
Mansfield was threatened but untouched.
Alicia Pulsifer, a Brewster teacher who lives in Mansfield, said her family evacuated from Mansfield and stayed with friends in the Brewster area.
She said a neighbor who wasn't able to leave told her the fire skirted around the edge of town in a horseshoe shape, "but the fire line that the farmers plowed held and nothing burned in town."
The neighbor's husband fought the fire while she remained in town.
Officials with Northwest Incident Management Team No. 6 said additional fire movement around Bridgeport was expected – the fire burned toward Bridgeport Bar and Crane Road late in the week.
Structure protection and mop-up are ongoing.
Both the Cold Springs and Pearl Hill blazes burned mostly in brush, grass and crops, although some timber was set ablaze in the Cold Springs Fire area.
The Pearl Hill Fire burned the Dyer Hill area outside of Bridgeport and westward. Heading south, it spared Mansfield, burned west almost to McNeil Canyon and north and west a bit to the Columbia River north of McNeil Canyon.
The fire burned along the east shore of Jameson Lake and into Moses Coulee, and spotted southwest across Highway 2 to McCarteney Creek. On the east, it burned across Highway 2 at one point between Moses Coulee and Coulee City.
Gov. Jay Inslee visited Bridgeport briefly on Saturday morning, Sept. 12, and later took flak on social media for the brevity of his visit and for bringing apples for the community.
He said his visit was "to make sure we understand what communities are going through right now," he said. "While I'm amazed by their resilience, my heart hurts for the families who lost so much to these fires."
He expressed gratitude to emergency responders on the front lines.
"These fires have been catastrophic, and (the responders) have been there every day fighting to protect their communities," he said. "It has been nothing short of heroic."
Firefighters – both local and with the incident teams – have put in long hours.
Omak Chief Bowling said he and most of the crews from Omak, Okanogan, Malott, Fire District No. 7 (Riverside) and Fire District No. 8 (southwest reservation) put in about 48 hours straight at the fire's infancy. Their spouses and retired firefighter Les Sutton kept them supplied with sandwiches and water.
They also faced communications blindness when the fire burned the Fire District No. 3 radio repeater on Pitcher Mountain southeast of Okanogan the afternoon of Sept. 7.
Okanogan County's radio building and tower were untouched, but an adjacent facility housing equipment for a cellular provider and an Internet provider were destroyed, as was a building housing the Fire District No. 3 repeater, ambulance-to-hospital radio and Okanogan County Department of Public Works' radio system.
"Car-to-car worked, but dispatch was unable to dispatch us for a couple days and the phones were down, too," Bowling said.
Okanogan County Commissioner Chris Branch, in whose district the fire started, said winds were very strong that night.
"I spent Monday along the fire line" at the junction of highway 20 and 97 helping landowners, he said. "Coordination was excellent with responding fire districts. They acted to save many homes and structures as the old mill debris location (rekindled) and pressed the fire toward the casino and highway."
He said he observed immediate damage to power lines along Highway 97.
Access to the fire zone has been limited. County public works crews, who were active in the fire area, made contact with landowners and reporting observations to commissioners, Branch said.
"We are all aware that the entire West Coast is dealing with severe fires, so resources are growing thin," said Branch. "My daughter and granddaughters have evacuated from their home in Molalla, Ore., and (are) and fortunate to have my son and his family nearby."
He said he has been discussing needs with the governor's office and the office of U.S. Sen. Patty Murray, D-Wash.
Branch said he spent time at the fairgrounds Wednesday evening, checking on efforts to keep and feed affected animals there. (See separate story.)
Commissioners have been coordinating with all immediate relief entities to deal with those who are most displaced and otherwise affected by the fire with few resources to meet basic needs, said Branch.
"Fire is not new to us here In Okanogan County, so fortunately there is an entire culture of resilience that has developed."
Cold Springs / Pearl Hill fires