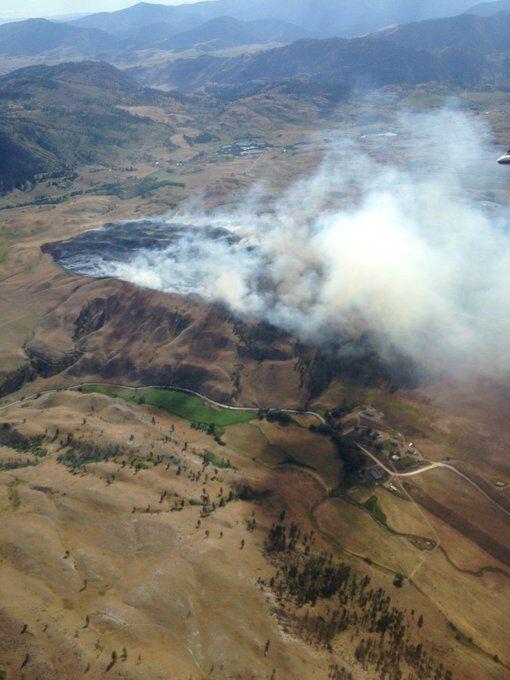 NESPELEM — Area firefighters battled two wildfires earlier this week, with one on the Colville Indian destroying several buildings and threatening Nespelem School, the tribal corrections facility and other buildings.
The other burned in the South Pine Creek area southwest of Tonasket.
The Greenhouse Fire, on the Colville Indian Reservation southwest of Nespelem, was reported at 2:40 p.m. Thursday, July 23, and had burned nearly 1,200 acres by the end of the day, according to the tribe's Mount Tolman Fire Center.
It was listed as 20 percent contained as of Friday, with acreage at 2,500.
Cause of the fire is under investigation.
The fire burned several outbuildings, including the tribal recycling facilities. Threatened structures included homes, Nespelem School, Colville Tribal Corrections Facility, tribal archives and records, and the garbage transfer station.
A level 3 (get out now) evacuation order was issued, but later rescinded.
The tribe evacuated 37 inmates from the corrections facility and temporarily closed the corrections command center.
Tall, dry grass, sage, bitterbrush and timber fueled the fire, and steep slopes and winds caused rapid fire growth, said the Mount Tolman announcement.
The tribe, Bureau of Indian Affairs and local fire departments responded. A Type 2 incident command team was brought in.
Resources on the fire included a 20-person crew, six-person crew, two bulldozers, four type 6 engines and air support that included an air attack plane, four fire bosses, two heavy tankers, two type 1 helicopters, a lead plan and a very large air tanker.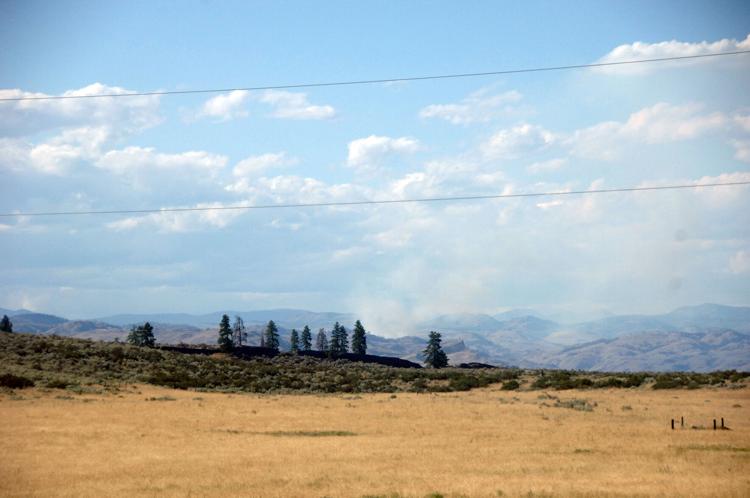 The South Pine Fire, off Pine Creek Road, was reported at 3:48 p.m. Wednesday, July 22, southwest of Tonasket. The blaze burned grass, brush and timber.
As of Friday morning, it had burned across 294 acres of land.
The National Weather Service issued a red flag warning Friday for wind and low relative humidity for the Okanogan and Methow valleys. The warning means critical fire weather conditions are occurring or will shortly.
The forecast for the Omak area calls for hot temperatures, with highs of 97 on Sunday, 102 on Monday and 103 on Tuesday.
As of Friday, the U.S. Forest Service imposed campfire restrictions in the Okanogan-Wenatchee National Forest. Campfires are allowed only in designated developed campgrounds and wilderness areas.
In all other areas, including dispersed camping areas, building, maintaining, attending or using a fire, campfire or stove fire — including those made from briquets — is prohibited.
Also on Friday, the state Department of Natural Resources raised the fire danger from high to very high in the Lower Basin, Methow and Valley fire danger rating areas, and from moderate to high in the Foothills, Highlands and Upper Basin areas.
The rating remains at high in the Chelan, Lower Yakima and Upper Yakima areas, and moderate in the Kaniksu fire danger rating area.
Small debris disposal fires (rule burning) and burning (written burn permits) are prohibited in the Chelan, Foothills, Highlands, Kaniksu, Lower Basin, Lower Yakima, Methow, Upper Basin, Upper Yakima and Valley fire danger rating areas.
Campfires may be allowed in designated campgrounds. DNR urges people to check with local campground hosts before lighting a campfire.
Burn bans are in place in Okanogan and Ferry counties, and on the Colville Indian Reservation.