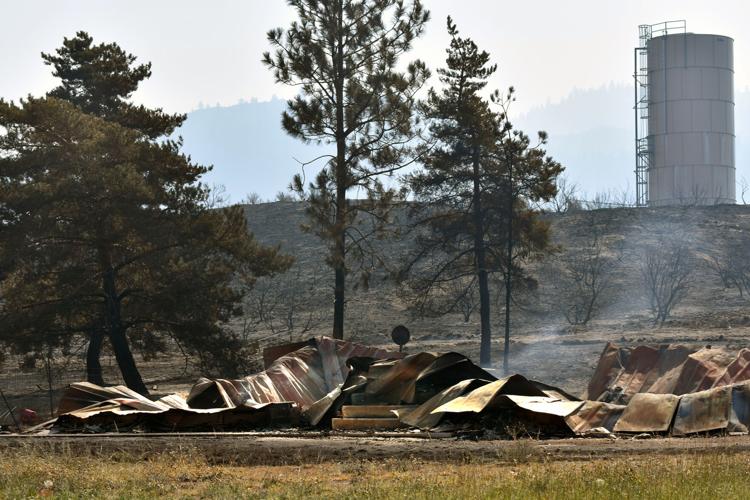 OMAK – Firefighting efforts continue on the Cold Springs and Pearl Hill fires in Okanogan and Douglas counties, with several structures lost to the flames.
No tally has been released on the number of structures burned, although buildings at the former Omak mill have burned along with homes and outbuildings.
Combined acreage burned, as of Wednesday morning, Sept. 9, is approximately 337,000 acres – surpassing the 2014 Carlton Complex fire by about 81,000 acres. Although they are the same fire – the Cold Springs Fire jumped the Columbia River to Douglas County on Monday - officials split them into two fires administratively, by county.
According to fire officials, the Cold Springs Fire has burned around 163,000 acres and the Pearl Hill Fire 174,000.
The fire began along Cold Springs Road southeast of Omak about 9:50 p.m. Sunday. Fierce north winds sent the blaze racing south across the Colville Indian Reservation.
Cause of the blaze is under investigation.
On Monday morning, a smoldering chip fire at the former Omak mill ignited and, again fanned by north wind, flames spread southward to meet the Cold Springs blaze. The chip pile had been smoldering since a late July fire along Rodeo Trail.
Buildings at the mill site ignited early Tuesday morning and later that morning, flames erupted again, destroying the former plywood plant and sending burning embers raining down to the northeast into the Brooks Tracts mobile home area and across the Okanogan River to the sand flat area, and along Omak-Riverside Eastside Road and eastward up Highway 155 toward Haley Creek.
Level 2 evacuation notices were issued Tuesday evening for Haley Creek, an area that burned in 2015 during the Tunk Block Fire. The fire is creeping along between Haley Creek and Dutch Anderson Road as of mid-day Wednesday.
Highway 155 was closed Tuesday from Omak to Nespelem, but reopened Wednesday.
Highway 97 is open again from Omak to Brewster.
Fire flared again Wednesday morning in the sand flat area, and remains active on the reservation, said Okanogan County Emergency Manager Maurice Goodall.
Okanogan County Sheriff's Office and search and rescue were deployed Wednesday morning for a couple and their toddler missing in the Cameron Lake area. They were located Wednesday morning (see related story.)
By Wednesday morning, the Okanogan County Public Utility District had restored electricity and Internet broadband service to most customers, the utility said.
On Monday afternoon, power went out in much of Okanogan County, as did Internet, cell service and land line telephones. Cell and land line service remains sketchy as of mid-day Wednesday.
PUD crews are assessing the damage and working to restore service to those still without power. The utility asks people to contact the PUD, 800-922-7011, to report outages. Those without phone or Internet service can visit any PUD office or use a free Internet hot spot.
Those with damage to the electric system – a meter base, internal house wiring and so on – are asked to contact an electrician for repairs before the PUD can energize service.
Okanogan County dispatch also is experiencing communication problems. Calls to 911 were routed to RiverCom dispatch in Wenatchee because of infrastructure damage, but fiber optics repairs allowed calls to go to Okanogan dispatch by 2 p.m. Tuesday.
Two communications sites were burned, causing damage and resulting in impacts to some agencies' ability to communicate, said Mike Worden, sheriff's office chief deputy of special operations, communications and 911 coordinator.
In Douglas County, the Pearl Hill portion of the fire had singed approximately 174,000 acres by Tuesday night. Several homes, outbuildings, vehicles and equipment items were lost. Several homes in Bridgeport were destroyed.
Mansfield, which also was on a Level 3 evacuation notice, did not suffer damage.
No estimates of the number of structures lost are yet available for either portion of the fire.
The fire burned as far south as Highway 2.
Management teams are coordinating the fire fight for both blazes.
The American Red Cross has set up a shelter at Brewster High School; nearly 100 people stayed there Monday and Tuesday nights, Goodall said. People needing shelter can contact the Red Cross at 509-670-5331.
Evacuated livestock may be taken to the Omak Stampede Arena, Okanogan County Fairgrounds outside Okanogan or North Central Washington Fairgrounds in Waterville.