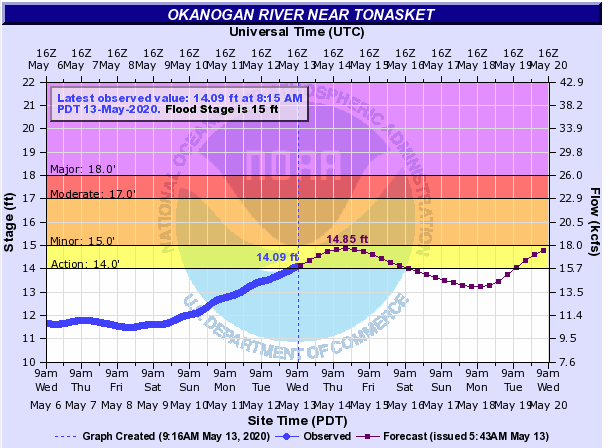 TONASKET – The Spokane Office of the National Weather Service has issued a flood watch for the Okanogan River near town.
"A flood watch means there is a potential for flooding based on current forecasts," meteorologists said Wednesday morning.
As of 6:15 a.m. May 13, the river was at 14 feet. According to weather officials, flood stage is 15 feet.
"Flood stage may be briefly reached Thursday afternoon through Friday morning based on the latest forecast information," officials said. "At 15 feet, minor flooding of low-lying areas is likely between Oroville and Tonasket."
In addition to the flood watch, the National Weather Service issued a hazardous weather outlook calling for heavy rain.
"Showers and scattered thunderstorms are expected this afternoon and early this evening," meteorologists said Wednesday. "The most concentrated thunderstorm activity will likely occur over the mountainous portions of northeast Washington and north Idaho. Brief heavy downpours, lightning, and pea hail will be possible with a few of these storms."
Officials said additional rain is expected Thursday through Tuesday.
"A few thunderstorms may occur over the steep terrain of the central and northern Washington  Cascades leading to the potential of rapid rises on creeks and small streams," officials said. "More locally heavy rain will be possible Sunday over the Cascades. The continuation of wet weather combined with mountain snowmelt will produce rises on rivers through the weekend into next week."
The county's last significant flood was when the Okanogan River crested at 19.71 feet May 12, 2018, at Janis bridge, south of Tonasket.
That level was the third-highest on record, behind 21.79 feet in 1948 and 22.54 feet in 1972.