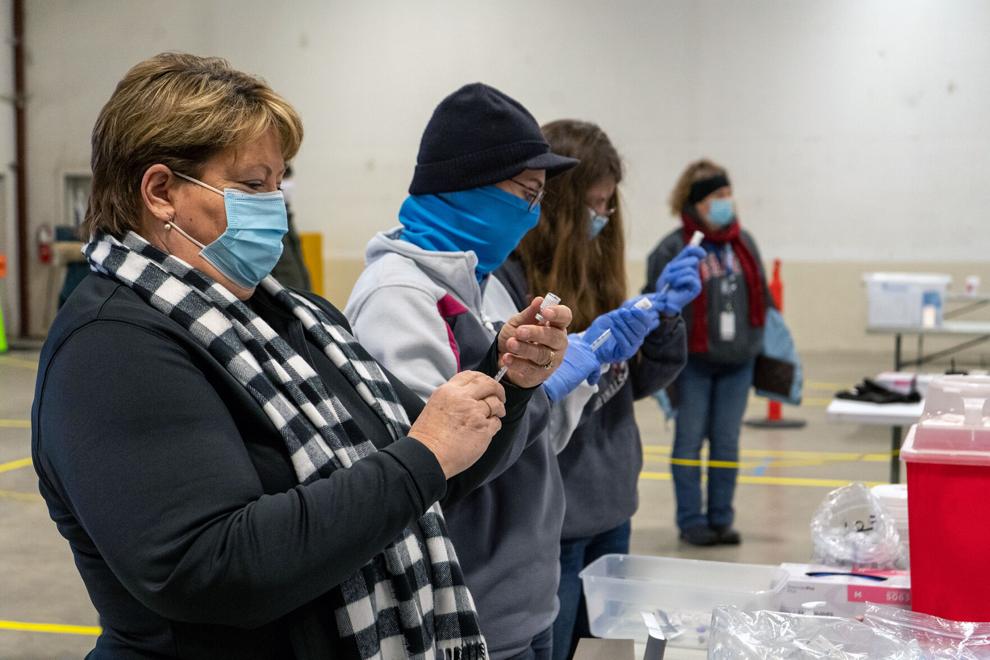 BREWSTER — Gov. Jay Inslee announced the launch of Phase 1B in the state's vaccination plan on Jan. 18 and since then, health care providers throughout the county have been working to meet the demand.
They've vaccinated thousands of people in less than a month, according to an announcement from Okanogan County's three hospitals, Okanogan County Public Health and Family Health Centers.
Immediately after the federal Food and Drug Administration approved the Pfizer and Moderna vaccines for emergency use, hospitals and clinics found themselves in the unique situation of building a mass vaccination process from scratch, the announcement said. At the same time, health care organizations were urged to start administering the vaccine without delay.
"It has been a challenge to implement a brand-new vaccination process as we're giving it out, but it's important to all of us to make sure our rural communities have equal access to the vaccine," said Jennifer Best, business development coordinator at Three Rivers Hospital in Brewster. "We're all sharing ideas and information every week to make this easier for our county residents as well as our health care workers."
"Full vaccine roll-out is a marathon that will likely take us most of the rest of the year to complete," said Afton May, director of quality and risk at Mid-Valley Hospital, Omak. "The only element in our control is the fact that we care about our neighbors and will continue to give 110 percent until the work is done."
For those eligible to receive the vaccine under the current or previous phases, it's best to choose only one health care provider with which to register. In Okanogan County, designated vaccine distributors include Three Rivers Hospital, North Valley Hospital, Mid-Valley Hospital and Family Health Centers.
Once the registration form has been submitted, all that's left for residents to do is wait for a phone call for an appointment, said the providers.
Wait times may be a week or more, but residents will receive a call if they submitted vaccine paperwork. Residents are not signing up for a specific vaccination event. Events are created from the lists of residents who have already registered.
When it comes to deciding where to register, it's best to choose a facility based on factors such as proximity. The amount of vaccine doses provided to each facility varies week to week, so it is difficult to plan more than a week ahead for vaccine appointments.
Each vaccine provider now offers multiple ways to register that don't require a computer or email address, said the announcement.
Hard copies of registration forms can be picked up and returned. Mid-Valley Hospital launched a call center service that enables residents to get registered in less than five minutes at Mid-Valley, Three Rivers or Family Health Centers. The direct line to register by phone is 866-458-0169.
Eligibility can be determined by completing the state's online PhaseFinder tool at www.findyourphaseWA.org. The tool operates using the honor system, which has added a layer of complexity to the registration process, said the local providers.
Health care facilities are screening registrations to ensure the correct people get the vaccine under state Department of Health guidelines. Facilities that do not comply risk losing their designation as a vaccine distribution site.
News of vaccine events spreads rapidly among the communities, but the events are all created from lists of residents who have already registered so they are all by appointment only, said the announcement.
"Residents don't have to call us; if they're already on the wait list, they could get an appointment based on when they registered with their chosen hospital or clinic," Best said.
Many of the larger vaccine events are hosted at centrally located sites, rather than at the hospitals or clinics. Locations have included the Okanogan County Fairgrounds, Douglas-Okanogan County Fire District No. 15 station in Pateros and Liberty Bell High School in Winthrop.
Because the health care organizations don't know in advance how much vaccine they can expect, the events are planned and executed within a matter of a few days.
The Biden administration has ordered an additional 200 million doses from Pfizer and Moderna, to be delivered by the end of July. As more vaccine is available, distributors may be able to plan more frequent events, the providers said.
All available vaccine supply is distributed weekly from the federal government to the state and tribal governments. Designated vaccine sites place orders for more vaccine each week, but if there is not enough supply at the state level, not every order is filled.
"We have not received any vaccine for first doses in three weeks," said Gretchen Aguilar, chief nursing officer at Three Rivers Hospital. "We are getting just enough supply from the state to cover our second doses, but that's it for now. We don't know yet when we will have new supply for first doses."
Three Rivers Hospital had to stop scheduling first dose appointments in late January. Once it can resume vaccine events, it will pick up where it left off with people who registered around Jan. 21. In the meantime, the hospital has been posting regular updates on its Facebook page and website.
While residents are encouraged to register at only one location for now, soon they will be able to register in one system that will be shared among the country's vaccine distributors.
"Rural facilities in particular do not have the resources and infrastructure in place for such a massive undertaking such as whole community vaccination," May said. "It is important that we create a more sustainable process to relieve the burden on our pandemic weary health care teams.
"Okanogan County health care partners are working with (Okanogan County) Public Health and Okanogan County Emergency Management to automate and centralize our preregistration and notification processes, which will be a game changer as we go forward."
Some facilities already are working with emergency management to send out pre-recorded appointment reminders. The goal for centralized registration is to simplify the process for residents while reducing extra work the hospitals and clinics are currently doing, such as sharing their completed vaccine lists to eliminate duplicate registrations.
The bottleneck of vaccine supply trickling down to health care organizations has triggered a wave of frustration among residents who have been waiting to get their first dose, said the local providers.
"Not having new vaccine supply on a consistent basis has really drawn out the wait times for us at Three Rivers, and other facilities have been in a similar position of having to postpone scheduling new appointments," Best said. "Most people have been incredibly understanding and kind, and we're so grateful for that. We have received some frustrated calls and emails, and we're taking all feedback into account while we're improving our communications."
"I feel that most of our negative calls are due to lack of communication and fear they will be forgotten in the process. Overall, people have been incredibly supportive and understanding of our effort to get them vaccinated," May said.
While people wait for their turn, all local health care organizations are continuing to encourage following three basic guidelines for preventing the virus' spread: Wearing a mask that covers the nose and chin, frequent handwashing for at least 20 seconds and keeping a distance of at least six feet from others who aren't in your immediate household.
"We know it's hard, but we've been doing this for a year now and we can keep going for a while longer," Aguilar said. "Please continue to stay the course to keep each other safe."
Where to find vaccine information
Three Rivers Hospital — Moderna
www.facebook.com/threerivershospital
North Valley Hospital — Pfizer
www.facebook.com/nvhospital.org
Mid-Valley Hospital and Clinic — Moderna
www.facebook.com/midvalley.hospital
Family Health Centers — Moderna
myfamilyhealth.org/covid-vaccine
www.facebook.com/MyFamilyHealth
Okanogan County Public Health
https://okanogancountycovid19.org
https://www.facebook.com/OKCPH
Okanogan County vaccine call center
866-458-0169