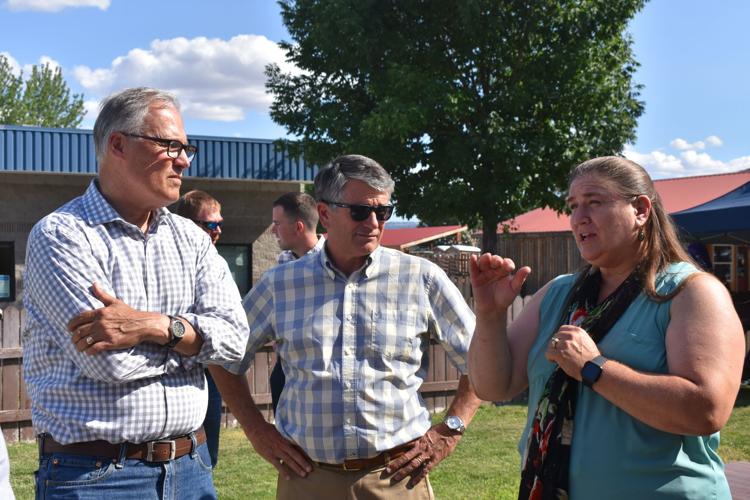 PATEROS – Gov. Jay Inslee, also a candidate for president, made several stops in the Methow Valley and Pateros last week on the five-year anniversary of the Carlton Complex wildfire.
Inslee's stops included an outdoor recreation meeting with Methow Trails and Winthrop town officials at the Winthrop Ice and Sports Rink, followed by a visit with Twisp town leaders, a stop at TwispWorks and a stop in Pateros.
"Alta Lake stands out," the governor said as he thumbed through the pages of The Chronicle's "Firestorm" book. "It seems like it should be immune (to wildfire) because it's green around it."
The 256,108-acre fire burned into Pateros July 17, 2014, destroying homes and damaging infrastructure and the school.
"Fire is the new beast," he said. "It's a new dynamic. It just creates such explosive conditions."
Inslee, who has been out on the presidential campaign, said climate change is an issue that is affecting and increasing the fire danger in the state and the West Coast.
"Unfortunately, this is endemic across the West," he said. "And unfortunately, it will become worse. I hate to say that, but it's just the scientific reality that we're facing.
"That means that all of us are going to have to buckle down and increase our investment in infrastructure to deal with emergency response," he said, noting Winthrop officials have made "progress on emergency communications since the fire."
Earlier this month, Okanogan County commissioners agreed to put a 0.2 percent sale tax increase on the Nov. 5 general election ballot to pay for upgrades to the emergency services communications infrastructure.
"There's been some improvements, but obviously we need to continue with these investments," Inslee said.
But funding only goes so far.
"There just isn't enough money in the solar system to solve our problems by just adaptation," he said. "We've got to win this battle where the source of the fight is – which is carbon dioxide changing the climate. We just can't give that up. You just can't run from it fast enough otherwise.
"That is the greatest threat to our state long-term, and our country and our children," he said. "And it affects every single American in a different way."
Along with fires in the West, he said climate change is also causing flooding the Midwest and rising sea levels from coast to coast.
"Here, it affects the potential of the whole community burning down," he said. "The roster of assaults on the way we live our lives is long – coast to coast.
"I'm tired of seeing people's houses burn down," Inslee said. "I don't want to see that anymore. But we're going to if we don't defeat climate change."
He said programs such as Firewise and new wildfire legislation continue to be critical in defending and fighting blazes.
Aside from wildfires, the governor also briefly touched on education and economics.
When asked about his presidential campaign and what the biggest issue facing the nation is he replied: "Defeating Donald Trump."