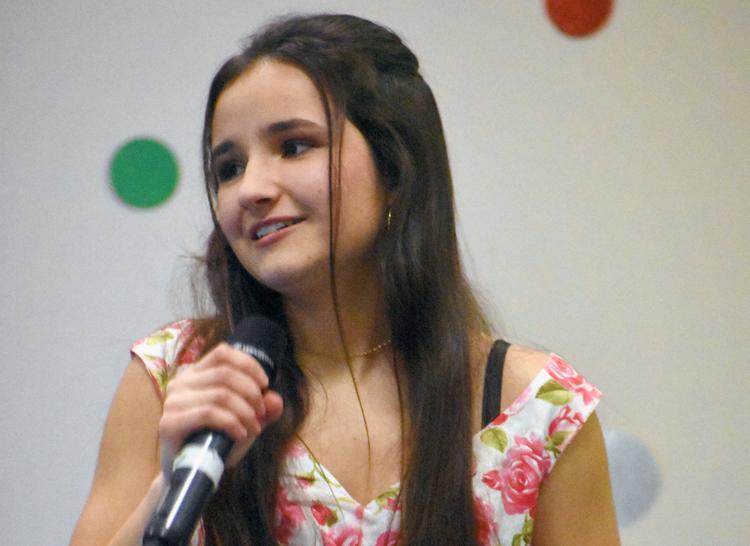 OMAK - Kettle Falls senior Zarah Johnson claimed the 2020 Washington State Nashville Country Star title.
She took home $1,000 after topping a 13-contestant field in the virtual competition finals streamed on Facebook Live Saturday, June 20.
For the first round of the competition, Johnson performed the Ariana Grande song "Tattooed Heart."
During the classic country segment, she performed Martina McBride's "God Fearin' Women."
Okanogan County was also well represented at the finals.
Oroville senior Christina Herrick and sophomore Tiahnna McAllister were named consolation winners, each receiving $50.
Other ranked contestants were senior Raegan Beebe, Selah, second place, $600; senior Marissa Lloyd, Connell, third place, $400; freshman Isabella Carlone, Maple Valley, $300, and senior Torianna Minnihan, Port Townsend, fifth place, $200.
The remaining unranked contestants — each receiving $50 — were sophomore Abby Brown, Yakima; junior Analeesa Kornish, East Wenatchee; sophomore Kylee Boschker, Selah; freshman Kylie Glendenning, Connell; freshman Madelyn Cardon, Selah, and junior Ty Smith, Selah.
Brown, Boschker and Glendenning each received an additional $25 prizes for stage decorations.
Beebe received an additional $100 spirit award.
"Our cash awards had to be reduced due to the fact that we had no revenue from live shows this year," organizers said. "Thank you to all our contestants for your participation this year. We know it wasn't how you might have dreamed it would go - neither did we."
The virtual finals also included a special montage of musical selections by competition founder Ed Lisenbey.
The competition, now in its 16th season, began in 2005 after Lisenbey was inspired by the former national television show "Nashville Star."
Over the years the program grew, and in 2009 Lisenbey opened entries to competitors statewide and changing the original name, "Okanogan Valley Nashville Star," to its present title.
Lisenbey and other involved with the competition — mainly Jim and Leslie Todd, Jack and Susan Brandt, Brock Hires and Lisenbey's wife, Mary Lisenbey — form the non-profit group under the umbrella of the Omak Performing Arts Center Foundation, which handles the Nashville Country Star's finances.
To watch the finals on demand, see wanashvillecountrystar.org.