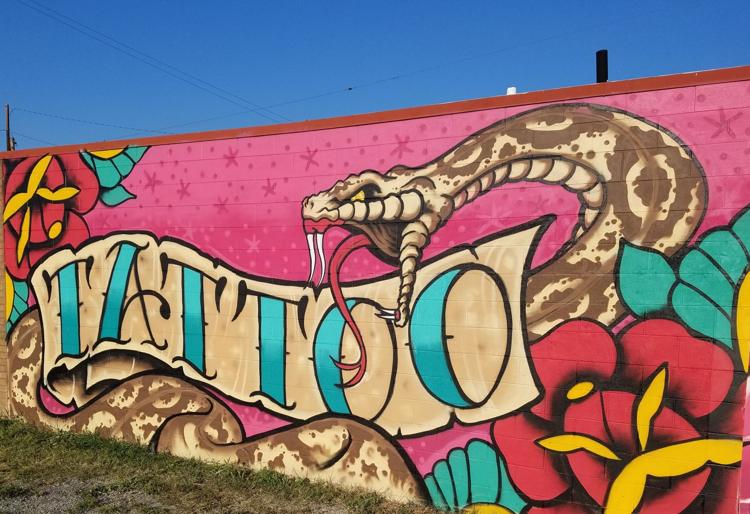 OMAK—Modern Electric Tattoo received a facelift to the exterior of its shop on Sunday, August 4 and Monday, August 5, from owner Peach Daniel and fellow tattoo artist Core Jensen.
Modern Electric Tattoo owned and operated by Peach Daniels, is located at 17 Central Ave East Unit D.   Daniel and Jensen gave the exterior of the tattoo shop a spray paint make over. Modern Electric Tattoo not only offers tattooing, but piercings as well.
"Core and I are the only two artists here at the shop," said Daniel.  "He doesn't have his own shop, he works here full-time now, so we are available for walk-in tattoos."
Daniel stated the shop has really grown in the last year.
"We've made renovations to make more room for Core and myself and we are constantly adding new artwork to the walls," said Daniel.  "We would really like to get involved more with our community this year!  So, to kick off our presence in the community, we will be giving out water bottles and free temporary tattoos all stampede weekend!"
Modern Electric Tattoo has been featuring a summer gift certificate sale since July 24 to the last day of stampede (Sunday, August 11).  The gift certificate specials can be found at https://www.facebook.com/modernelectrictattooshow/.  Modern Electric Tattoo is also having their gumball tattoo special again for $60.  Customers can try their luck on a special design from the gumball machine filled with various tattoo designs.
During Stampede time, Daniels and Jensen are offering tattoos for $50.
"Customers will have 12 designs to choose from on a flash sheet that will be posted the day before stampede," said Daniel.  "Plus, we would like to do some other events for the holidays! Pumpkin carving contest and Christmas toy drive are just a couple ideas we would like to do!  We really want our community to know that we are a fun and non-intimidating place to get an awesome cutting-edge tattoo current within the tattoo community around the world!"
"Oh, and we are available for piercings too!" said Daniel.
 "We use nothing but the highest quality inks, machines, and practice the highest standards in sterilization," said Daniel.  "We really want to bring a big city shop feeling to our beautiful small town."
"I didn't even realize there was a tattoo shop at the location," said Felicity Macintosh, 19 of Okanogan.  "I don't have any tattoos yet, but after checking out the artistic talent on the building, I might just have to suck it up, and finally get a tattoo.  I've always wanted a tattoo, but never found anything that would inspire me to have it permanently inked on my body.  The artwork on the building shows the artists definitely have a natural artistic talent, to which I am sure would result in something that could inspire me to have permanently inked on my body."
For more information and pictures, check out https://www.facebook.com/modernelectrictattooshow/.