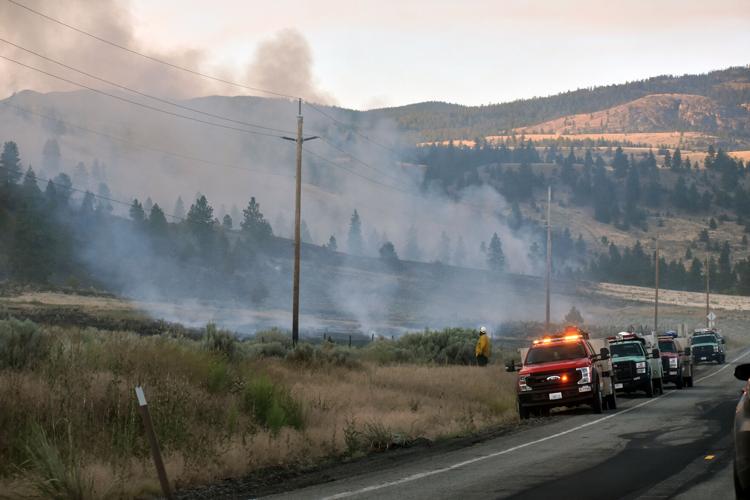 TONASKET — Three wildfires burning in Okanogan County have been contained or are nearly contained, while another is zero percent contained.
Despite extreme heat, firefighters had another successful day July 30 on the Anglin Fire, burning east of Tonasket and north of Highway 20. Crews continued mop-up and worked on rehabilitating areas affected by the fire and suppression efforts.
The fire, which was reported at 5:30 p.m. July 27, was 80 percent contained at 1,728 acres as of Friday morning. One home and two out-buildings were destroyed.
Some firefighters were demobilized Friday, while others were on the fire line to complete the last remaining rehab and mop-up tasks, according to Northeast Washington Interagency Incident Management Team 2, a Type 3 team that was called to manage the firefighting effort.
The team also managed the Green Fire, which was reported 4 p.m. July 27 after a vehicle accident on Tunk Creek Road. No structures were lost.
The Green Fire was 100 percent contained at 1,480 acres as of Friday.
High temperatures, winds and low relative humidity contributed to both fires' spread.
Evacuation advisories were lifted July 30 for the fires. A Level 3 (get out now) notice was issued Monday for the Anglin Fire and a Level 2 (be ready) notice was issued the same day for the Green Fire.
Both fires are under investigation, said the management team.
Road closures in the area also have been lifted.
Firefighters from Okanogan County, state Department of Natural Resources and numerous federal, state and local agencies responded.
The Red Cross responded to assist residents affected by both fires. The Okanogan County Fairgrounds was opened for people needing to evacuate livestock.
Fire crews remain on the Blue Lake One Fire, which began the morning of July 30 about eight miles north of Conconully.
As of Friday morning, had blackened about 61 acres of short grass and timber, and was zero percent contained, said the management team.
Firefighters from Okanogan County and DNR responded, as did firefighters assigned to the Anglin Fire.
One helicopter was used to support fire suppression efforts.
The incident management team assumed command of the fire on Friday. Crews planned to finish establishing containment lines and cool hot spots on Friday.
Firefighters from DNR, and fire district Nos. 3 and 9 responded just before 5 a.m. July 31 to the Conger Fire, which had burned 1.32 acres as of later that morning southwest of Conconully off Forest Road 37
Two fires were reported July 30 in Ferry County — one on Mingo Creek that burned 0.1 acre and one on Boulder Creek that also burned 0.1 acre. The Hula and Boulder Spot fires, respectively, burned in grass, timber and duff and were quickly controlled, according to the DNR.
Meanwhile, Northwest Incident Management Team 6 turned over the Greenhouse Fire on the Colville Indian Reservation to the Mount Tolman Fire Center on Friday morning.
The 5,146-acre blaze, two miles west of the Colville Indian Agency, burned grass, brush, some timber and several buildings. The fire was 87 percent contained as of Friday morning.
The cause is under investigation.
Crews mopped up large portions of the fire area on Thursday. Efforts on Friday were focused on continued mop-up, patrolling, and removing signs and trash from the line.
On the fire's northern section, crews broke down berms from bulldozer lines.
Columbia River Road from Omak to Nespelem and Schoolhouse Loop Road remain closed. Road construction has resumed on both roads near the agency.
The tribal garbage transfer station and recycling center, which was destroyed, remain closed. Evacuation alerts have been lifted.
No firefighter injuries were reported on any of the fires.
To the south, state mobilization was authorized July 30 for the Coulee Meadows Fire in Douglas County near Ephrata. The blaze was burning in sage and grass as of Friday morning.
It was reported at 7:53 p.m. and, as of Friday morning, was estimated at 250 acres and growing. It threatened homes, crops and the Palisades.
The cause is under investigation.
Firefighters in all areas say they expect hot, dry and windy conditions to continue, although cooling into the weekend could help with humidity recovery.
The National Weather Service has issued a heat advisory for western Okanogan County and eastern Ferry County, an excessive heat warning for the Okanogan Valley, Highlands and western Ferry County, and a red flag warning for Lake Chelan. Other areas of eastern Washington have similar warnings in place.
Forecast for the Omak area called for a slight chance of thunderstorms Friday night, continued hot weather on Saturday and Sunday with temperatures close to 100 and slight cooling into Monday with a slight chance of showers.
The mercury climbed to a high of 106 degrees at 3:53 p.m. Thursday, July 30, at the Omak Municipal Airport. The high July 29 was 101 degrees and Tuesday's high was 103 degrees.
A statewide burn ban was ordered July 27 for DNR-protected lands. On July 28 — effective July 31 — DNR issued a ban on campfires in the Foothills, Kaniksu and Upper Basin fire danger rating areas. Fire danger increased from very high to extreme in the Valley area; high to very high in the Chelan and Upper Basin areas, and moderate to high in the Kaniksu area.
Fire danger remains very high in the Lower Basin and Methow areas, and high in the Foothills, Highlands, Lower Yakima and Upper Yakima fire danger rating areas.
Industrial fire precaution levels also increased.