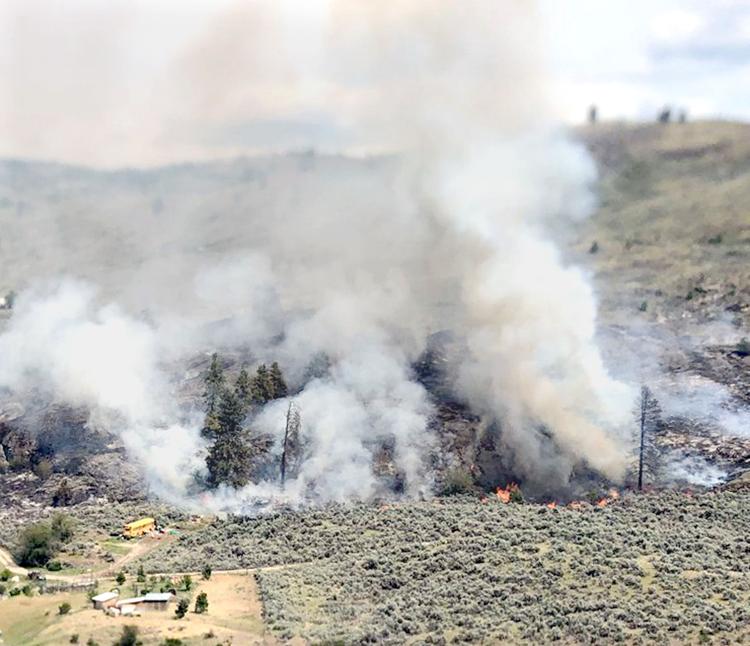 MOUNT HULL — A brush fire on Abbie Lane in the Swanson Mill area burned about 50 acres Sunday, May 12.
The fire was 80 percent contained, with indirect dozer line around the whole fire by 5:13 p.m. Sunday evening.
Washington Department of Natural Resources (DNR) responded with two helicopters.
Okanogan County Fire District 12, the Mount Hull district, acting in joint command with DNR, responded with one tender, four brush trucks and about a dozen volunteer firefighters.
"With all the resources that came up from Tonasket and Oroville, it worked out beautifully," said Assistant Chief Robert Pimpiano, Incident Commander for District 12. "We had structure protection on all the houses. We didn't lose any and were able to get it stopped before any damage to residents."
"The fire is still under investigation by DNR," said Pampiano.
DNR could not be reached for comment.
Oroville Fire Chief Bruce Rawley was in the first truck to the scene, and said Tonasket and Mount Hull Fire Departments arrived shortly thereafter.
Rawley said District 12 was toned at 12:02, Oroville at 12:08 and DNR at 12:11 p.m.
"DNR has the origin area taped off, and are doing the investigation on it," said Rawley.
"I didn't get out of there until the sun was going down," said Pi     mpiano. "We were working pretty late on it and had people from DNR watching it all night."
Tonasket Fire Chief Andy Gasho said Tonasket sent a few trucks for mutual aid, with eight to 10 volunteers responding and assigned to structure protection.
"Tonasket has already responded to quite a few more fires than last year at this time," said Gasho, warning about dry conditions. "We haven't had any lightening-caused fires yet."
"This is one of the first real, active fires we've had up here," said Okanogan County Emergency Management Director Maurice Goodall. "We got the call and dispatched Oroville and Tonasket and Okanogan County District 12 (Mount Hull). DNR did a real good job, they had helicopters up there."
Goodall said when the county notified him, a level-one alert was sent out.
"People have to realize all this information is great, but we can't get it to them unless they are signed up for alerts, and they need to have a plan in place. It's a personal decision they have to make for themselves, and not wait for me to tell them to leave."
People can sign up for alerts by texting okcounty to 888777 or by visiting www.okanogan