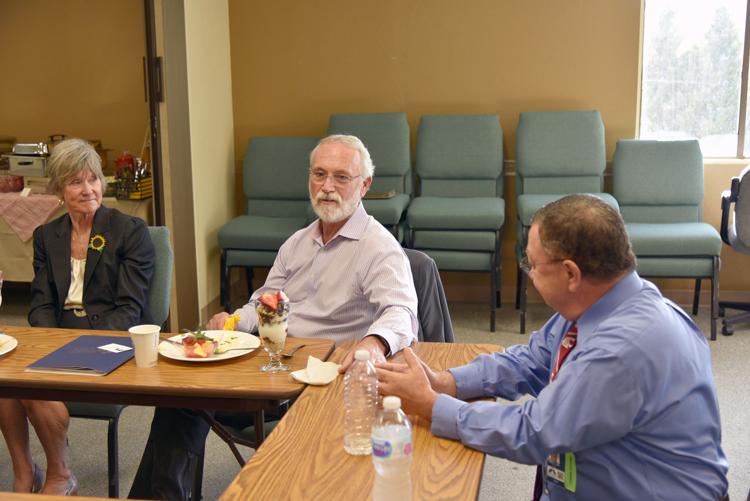 OMAK — Congressman Dan Newhouse made several stops on his visit to Okanogan County August 22. He participated in a rural healthcare roundtable, toured the new DNR Fire Base in Omak, met with the Forest Issues Advisory Group and received an award for his work to protect the Methow Valley Headwaters from mining.
"This trip included everything from healthcare to forest management to wolves to copper mining and grizzly bears," Newhouse said, adding there had not been any decisions made yet regarding Enloe Dam. "We are still at the discussion stage, looking at the pros and cons. Whatever decision is made will be the right one."
Newhouse said he was concerned with the amount of sediment behind the dam, calling it "equal to the amount of concrete in Chief Joe Dam."
"Allowing that much sediment into a slow-moving river, we've got to think about the impact of that," said Newhouse.
Newhouse represents the Fourth Congressional District, which includes all of Central Washington.
Mikaela Marion, Director of Marketing and Public Affairs at Mid-Valley Hospital and Clinic in Omak said in meeting with Okanogan County Healthcare Leadership, Newhouse addressed issues relating to inadequate reimbursement, demographic, economic and geographical barriers that the local healthcare organizations are currently facing.
"Newhouse spoke about legislative movement on different healthcare topics and noted that he was impressed with the organizational collaboration in the county," said Marion. "He stated his plans to continue working towards seeking federal support to help provide financial and regulatory relief for rural healthcare providers."