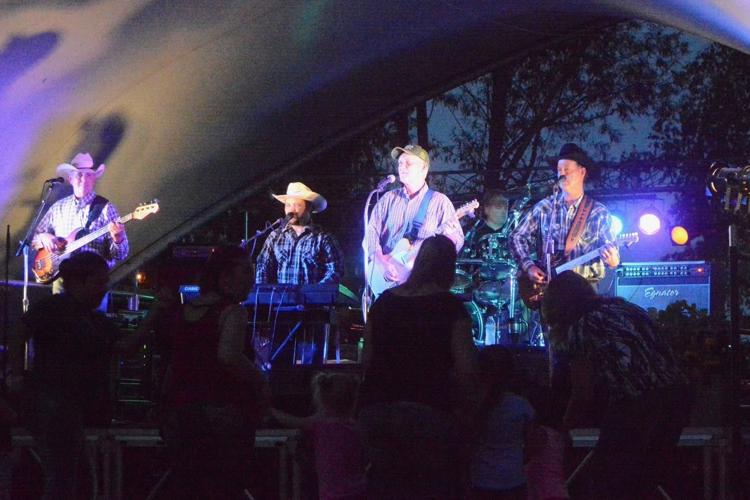 OMAK — Some will attend the Stampede dance after the rodeo Friday and Saturday to kick up their heels, crack a cold one and have a good time.
But others will attend to listen to the music of The Night Riders, who have performed at the Stampede off-and-one since the 1980s.
Lead guitarist Glen Lisenbey said the group began in 1981 after he and fellow guitarist Mark Webster started playing music together. Tom McCoy was then added as the group's bassist, and Gary Bowling played drums.
"We practiced three times a week and in a few months, March 1981, we played our first dance at the Riverside Grange," Lisenbey said.
The band rose to local popularity after the demise of the Okanogan Valley 49ers.
"They played country music and it was a big hangout for the kids that were old enough to drive a car," Night Riders bassist Gary Bowling said. "It was just kind of a get away, a hangout"
Bowling said the Night Riders band sort of took off where the 49'ers left off. Playing at local granges, clubs and private events.
"We were playing almost every weekend," Bowling said. "Then 'Urban Cowboy' hit," and the country music and Southern rock scene took the county by storm.
By the mid-80s the band was playing several nights a week and booked several months in advance.
Throughout the decades some members took a break from the band — or moved out of the area — but continued to get together and make music.
Three of the original members — Lisenbey, Bowling and McCoy — will take the Stampede stage with Artie Litscher Jr. on Drums and Brock Hires on guitar and keyboards.
Nowadays the group covers everything from Tom Petty And The Heartbreakers to Garth Brooks, George Strait to Lynyrd Skynyrd, and the Eagles to ZZ Top.
"I started the band and kind of came up with the Night Riders name," Lisenbey said. "As long as it was me and one other original member (performing) then we kept it.
"We've played a dozen times (for Omak Stampede) over the last 20-30 years," Lisenbey said.
In all, the Night Riders have been performing for more than 35 years.
"We played off-and-on," Lisenbey said. "There's only been about a two-year span where we didn't play."
Aside from performing up and down the Highway 97 corridor, the group's musicianship has taken them across the state from Ellensburg to Yakima, the Town Toyota Center in Wenatchee, and Grand Coulee to western Washington.
The group has been voted by Chronicle readers as one of the best bands in Okanogan Valley for the past two years.