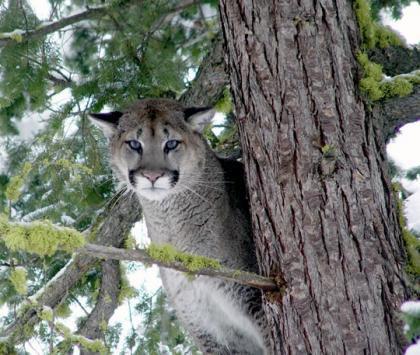 TONASKET – Authorities responded to an unconfirmed report of a possible cougar sighting in town Thursday.
According to state Department of Fish and Wildlife Sgt. Dan Christensen, a report was received earlier this morning of a "cougar growling," followed by a third-hand report.
"Officer (Troy) McCormick, in the interest of caution, responded to the area and he reported to me, 'On arrival I learned the reporting party had been outside in his yard and saw something run past on the other side of his fence. The animal caught his scent and came back and was growling at him through the fence. He believed it was a cougar. He also reported to the deputy that his daughter had observed a cougar two days earlier along the creek. The cat was carrying a deer leg at the time.'
"We searched the area between the sighting and the Okanogan River but did not locate the animal," Christensen said. "The Tonasket School District was advised of the incident by email."
"We contacted the (state) Department of Fish and Wildlife about the sighting, kept our students in from recess and other outside activities, and also kept high school students from walking downtown during lunch," Tonasket School District Superintendent Steve McCullough said Thursday afternoon. "We sent a Facebook post out to parents this morning based on a warning from the Department of Fish and Wildlife, notified all staff about the sightings, and will be monitoring the situation closely in the days to come."
"At this point it is an unconfirmed report and we will continue to monitor," Christensen said. "People should exercise the normal precautions for those who live in cougar habitat as you would any other time. I hope all of us will be looking for those young kids excited for trick or treating and our drivers in the county will be patient with excited kids in costumes."
According to the agency, cougars are the largest members of the cat family in the state. Adult males average approximately 140 pounds but in rare cases may weigh 180. Adult males stand about 30 inches tall at the shoulder. Adult female cougars rarely exceed 110 pounds.
Cougars use steep canyons, rock outcroppings and boulders, or vegetation - such as dense brush and forests - to remain hidden while hunting. Adult male cougars roam widely, covering a home range of 50 to 150 square miles, depending on the age of the cougar, the time of year, type of terrain and availability of prey, according to Fish and Wildlife.