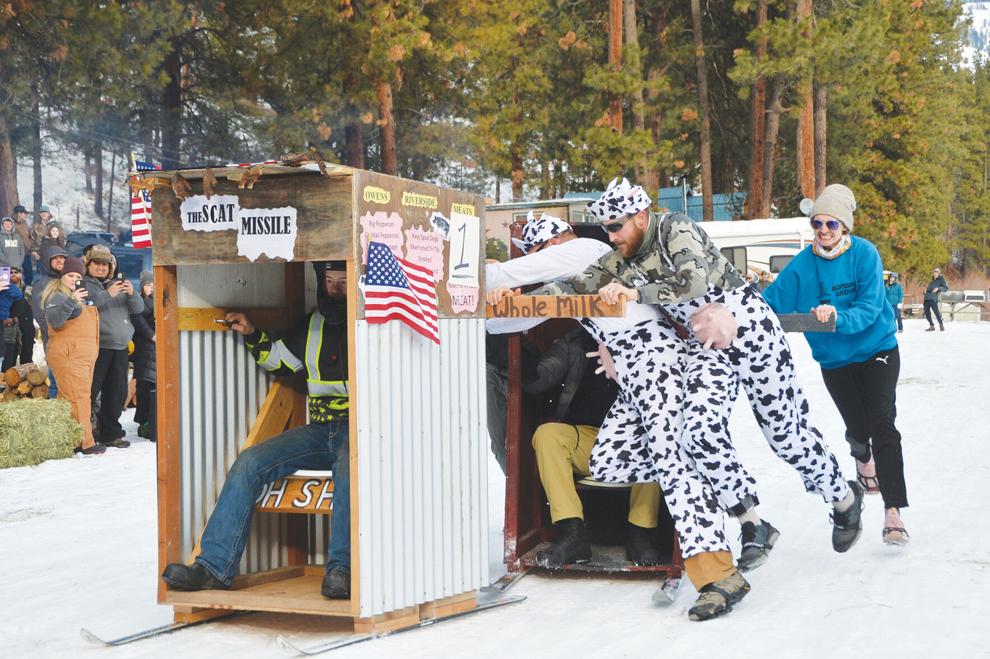 CONCONULLY — A scaled-down version of the Conconully Outhouse Races slipped and slid along an alternate course Saturday, Jan. 16.
A half-dozen outhouses on skis showed up for competition in five categories.
Main Street was not available, so an alternate course was set up next to Conconully Reservoir at Shady Pines Resort.
Scat Missile, from Owens Riverside Meats, won the people's choice award with its cow-clad team sporting black-and-white print and udders. It garnered plenty of moos from the crowd as it slid by during racing.
Although organizers encouraged competitors and spectators to wear masks to discourage possible spread of COVID-19, few people at the event did.
Warming fires helped the smaller-than-usual crowd stay warm. Shuttles brought food from downtown restaurants.
Category winners:
Men — Wheel of Destiny, Conconully.
Women — Camano Crapbers Family, Camano Island.
Family — Scat Missile, Omak.
Bucket race — Scat Missile.
Extreme challenge — Bone Hut, Conconully.
People's choice — Scat Missile.
Also competing — Yesterday's Corn, Pullman; Ruby Mine Airbnb, no town listed.
"Next year we are full on," said organizers.