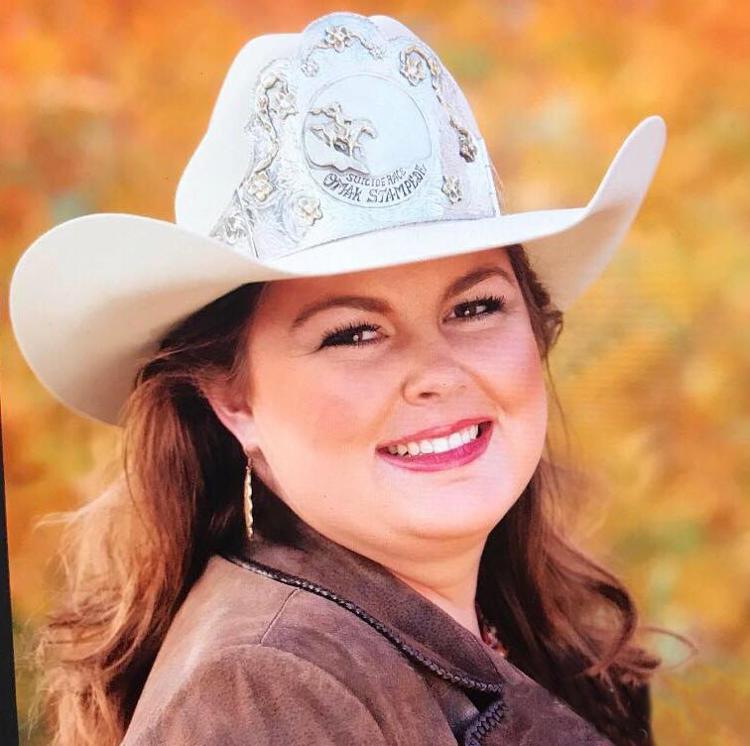 OMAK – This year's Omak Stampede Queen Vanessa Pershing is enjoying representing the stampede as she has been traveling around the state and beyond this past year.
"I've been all over Washington, and just got back from the Calgary Stampede," said Pershing in early July. "I met a lot of world champions there, and had one tell me she loves the Omak Stampede."
Pershing will be traveling to Joseph, Oregon for Chief Joseph Days the last week of July.
"We went to Olympia and visited the capital in April, and visited with state legislators and lawmakers," said Pershing. "That was a really cool opportunity, and I learned a lot. It was incredible to see what happens during the session."
Pershing attended the Armed Forces Torchlight parade during the Spokane Lilac Festival in May.
"That was a very long parade, but really incredible to experience," said Pershing. Her traveling partners are her mother, Dyann Pershing and her younger brother.
Pershing expressed appreciation for employers, Cole and Michelle Garcia of the Grocery Outlet in Omak, allowing flexibility in her schedule.
"My bosses have been so great and amazing," said Pershing. "They have been so understanding of the time off I've had to take."
Pershing said she has been enjoying the summer here when not on the road.
"I ride for fun, trail rides and barrel racing when I'm not busy," said Pershing. "There are barrel races at the Stampede Grounds every few weeks, and I race some at home."
She said while not able to race in the Stampede as it is a PRC Rodeo that requires membership, "It's always been a dream of mine to be a barrel racer in the Omak Stampede."
"The Suicide Race is a longtime favorite of mine," said Pershing. "We've watched it from the top of the hill and down a little bit, and from the dike and the arena. It's cool every way. One year we got to watch it from the top of the ferris wheel at the carnival. We happened to be at the top when the gun went off."
Pershing said she looks forward to all the events the Omak Stampede has to offer.
"The Indian Encampment and the pow wow are a cool cultural experience to go through. They do dancing and have a lot of hand-crafted items and their tipis," said Pershing. "We go to the carnival and do rides, and visit the vendors outside the arena. The food court always has really good food. And during the Stampede, there are other events going on through town, like the art show.
The Western and Native American Art Show is displayed at the Omak Elks Lodge.
A 2016 graduate of Tonasket High School where she was the softball pitcher, on varsity volleyball three years and a basketball cheerleader, Pershing said she got her inspiration to run for Stampede Queen from past royalty members.
"My best friend's sister was the Stampede Queen a few years ago, and it looked so much fun," said Pershing. "I always wanted to be more involved in the community, and I love riding horses, so I thought this would be a good way to do that while promoting the rodeo."
Pershing said she helped the former queen, 2013 Omak Stampede Queen Brianna Howell, when she was out on the road, and she and Lexi Howell served as pooper scoopers when Brianna rode in parades. Lexi went on to become the Okanogan County Fair Queen in 2016.
"I have been around horses all my life, since I was a baby, and riding and rodeoing since I was a little kid, so it's always been a passion and something I've loved to do."
Pershing did junior rodeo while living in Las Vegas and Texas before moving to Washington state with her family in 2012, and has attended the Omak Stampede every year since 2013.
"I've been a huge fan of all the royalty ever since I was just a little kid attending the Stampede. I didn't live here my whole life; my mom is from here and my dad (Mike Pershing) served in the military for a lot of years, so we lived in Las Vegas and Texas. But we came home during vacation to see the Stampede."
Her horse, a quarter-horse mare named Justa McBride was purchased from the Waggoner Ranch in Texas.
"She's named after one of my favorite bull riders, Justin McBride, but the girl version of the name," said Pershing. "He's an Oklahoma cowboy who won the PBR World Championship back in 2005 on a pretty cool ride. Both horses I used to ride are named after my favorite bull riders."
Pershing will hold the crown until November, then it will be handed off to the next queen. Pershing said the process to become queen started with filling out an application to be reviewed by the board, followed by a pageant in the fall featuring horsemanship, modeling and public speaking.
"You need to show you can ride, it's a big component of the job," said Pershing. "You write a speech to present during the pageant. I wrote mine about the spirit and the freedom of the horse; the feeling it brings me and the symbol of the horse in Western American culture."
Asked what she would say to girls who are considering running for Stampede queen she replied, "I would say do it. It's so much fun, and such an honor to carry the title and represent not just the rodeo, but your community when you are wearing that title. It is such an incredible honor to be able to do all that."