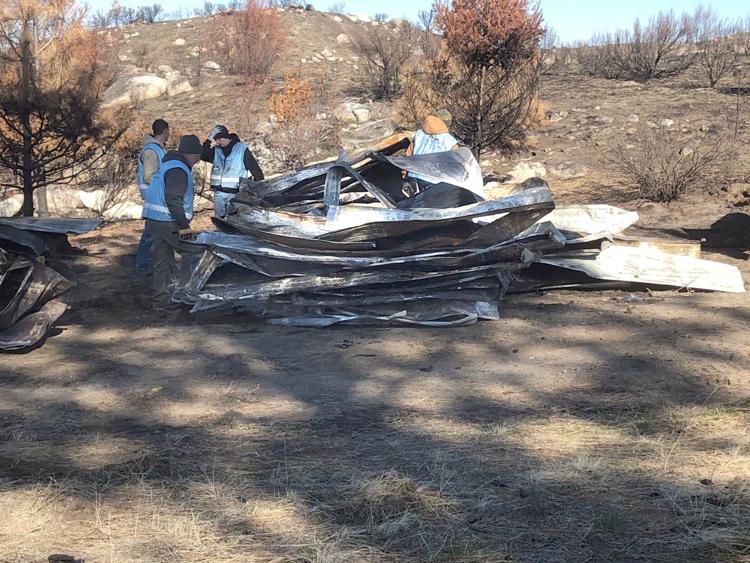 OMAK - The Cold Springs Fire Relief Group, organized under the Omak-Okanogan Long-Term Recovery Organization, is focusing on needs for farmers and ranchers within the boundaries of the Cold Springs Fire — from Omak to Bridgeport and in between.
Organization President Kory Heindselman and Vice President Kathy Power said the group is focusing on two main issues: Immediate containment fencing, structure cleanup debris removal and volunteer support.
When the Labor Day-weekend blaze ripped across the Colville Indian Reservation, it destroyed homes, barns, stacks of hay and thousands of miles of fencing. Green, lush grazing pastures were leveled to moon dust, leaving farmers and ranchers scrambling to prepare for the winter months ahead.
Immediate needs
"We've been in a support role from the beginning," Heindselman said, noting the county helped with immediate response. "So, that's where we saw a lot of the hay come in and the donations and all of that through the fairgrounds.
"The county doesn't want to continue, so they're looking for those outside organizations to help. That's where Okandogs has come in, they were great from the very beginning."
Okandogs continues to assist with livestock feed donations, while the Cold Springs Fire Relief Group is focusing on immediate fencing needs and coordinating volunteers in removing debris before snow falls.
"We'll never get as much done as we hope to (before winter)," Heindselman said. "The big issue with fencing is as the ground freezes, it's harder to get posts in."
While the group would like to fence as much as possible, it is focused on immediate containment to "get their cattle and animals home - not just wandering around," he said.
As of last week, a total of 1,900 tons of hay had been delivered to ranchers in need. And while that sounds like a lot, Power said they are trying to work with Okanogan County Emergency Management, the state Department of Agriculture and state Emergency Operations Center to get additional funding for large hay purchases. An estimated 20,000 tons are needed to feed the affected cattle through the winter.
Power pointed out that one rancher alone feeds around 17 tons a day.
"It's just enormous," she said. "People probably don't realize the enormity of this tragedy."
Heindselman said feeding cattle through the winter is just the beginning step, as many pastures and grazing lands have been devoured by the fire, too.
"If we lose these ranchers, that's a huge part of what Okanogan County is," he said. "That makes it even more important. We need to make sure that we're supporting these people. It's going to be a couple of years."
Power, who serves on the board of directors for the Okanogan County Farm Bureau, said the fire recovery group has been in contact with state legislators and the Okanogan and state Farm Bureaus to attempt to get additional grazing lands open on state Department of Natural Resources and state Department of Fish and Wildlife lands.
To date, 129 fire survivors and an estimated 8,247 head of cattle and 231 horses have been identified.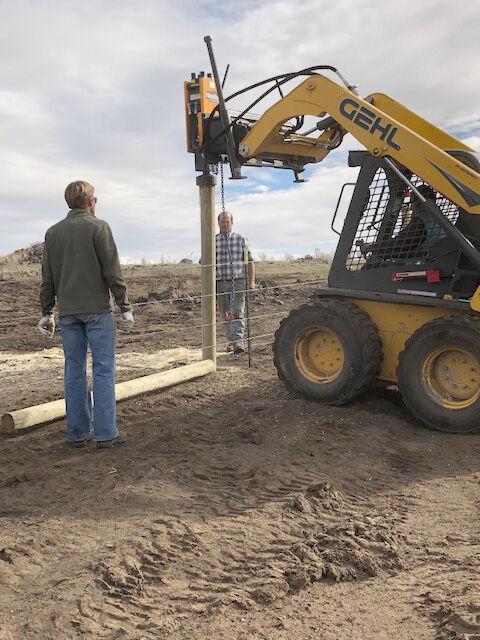 Christians offer assistance
On the Cold Springs Fire, Power, who is coordinating the volunteer teams, applauded the Christians Aid Ministry (CAM) Rapid Response Team for its assistance with debris removal and fencing.
The group, led by Floyd Yoder of Montana, has spent October working to help fire survivors in the burn scar.
"The first week there was, like, 25 (volunteers)," she said, adding around 20 were on site last week.
She said they come fully equipped with vehicle and machinery for debris removal and typically are on site for four to five days before another group of volunteers comes in.
"They really are something," Power said. "I think it's at least their seventh time over here to help us.
"They're awesome," she said. "You can't measure their kindness. They give up their lives to help these people rebuild their lives. Through their amazing kindness they give them hope for a better future coming."
The River of Life Church in Omak has volunteered to house them both in 2015 and presently.
"They've been here all month," she said. "They provide all of their own equipment, trucks, trailers, skidsters, and the women's team keeps them well fed."
Power said the group arrived in the area Oct. 5, and has completed 15 fencing projects for immediate livestock containment - totaling nearly nine miles of fencing.
They are now working on burned structure cleanup.
"So far they have completed over 18 homesites and will continue to work at this through next week," she said. "They will have been here for over a month to help us. So far over 60 CAM volunteers from all over the Pacific Northwest have rotated through to work on these teams."
Power, who was the volunteer coordinator with the Carlton and Okanogan fires long-term recovery groups for two years, said Christians Aid Ministry has sent at least seven teams to Okanogan County following the 2014 and 2015 wildfire recovery and rebuilding efforts.
On the Palmer Fire, west of Tonasket, Christian Disaster Relief has been busy helping with cleanup efforts.
The group, led by Darren Schmidt of Tonasket, hauled all the metal off, cleared the burned structures and piled the ash.
"They could not haul the ash and trash as the landfill had not been OK'd for these loads at that time," Power said. "The CDR group came in 50 strong with all the needed equipment and did 80 percent of the cleanup for the 2015 Okanogan Complex Fires."
Cleanup for the Cold Spring Fire areas began Oct. 12 and will continue through the end of the month.
"If you have applied with our group, or the Okanogan County Long-Term Recovery Group with Jessica (Rounds), we already have you on our list and will be contacting you," Power said.
Those who have not already applied are encouraged to contact Power at 509-429-3372 between 9 a.m. and 5 p.m. Monday through Friday.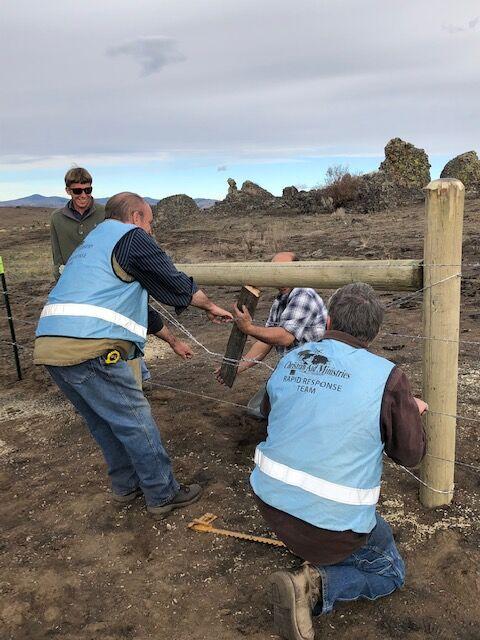 How you can help
Donations are desperately needed. Heindselman and Power said priority needs include monetary (cash and gift cards), hay and livestock feed, fencing materials and volunteer support.
Donations can be made through PayPal, sent to coldspringsfirerelief2020@gmail.com.
Monetary donations can be dropped off at RE/MAX 215 N. Main St., Omak. Checks can be mailed to Cold Springs Fire Relief, P.O. Box 1244, Omak, WA 98841.
Power said all donations will be receipted for accurate accounting.
For questions regarding making monetary donations, call 509-429-3372, or email coldspringsfirerelief2020@gmail.com.
Organizers said the agricultural community is not always open to accepting help, but if anyone knows of someone who needs immediate help but has not asked or will not ask, contact the organization.
"We will make efforts to contact them to make sure they know what is available," Power said.
"The need is overwhelming," Heindselman said. "The initial response has been great, (but) that slows down over time, but the need has not."
The organization also has a Facebook group, which has additional information and progress updates.
The Omak-Okanogan Long-Term Recovery Organization was formed in response to the 2015 Okanogan County Complex wildfires. It is a state-recognized non-profit corporation.