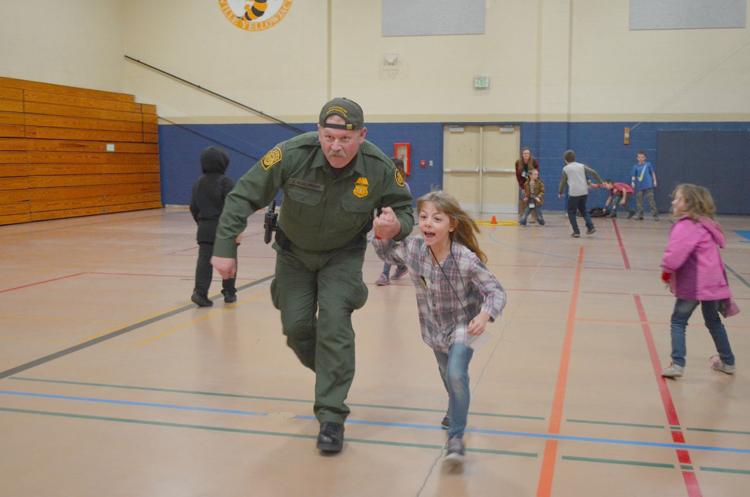 OROVILLE — This year's "Shop with a Cop" is Saturday, Dec. 14.
The annual program gives underprivileged children the opportunity to spend a day with law enforcement officers and have their needs met for winter clothing.
"Some kids are pretty underprivileged here. They don't even have socks," said David "Mac" McElheran, a U.S. Border Patrol Agent and Oroville City Council member who heads up the program in the north Okanogan along with his wife, Michelle McElheran. "Our goal is to outfit them for at least a year."
The program is financed by donations from the communities they serve, with the number of children selected based on how much money is raised. Last year's north county program benefitted 27 kids ages five to 12; with 10 from Tonasket and 17 from Oroville.
"We have the schools select the kids; teachers and counselors have an intimate knowledge of kids who need it," said McElheran.
The program benefits not just underprivileged kids, but also kids who have had an unfortunate incident with law enforcement agencies, McElheran said.
"One time I was at a gas pump filling up, and a woman was scolding her kid," said McElheran. "She told him she was going to have the cops arrest him. His head popped up, and he saw me out the window. He had been in the program, and he got out of the car and came over and latched onto my leg."
One benefit of the program is children learning to trust law enforcement officers and know they are approachable.
The day begins with Tonasket students meeting up at their elementary school, where they board a bus to head to Oroville with a siren parade.
"Steve McCullough is giving us a bus and chaperones," said McElheran. "We meet at Oroville Elementary for an icebreaker like dodge ball. Kids get to throw a ball at a uniformed officer, and it breaks down some barriers."
From there, a siren parade takes them to the Oroville American Legion for a volunteer hamburger lunch donated by legion members.
"Then it's a siren parade to the Country Store, where their buyer is purchasing things that we need specifically, and they give us a substantial discount," said McElheran. "The Country Store also has most of their employees come in, and those who aren't scheduled often come in and volunteer their time."
A list is sent home ahead of time for parents and guardians to prioritize needs and fill out sizes, so there's no need for a dressing room. Items most often purchased are winter coats, hats, gloves, scarves, boots, socks and shirts.
"We keep the receipts and tags; we have had people return stuff to buy beer and cigarettes in the past," said McElheran.
Each child is allotted $150 to spend; $125 for essential and winter clothing, and $25 can be used for a toy or gifts.
The City of Oroville Police Department serves as the host law enforcement agency, and volunteers include U.S. Border Patrol agents, Oroville City Police officers, Department of Corrections officers and Okanogan County Sheriff's deputies. Also volunteering to help are the Border Patrol Explorer group, school staff and administrators and community members.
All funds are handled by the City of Oroville to maintain accountability and transparency.
Donations are sought by Dec. 1 in order to plan efficiently. Donations received after this year's students are selected will be used the following year. Checks can be made out to the City of Oroville with "Shop with a Cop" written on the memo line, and mailed to Oroville City Hall, P.O. Box 2200, Oroville, WA 98844. 
Questions can be emailed to Michelle McElheran at orovilleshopwithacop@yahoo.com.