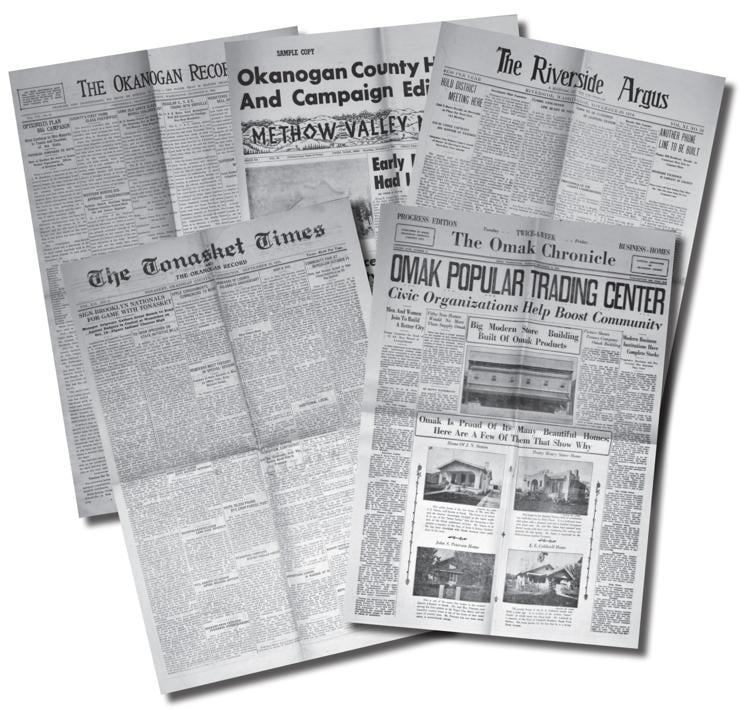 Four newspapers have survived in Okanogan County out of the more than 30 which started publication in the county over the years.
Eldest of the four is the Quad City Herald of Brewster, published Bill Forhan of NCW Media Inc.
The Herald is a descendant of the Brewster Herald, founded in July 1901 by David L. Gillespie. The Herald has since absorbed the Pateros Reporter, The Bridgeport Chief and the Mansfield newspaper, hence the name, Quad City.
Next in age among the survivors is the Methow Valley News, published by Don Nelson.
The News was founded in 1903 by Harry Marble, who ran it until selling to Claude Watkins in 1945. Since Watkins' death early in 1961, the News has had a succession of publishers including Dennis Lince, Jack Stoner, Dexter Jones (with resident publishers Mae Darwood and Mike Irwin, Elvin and Ron Perrow) and now Nelson.
The Oroville Gazette was founded by Fred Fine in 1905. Fine was joined in 1909 by Loomis publisher Frank M. Dallam and later sold out to him. Dallam sold to Frank Emert in 1923 and Emert sold the paper six years later to I.J. Doerr.
Clayton and Cleland Emery purchased the paper from Doerr in 1960.
The newspaper — now called The Okanogan Valley Gazette Tribune — is owned and operated by Everett-based Sound Publishing.
The Omak-Okanogan County Chronicle is the new kid on the block.
C.P. Scates began publishing The Omak Chronicle on May 20, 1910. He remained with the paper just short of three years, and was succeeded a few months later by Franklin A. DeVos, who investors hired to manage the paper.
DeVos purchased the Chroniccle in 1915, and sold to Frank S. Emert in 1926.
Emert ran the paper for nearly 31 years, before selling to Bruce and Merilynn Wilson and their partners, Joe and Ruth Sinclair, in 1957. The Wilsons sold the paper to John E. Andrist in 1976. Andrist and his wife, Mary Koch, operated the paper until 1996, when it was sold to Eagle Newspapers Inc.
In August 2019, Wyoming father and son Tom Mullen and J. Louis Mullen purchased the paper. It is published by Teresa Myers.
Other Okanogan County newspapers, in order of their appearance, include:
1888
Okanogan Outlook, Conconully, began publishing in July 1888. The "History of North Washington" lists H.W. Thompson as the publisher Loris Gillespie in the book, "Kanagan," said it was W. B. McDougal.
The Outlook building was destroyed in the 1892 fire that leveled Conconully, but Howard Mooney in his book, "The First 20 Years," reports that Thompson rebuilt, apparently also surviving the flood of 1894. Mooney lists W.B. McDougal as the first editor, to be followed by J.W. Romaine, A.H. Alford and W.F. Thompson.
Mooney reports that Thompson closed the Outlook in 1899 and moved it to Republic, where he began publishing the News-Miner.
1890
Ruby Miner, was started by a A.H. Alford of Conconully, and Dr. C.F. Webb and George Hurley of Loomis. It lasted only three years and died when Ruby folded in the silver slump brought on by the depression of '93.
1892
Madre d'Oro, Oroville, began publishing Aug. 27, 1892, reports the "Okanogan County Heritage," published by the Okanogan County Historical Society. Mooney reports Jim Hagerty as the publisher. It disappeared not long after it began.
1893
Loomis Journal, also short-lived, was published for only a few weeks or months by H.A. Sroufe, reports Mooney.
1895
Herald, apparently began publishing in March at Twisp, but soon disappeared. References are sparse.
1897
Palmer Mountain Prosector, Loomis, was founded by Frank M. Dallam, founder of the Spokesman-Review. Dallam folded the paper in 1909, as Loomis declined, and merged it with Fred Fine's Oroville Gazette. Dallam later bought Fine out.
The Reservation Record, Nelson (later Danville), was begun either this year or in 1900, depending upon the source. Mooney says 1900. The Highland Review, published by the Oroville Gazette and Highlands Historical Committee, uses 1897.
1899
• The Myers Creek News, near present-day Chesaw, was reported to have begun publishing in 1899 by The Highland Review. Mooney lists it as 1902, and says that it succeeded the Chesaw Times.
Mooney and his wife, Georgia, renamed it The Chesaw News in 1907. It was sold to Ashley Holden Sr. on Jan. 1, 1915, and Holden moved it to Orient in July. The Mooneys immediately bought a new plant and restarted The Chesaw News. It eventually was absorbed by the Mooney's Molson Leader in 1917.
• The Republic Pioneer, Republic, began publishing March 26, and survived until May 9, 2013, as part of the News-Miner. From December 1899 to November 1900, The Miner was issued both daily and weekly, "and a very creditable publication was the result," according to the book "An Illustrated History of Stevens, Ferry, Okanogan and Chelan Counties," published in 1904.
The Miner's owner purchased The Pioneer and the two papers were consolidated on Sept. 7, 1901, as the Pioneer-Miner. The Pioneer's former owner, A.I. Drake, went into the job printing business and on Oct. 4, 1900, he re-entered the field and launched the Republic Daily News, a daily until Nov. 17, 1900, then a weekly until Dec. 4, 1901, and a twice-a-week paper until June 15, 1903.
On that date, Drake purchased The Pioneer-Miner, consolidated into The Republic News-Miner.
1900
• Molson Magnet, began publishing Sept. 7, 1900, and survived until March, 1901. A.A. Batterman was its publisher.
• Bolster Drill, began publication June 8, 1900. Bolster was two miles north of Chesaw. David Calhoun Jenkins published the paper for about a year from his home. It folded when mining collapsed at Bolster.
• Loomis Register, began in late 1900 or early 1901 with A.A. Batterson listed on its masthead as editor in the April 22, 1902, edition, Vol. II, No. 27. It did not publish long.
1901
• Brewster Herald, founded by David L. Gillespie and J.E. Savage on July 13, 1901. Survives as the Quad City Herald.
• Chesaw Times, another short-term sheet, published by Fred Fine.
1902
• Okanogan Record, Conconully, was founded by banker L.L. Work with A.D. Batterman (could A.A. have changed initials?) as editor. Frank Putnam succeeded Batterman and ran the paper until moving to Tonasket to found the Tonasket Times in 1913.
• Methow Valley News, Twisp, founded by Harry Marble, survives and serves the Methow Valley today.
1904
Riverside Argus, founded by Frank Dallam Jr., at the growing steamboat terminus of Riverside. Mooney reports Dallam sold to Harry Proctor in 1906. Riverside merchants bought him out in 1908 and installed Wallace R. Struble to launch a drive to move the county seat from Conconully to Riverside.
Struble yielded to C.P. Scates, also publisher of The Omak Chronicle. Harley Heath later ran it for Scates, but lack of business folded it in 1915.
1905
• Independent Democrat, Twisp, as founded by Jesse Faulkner, but died the same year.
• Winthrop Eagle, founded by the Methow Valley Land Co., which used Faulkner's plant to set it up, Mooney reports. George Goode was editor for its eight to 10 weeks of publication.
• Oroville Gazette, founded by Fred Fine, continues to serve readers in northern Okanogan County.
• Molson Independent, founded Sept. 22 by O.H. Woody, who put up with Molson's dual townsite squabbles for two years, then moved to Okanogan (or Alma, if you prefer).
1907
The Okanogan Independent, came out of the hills to set up in two tents in Okanogan. O.H. Woody set a record, publishing the paper from 1905 (if you count the start in Molson) until 1941.
Woody started twice-weekly publication in 1915, took in Harley Heath as a partner in 1926, sold his interest to Calvin Phillips in 1941 to become state printer. The paper ceased publication in late December 1975.
1908
The Molson Leader, founded by Howard and Georgia Mooney in "Old Town" Molson on Oct. 16. The Mooneys had owned several papers before they started this one. In March, 1910 they merged it into the Chesaw News.
It popped back into existence within a year or two with R.B. Darlington as publisher. In 1917 the Mooneys paid him to leave town and took it over again, this time merging the Chesaw News into the Leader. They sold in 1919 to Frank Emert, who closed it four years later by merging it into the Oroville Gazette.
1909
The Pateros Reporter was founded by Arthur Dodd, who was followed by A.N. Hill. Frank Emert owned it for a time. It was later merged into the Brewster Herald, ceasing to exist in the 1930s.
1910
The Omak Chronicle was founded by Clarence P. Scates. Now owned and operated as Omak-Okanogan County Chronicle LLC, the paper continues to publish twice weekly.
1912
The Methow Valley Journal, was founded by Bill Brinkerhoff in 1912, says Mooney. DeVos called it The Winthrop Journal and remembered it publishing in 1908. It was one of two county papers of Democratic persuasion in those days.
The Journal survived until shortly after Brinkerhoff 's death in 1941. It suspended publication when its publisher, Brinkerhoff's nephew Bill Millman, was called into the service in World War II.
Molson Leader was recreated by R.B. Darlington and some others after the Mooneys closed it. Accurate publication dates are not known. It allegedly later used press equipment left behind in Brewster by Ashley Holden Sr., when he was called into World War I.
Holden had purchased the Mooneys' first Chesaw News in 1915 and shortly thereafter moved it to Orient, and in 1916 to Brewster all accortl1ng to Mooney.
1913
The Molson Review, another sort-timer was created by Frank Chitty, printed at the Oroville Gazette and hauled to Molson. It operated from February through April, according to the Highland Review.
The Tonasket Times, Mooney reports, was founded by Frank Putnam, in 1915, but 1914 papers have been found. Conflict over the dates hasn't been resolved.
It may be that Putnam ran both it and the Conconully Record before merging them in 1915. It suspended publication a few years before Ashley Holden Jr. started the Tonasket Tribune in 1951.
1915
The Riverside Tribune was a brief fling by O.H. Woody of the Okanogan Independent the same year the Riverside Argus folded. Its existence was "very brief," Mooney reports.
1916
The Brewster Review appeared when Ashley Holden Sr. came back to his hometown in 1916-17 to go into competition with Gillespie's Herald. Holden's brother, Frank, took over when Ashley went to war, then left it to go to war himself. Mooney recovered the plant and moved it back to Molson.
1951
The Tonasket Tribune was founded by Ashley Holden Jr., and his wife, Hazel. They were later joined by Ashley Holden Sr. The Holdens sold the paper and plant to Clayton and Cleland Emery of the Oroville Gazette about 1975.
(This story was originally published May 22, 1985, by former Chronicle owner John E. Andrist on the occasion of The Chronicle's 75th anniversary. Information has since been updated by Chronicle Managing Editor Brock Hires. While this report covers most — but probably not all — of the papers which came into being in Okanogan County, it leaves out any that may have existed in the Nespelem-Coulee Dam area. No records were available for papers in that area and references would be greatly appreciated. Readers who have old copies of any early Okanogan County newspapers could advance the cause of history by donating them to the Okanogan County Historical Society, or allowing them to be copied.)