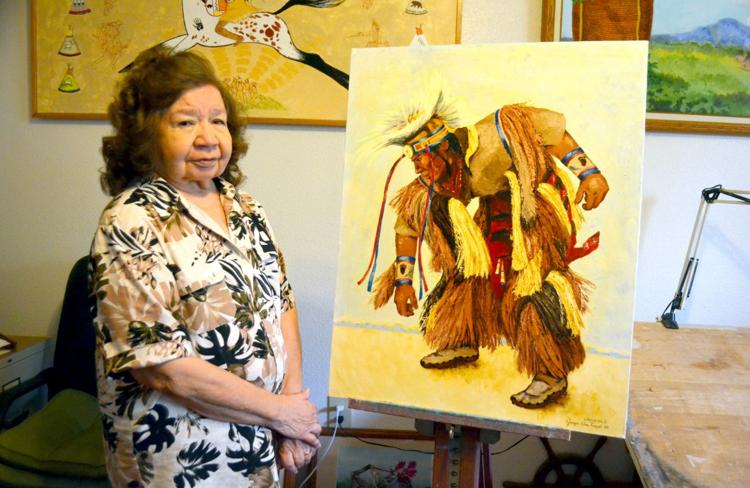 OMAK — Georgia Orr Tongel, this year's featured artist in the Western and Native Art Show, enjoyed success as a commercial artist in New York and L.A. before returning to her native home of Okanogan County.
Her artwork has changed with her travels, from technical and detailed pen and ink drawings for newspaper ads to oil paintings with a palette knife. She now favors acrylic paints as they dry faster and are more amenable to changes.
Tongel, a Colville Tribal member, said her painting chosen for this year's poster, "Appaloosa in Time," is based on an award-winning racehorse in Kentucky whose colors she loved.
"The Appaloosas are prancers, they like attention," said Tongel. "They know they are beautiful and love to strut their stuff."
"Appaloosa in Time" includes symbols representing the Appaloosas being loved by royalty, the wealthy and Native Americans throughout time.
Tongel is incorporating Native American symbols in most of her paintings these days.
"The symbols are from all the different bands. They all had their own special images and symbols," said Tongel, adding she includes them out of respect for their way of life. "I am just feeling in awe of what they did so long ago, and the conditions in which they lived. It's just amazing what they did. Today we have it so easy and take so much for granted."
A painting of a buffalo called "Shield of Defiance" includes feathers illustrating successful coups, buffalo tails, a medicine bag and a half-circle of bullets symbolizing the near-extinction of the buffalo.
Another one, called "Celebration," features a Native American man on an Appaloosa surrounded by an arch of 16 tipis with symbols from all over the U.S.
"People love to celebrate, whether it's a new baby or a good marriage," said Tongel. "I tried to not do any one symbol or tribe, I tried to generalize. The tipis are Plateau Indian style, which a lot of tribes adapted to –including our tribe--because they are easy-up and mobile. They use canvas now instead of skin."
Tongel is currently working on an acrylic painting of a skin painting which Tongel found a photograph of in her extensive research library. The skin painting includes "symbols from two different women and their imagination."
Another feature in much of Tongel's current work is baskets. One called "Huckleberry Season" shows a cedar-root basket holding huckleberries, with a smaller one worn while picking the berries. A corn husk bag holds the berry picker's lunch, often containing dried venison and camas, a bulb root that comes out in early spring. The gloves in the painting were made by Tongel's grandmother, Josephine George of the Wenatchee Band of the Yakima Tribe.
"She did the bead work on elk or deer hide for whatever was wanted. Elk was very hard-wearing and long-lasting, and she would use doe or fawn for a finer quality," said Tongel. "Women could order all different lengths."
Tongel's signature on her paintings, Georgia Orr Tongel, includes "Nahumnla," which was her grandmother's name for her, as she couldn't pronounce "Georgia."
She said her married name "Tongel" was shortened from the Belgian Van Tongel by her husband Jayme when he became an American citizen. Tongel said after going to school in Brazil and working at a studio moved to New York and took a job with Abraham and Strauss in Brooklyn.
"That's where we met," Tongel said of her husband. Her own path to New York began, in part, with a scholarship to Gonzaga from the Colville Confederated Tribes. Her senior year was spent in Gonzaga's program at the Accademia Della Vella Art in Florence, Italy; where Michelangelo studied. Graduating from there in 1966, she headed straight for New York.
"I had my portfolio all ready, and I was determined to go into advertising," said Tongel. Taking a temporary job at Macy's, she hit the streets with her portfolio and three months later landed the job at Abraham and Strauss.
"Jayme was working there in the advertising department," said Tongel. "It was so nice working with all those artists in a wonderful atmosphere."
Tongel's work involved very detailed pen and ink drawings for black and white newspaper ads.
"They liked me because I could draw both the very tight, realistic stuff and the pretty girls showing the jewelry," said Tongel. From there the couple moved to L.A.
"That's where we did really well," said Tongel. "We made very good money, and after four years had saved enough to buy a condo in Rio de Janeiro to be by Jayme's mother."
When they returned to L.A. five years later, with Jayme working for J.C. Penney and Georgia for Buffims in Long Island, they found themselves "outdated" by the newly burgeoning computer age.
"So, we moved here in 1991," said Georgia. "I went full-circle. Born in Nespelem and went back to Nespelem."
The Tongel's art continued to flourish, and Georgia has participated in the Western and Native American Art Show yearly since 1997, winning multiple awards. Her depiction of Christine Quintasket, the first Native American woman to publish a novel and the first woman elected to the Colville Business Council, called "Mourning Dove,"
was featured on the 2014 poster. Jayme was honored as the poster artist in 2011, following his death in 2010.
"I'm very happy here, and feel fortunate," said Tongel. She was recently asked to create a logo for the Sinkietqu Okanogan Basketweavers Association, who will be showing at the Western and Native American Art Show for the first time this year. The group formed in 2015, and some of the members traveled to Washington, D.C. last year, where they demonstrated their art at the Smithsonian Institution. Tongel said she had great appreciation for the way the women use the old traditions to do their work. They use tulles, cedar, cedar bark, bear grass and hemp to create the baskets. Their mission statement is to preserve, promote, protect and perpetuate traditional and contemporary Northwest Native American Basketry, and materials and gathering sites.
Returning artists to this year's Western and Native American Art Show include Ron Adamson, Jack Babcock, Barbara Conner-Reed, Nelda Patison, David Craig, Le Ella Day, Cheryl Grunlose, Tom Morrison, Don Nutt, Sherry Orchard, Tina Reeve Tharp, Bruce Townsend-Cook and George L. Traicheff. Also returning are Okanogan County Artists members Sarah Stone, Shayla Wiggins, Patty Helberg, Cheri Bjur, Linda Vance and Suzette Cheshier.
Bob Walton, who was the poster artist for the art show in both 2011 and 2013, will be missed this year after passing away in May. He was an avid hiker and mountain climber and his paintings reflected his love of the outdoors. He was also an artist for Leaning Tree greeting cards.