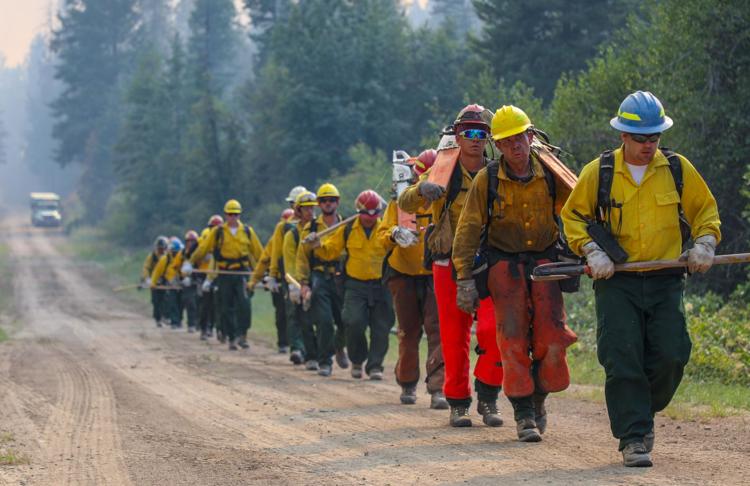 KELLER - The Williams Flats Fire has prompted Level 3 (leave now) evacuation orders in the areas of Little Nine Mile Creek West to Whitestone lookout and south to the Columbia River, according to the Ferry County Sheriff's Office.
The blaze is estimated to be at 18,000 acres with 25 percent containment as of late Tuesday.
Aerial firefighting efforts were briefly suspended yesterday when a drone flew into a restricted flying area. 
"The incursion caused all firefighting related aircraft – helicopters, Fire Bosses and large retardant planes to suspend operations and return to the airport," officials said. "The suspension of aerial firefighting operations continued until a verification could be made that the drone had left the area. "
During the suspension, no aerial support was provided to the firefighters on the ground and the fire was allowed to burn unchecked, according to officials.
On Tuesday, firefighters worked to reestablish a safe anchor point for fire line construction on the northeast flank. The fire continued to burn to the Whitestone Ridge on the southeast flank of the Williams Flats Fire.
"Line construction is on-going and additional resources were moved into this area to assist in securing the southeast flank," officials said. "Containment lines on the west flank have tied into the Nine Mile Road with portions of the line being determined as secure and placed in patrol status.  Dozers worked to construct direct fire line toward the fire's northeast corner. Firefighters were supported with water and retardant drops constantly throughout the day. "
Challenges firefighters are facing include high temperatures, active fire behavior, reduced visibility, rocky terrain and wildlife dangers in the form of snakes and bears, according to officials.