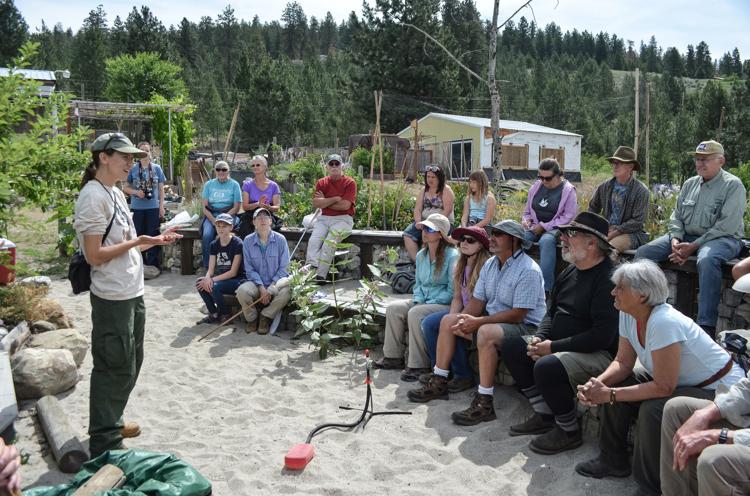 Twenty-six volunteers and lifelong learners turned out to join Rich Hatfield to put bumble bees on the map Saturday, June 22.
Hatfield, a senior conservation biologist with The Xerces Society for Invertebrate Conservation out of Portland, Oregon, is one of three project coordinators for the Pacific Northwest Bumble Bee Atlas project.
Several of North America's nearly fifty species of bumble bees are undergoing dramatic population declines, according to the International Union for Conservation of Nature (IUCN) Bumble Bee Specialist Group, comprised of more than 70 scientists worldwide. Two species (Bombus franklini and Bombus affinis) may already be on the brink of extinction.
The Atlas project, a collaboration of The Xerces Society and the Idaho Department of Fish and Game, Washington Department of Fish and Wildlife, Oregon Department of Agriculture and the Oregon State University, is working with volunteer "community scientists" to collect current data on distribution of over 30 species of bumble bees native to Idaho, Oregon and Washington.
Hatfield said organizations were coming to Xerces to learn to create habitat and restore what was once here to support the diversity.
"Some species of bees are in trouble. We need to know which plant species and habitat types support the endangered species in addition to the common bees, but we don't have the evidence we need," said Hatfield, who also works with farmers to create habitat for invertebrates, which make up 95 percent of animal biodiversity.
The project, in it's second year of three years, breaks Idaho, Oregon and Washington up into 50 km by 50 km grid cells, with a goal of surveying 75 percent of the grid cells at least twice during the bumble bee flight period between 2018 and 2020. The project targets the months of June, July and August.
Hatfield said so far, 600 volunteers have signed up across the three states.
Saturday's volunteers for the project included Jeff Heinlin, a wildlife biologist with Washington Department of Fish and Wildlife and his wife Erica, a botanist with the US Forest Service; Kathy Cannon, with  Natural Resources Conservation Service who works with farmers and ranchers; Professor and entomologist Joe Fortier of Wenatchee Valley College in Omak who specializes in parasitic wasps; Todd Thorn, forester and recently retired as watershed program manager from the Environmental Trust Department of the Colville Confederated Tribes; Nancy Strahm, a native plant landscaper; and other volunteers of all ages, including several youth.
Joining the group from Okanogan Highlands Alliance (OHA), the non-profit organizing the event, were Conservation Coordinator Julie Vanderwal, board president George Thornton, Conservation Associate Maddie Price and co-executive director Jen Weddle.
The event was made possible through a grant from Humanities Washington and a generous donation from Bob Raymer Machine Works; with Raymer also volunteering for the day.
Surveys of bees were conducted at three sites. The first stop was Jimmy Johnson's "Sundog Gardens" on Havillah Road, a property dedicated to native plant restoration with lots of plants blooming to attract bumble bees.
Five species of bumble bees were found. Of the 500 or so species of bees in Washington state, around 30 of those are different types of the genus bumble bee, or Bombus.
The bees were collected with nets, and placed in a vial, preferably with part of the flower they were found on. The vials were then placed in a cooler, to put the bees in a state of torpor where the physiological activity is reduced, similar to an animal in hibernation. After several minutes in the cooler, bees are slowed down enough to be photographed and identified.
Photos should include a close up of the face, thorax and abdomen. Hatfield said the space between the eyes and mandibles was very important for determining species, and profile shots show color patterns.
Hatfield pointed out features such as color patterns on the face and top of head, where wings are attached and morphological features such as cheek size to identify the bees found.
Species collected at the Havillah Road site included a Bombus griseocollis (brown-belted bumble bee) found on flax (also known as toad lilly); a Bombus rufocinctus also found on flax; a Bombus centralis, (central bumble bee) found west of the Rockies and east of the Cascades; a Bombus bifarius (two-form bumble bee) found on blanket flower, and a Bombus huntii (Hunt's bumble bee).
Once identified, the bees were released back into their habitat.
A sweat bee or Halictidae of the genus Halictus was also found.
"She lives alone and does all the work herself, without worker bees, and lives alone in a hole in the ground," said Hatfield.
Also found was an Osmia lignaria otherwise known as an orchard mason or blue orchard bee found on clover. They are metallic colored, often green or gold.
A stop along Myers Creek Road on the way to Lost Lake produced seven species of bumble bees.
Hatfield captured a large Western bumble bee or Bombus occidentalis, on a wild rose or nootka rose plant.
"The Western is one of three key species, as they are in decline," said Hatfield. "It's a very rare find. They used to be common, but are in dramatic decline. They are basically gone from the western side of the state, due to disease."
Hatfield said it was really helpful know this species was utilizing a wild rose plant.
"We want to know where they are, where they live," said Hatfield.
Also found were Bombus fervidus (yellow bumble bee) on wild rose; Bombus centralis      (the central bumble bee) on lupine and rose; Bombus rufocinctus  (red-belted bee) on rose, a large "white-shouldered" queen Bombus appositus on rose and a Bombus mixtus commonly called a fuzzy-horned bumble bee due to males having tufts of hair at the end of their antennae.
Bombus bifarius were found on wild rose, scarlet gilia and geranium.
Maria Welton caught a sweat bee of the genus Agapostemon, a bee known for it's metallic green color, on a scarlet gilia plant.
A digger bee of the genus Andrea, often called "mining bees," was also found on a scarlte gilia plant.
A search along the water's edge at Lost Lake produced several species of bumble bees, many of them found on snowberry blossoms.
"One of the great lessons from snowberry is to look at all plants, not just the spectacular ones," said Hatfield.
Bees found included Bombus mixtus on snowberry and raspberry, Bombus bifarius on rose, raspberry and snowberry, Bombus flavifrons on snowberry, and Bombus melanopygus or black-tailed bumble bee.
A megachilidae, known as a leafcutter bee, was also found on snowberry.
A Bombus flavidus, one of three different Cuckoo bumble bees, was also found.
"Cuckoo bumble bees don't make their own nest, but steal another's and use the worker caste to raise her young," said Hatfield. "She kills the other queen. They don't collect pollen, and have a hairy back leg."
Hatfield pointed out how the cuckoo's abdomen was curved under the body "in a position to fight."
"That's how their body is designed, to be aggressive," said Hatfield.
He said both the megachilidae and flavifrons were good finds.
Bumble bees live in colonies of 50 to 500 members, smaller than honey bee colonies which can contain over 10,000 individuals. Also unlike honey bees, bumble bee colonies are annual, with the newly-produced queens the only ones to live through the winter.
They are an important part of the agricultural economy, contributing to successful harvests on farms.
According to the Xerces Society, causes of their decline include loss and fragmentation of habitat, pesticide exposure, climate change, overgrazing, competition with honey bees, low genetic diversity, and the introduction and distribution of bee pathogens into the environment from commercial pollinators.