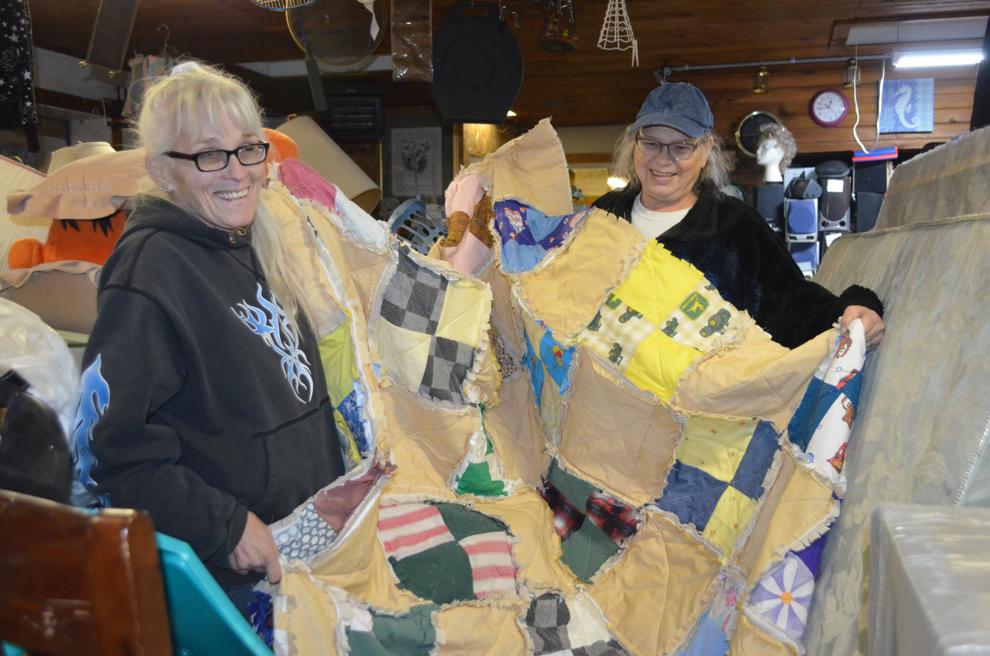 OROVILLE - Pat Kunsman-Castro runs a clothing bank in Oroville that benefits not only north Okanogan County, but cities throughout the state.
"Cities like Omak, they run out of items and we supply them. We have deliveries going to Wenatchee, Moses Lake, Spokane and some to the coast this week," said Kunsman-Castro, adding, "We are at the end of the road here in Oroville. I don't know where all this stuff comes from."
Kunsman-Castro said deliveries to a small town on the coast were for the homeless.
"We also supply four homeless shelters in this area with sleeping bags, boots, and coats," said Kunsman-Castro. Shelters receiving items from Oroville include a teen center in Wenatchee, a homeless shelter in Omak, and The Support Center in Omak for survivors of domestic violence.
Kunsman-Castro said her church, the Seventh Day Adventist Church in Oroville, also sponsors a homeless/transient service she helps out.
"People traveling through, they always run out of stuff and go to a church," said Kunsman-Castro. "They run out of gas and ask for gas money, but I finally convinced the church program to give them a voucher for gas instead of cash."
Kunsman-Castro said cash donations to the clothing bank were greatly appreciated.
"Cash donations are nice because there's always people, older people in particular, that can't pay some of their utility bills," she said. "And with the rigamarole you have to go through to get help elsewhere, we just go pay the bills."
Kunsman-Castro, who has been working at the clothing bank the past 11 years, said she often pays the bills to run the center out of her own pocket, despite living on $433 per month.
"We have one guy, he's a real sweetheart, who comes in every month and gives me $30 because he thinks it's a worthy cause," said Kunsman-Castro. "And then we have people who come in and buy a small item and give us a $20 bill and say, 'Keep the change.'"
Volunteering alongside Kunsman-Castro is Georgia McCoy. A lot of time is spent organizing the endless donations of clothing, housewares and furniture; and delivering items to area organizations in need. 
Other volunteers include Gale Noel, who goes in every day during the week to bring in stuff people leave outside, so it doesn't get wet or stolen.
"He takes care of a lot of our maintenance for us, too," said Kunsman-Castro. "Every Thursday Mr. Bob comes in to help out. He does a lot of the repair work and tries out the electrical stuff to make sure it's working properly. We have ladies that come in and straighten the shelves for us; refolding items and putting them back."
One special volunteer is Leann Kline, formerly of Oroville, who now lives in Mansfield.
"She's 80 years old, uses a voice box and she makes quilts for us. She punches out four or five a week for us," said Kunsman-Castro, adding that Kline's sewing machine recently broke down and they were trying to find another one for her. "We give her all the material and the stuffing, and she makes them and we sell them for her here in the store. We only charge about $40 for a homemade kingsize quilt, which would cost about $100 in the store. I give out blankets for free, but a lot of people want something new, and these make really nice gifts."
"They are really nice quilts," agreed McCoy.
Kunsman-Castro said when the quilt inventory got large with Kline's prolificacy, she assured her, "Wait until winter and all of these quilts will be gone.
"We got a cold snap and they were all gone in one week," said Kunsman-Castro. 
She said Kline delivers the quilts herself, or sends them up with her grandson.
"She makes a lot of baby blankets for us, too. We make up layettes and put it in a basinet or crib, whatever they need," said Kunsman-Castro.
Kline also makes purses and shopping bags out of jeans.
The clothing bank donates items to Oroville schools.
"We save all the prom dresses, suits and nice shoes and give it to the high school so the kids have stuff to wear. Who wants to go out and buy a dress you wear once?" said Kunsman-Castro. "We also send coats and boots to the grade school. We send them pj's and all kinds of stuff. So many of the kids don't have anything. We also give them all the backpacks, and any school supply stuff we get, we send over there to them."
The clothing bank also benefits the community by loaning out walkers, canes, crutches, a wheelchair and an ejector chair for people who just had hip surgery or other temporary setbacks.
"We loan it out, and the stuff we require back is the wheelchair and the ejector chair. It costs a fortune to rent, and they can't buy one. The Chair-Ease has been in a lot of homes over the years. It's an old one but a good one," said Kunsman-Castro. "The rest of the stuff, we can always find more of. We've got five or six walkers now. We also have potty seats and potty chairs. I don't really have a place to keep them, but we cram them in a corner because I just can't see the price they charge to rent them. We also have the handles you put in the shower. We try to take care of everybody."
Assisting others get over obstacles helps the two women, both in their 70s, to face their own challenges.
"I battled cancer, hepatitis-c and now Parkinsons. But my belief is, if you keep going it can't catch up," said Kunsman-Castro. "You name it and we do it. Or we try to do it, and if we can't, we try to find someone who does. Everybody knows if we don't have something, we can find it in a day or two."
The clothing bank recently donated half a trailer full of clothing to Tonasket's Julie Alley, which she drove to Spokane and sold to Value Village for $3,000.
"We donated the money to the kitty rescue Julie runs," said Kunsman-Castro. "We take care of all God's children."
The profits benefitted Okanogan's Animal Foster Care program.
"We have done it in the past, too, and got almost $4,000, so it was a total of $7,000 from them," said Alley, adding she was no longer collecting clothing, as Value Village ended the program for this area.
The Oroville Clothing Bank, located on Ironwood Street across from the high school, is open Thursdays and Fridays. A charge of $5 per bag helps keep the clothing bank operating.