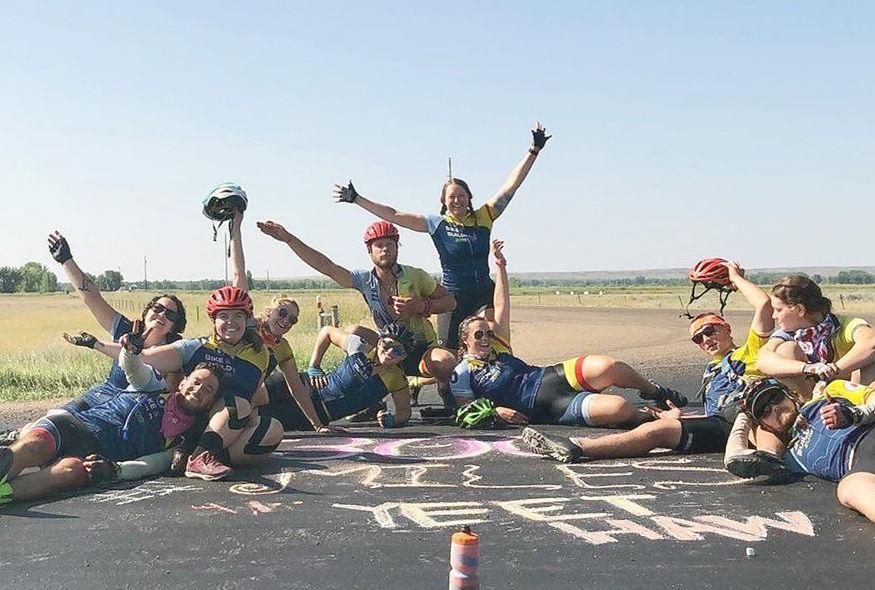 OKANOGAN — A group of bicyclists on a mission from New Hampshire en route to Bellingham passed though Okanogan and Ferry counties last week.
Bike & Build organization's northern U.S. route started June 13 in Portsmouth, New Hampshire, and was slated to end Monday, Aug. 26 in Bellingham.
Bike & Build is a non-profit organization that involves young adults in service-oriented cycling trips raising funds and awareness for affordable housing.
Affordable housing is referred to as a home with affordable payments and taxes and the basic utilities not exceeding 30 percent of a household's gross income.
According to the National Low-Income Housing Coalition, roughly 11.4 million individuals and their families (or about one out of four rental households in the U.S.), fall into the extremely low-income category, whose income is at or below the 30 percent of household's gross income.
According to the coalition, people that fall into the extremely low-income category spend more than 50 percent of their income on housing, which leaves fewer funds for basic nutritional, education and medical needs.
The vision of the organization is to imagine future generations who are committed to a lifetime of civic engagement and who inspire individuals and communities to create fair, decent housing for all Americans.
Since its founding in 2003, $6.6 million has been donated to the Bike & Build organization for the affordable housing cause.
The group arrived in Ferry County early last week before making it to Omak on Wednesday. The group had dinner at the Community Presbyterian Church in Omak and spent the night.
The group proceeded to travel on Thursday, Aug. 22 to the Okanogan Community Homeless Shelter.
Ryan Schmedding, a rider on the trip, said the northern U.S. route total mileage was somewhere between 4,000-4,100 miles.
"There are three cross country routes each year: A southern U.S. route from Jacksonville, Fla., to Santa Cruz, Calif.; a central U.S. route from Norfolk, Va., to Astoria, Ore.; and the northern U.S. route," Schmedding said. "There is also a regional trip that starts in Portland and travels around the Olympic Peninsula and finishes in Bellingham as well."
Each Bike & Build rider participates in a curriculum designed to inform the riders and community members that the riders meet during the summer. Prior to the trip, riders will read about and discuss the various issues surrounding the affordable housing cause-which refers to public housing, sustainability, socioeconomic influences and such.
The riders also meet with individuals in their community that are impacted by the crisis of affordable housing, and each rider will share what they have learned from fellow Bike & Build teammates and the community members they have met while on the journey.
During the journey, the rider group will stop around every fifth day and will rest their bicycles and pick up tools to help at an affordable housing building location with a local affiliate. The riders will serve with local community members in a hands-on effort of Bike & Build's pursuit to make a difference in affordable housing. Additionally, each rider must raise $5,000 prior to the beginning of the journey. A portion of the $5,000 goes toward the Bike & Build's competitive grant program which supports affordable housing organizations across the U.S.
"The 'Build' component of the program comes from 13 'build days' that we do as we travel across the country," Schmedding said. "Some of these 'build days' do involve construction. Some projects we have done have included re-roofing homes in New Hampshire, renovating apartments in Grand Rapids, and setting concrete for driveways in Whitefish.
"Not all of our build days involve actual construction," Schmedding said. "We met with community leaders in Bismarck to advocate for an affordable housing policy and we helped a Salvation Army chapter host a cookout for the people experiencing homelessness in La Crosse, Wisconsin. So, the trip is a mix of fundraising, physical labor at construction sites, community outreach and engagement, education, and biking."
Schmedding said the group of 26 riders has raised more than $130,000 for the affordable housing cause and for each town the group stopped in, they donated $100 to a housing authority site in that town.
The group members consisted of Ryan Schmedding, Jake Robbennolt, Dale Robbennolt, Caleb Guziak, Tait Selvik, Leader- Christina Wood, Leader- Ivan Marchena Jr., Leader- Dan Grussing, Leader- Megan Althaus, Jessie McKenzie, Julia Mancini, Meghan Higgins, Soren Barclay, Tyler Barron, Alec Beattie. Megan Ernst, Megan List, Julie Maloney, Claire Burke, Hogan Dwyer, Nicholas Murphy, Tyler Kaiser, Alyssa Rauschenberger, Kayla McCabe, Lorelei Meidenbauer and Adam Wallin.
Schmedding also said each rider could choose a housing authority non-profit of their choice to donate $250 to.
Schmedding stated he wasn't 100 percent sure what the group was going to be doing at the homeless shelter on Thursday and he hadn't heard any details other than he heard there were some issues with the shelter's liability insurance, so the group wasn't going to be doing any physical construction.
"We didn't get to do any construction today unfortunately," Schmedding said. "We just got to meet with the director of the shelter and learn about the programs. We are heading out tomorrow (Friday) morning to camp at the Early Winters campground before crossing the Cascades.
"I first heard about Bike & Build from my best friend in high school who did the central U.S. route several years ago," said Schmedding. "I was a competitive triathlete in college and worked in a bike shop to help pay for school. So, he recommended I do a trip based on my cycling experience and prior volunteer work that I had done. This is my first trip with Bike & Build."
Schmedding said he thought the most meaningful part of the trip was getting to know beneficiaries of affordable housing organizations and how the work they are doing is directly improving their lives.