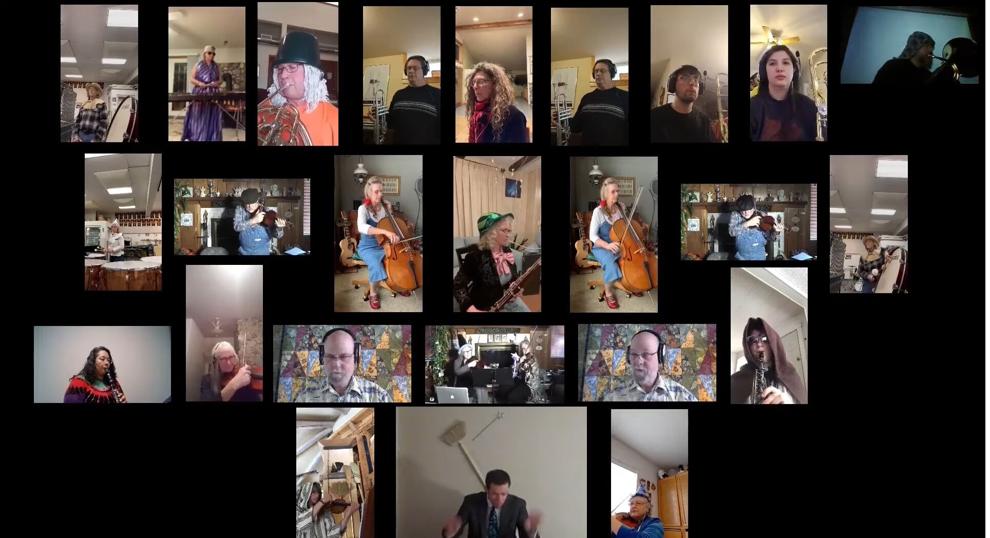 Okanogan Valley Orchestra and Chorus returned with its third virtual concert for the season, "Music is Vital," Saturday Feb. 20.
The YouTube performances brought a mix of popular selections from the big screen.
The orchestra, under the direction of Matt Brown, started the nearly half-hour concert with "The Sorcerer's Apprentice," by Paul Dukas and arranged by Jim Higgins.
The piece is well-known for its use in Disney's "Fantasia."
"Each year our family concert has carefully chosen music that the entire family, young and old, can enjoy together," Brown said. "This concert has that, plus the added benefit that you can share this concert with family anywhere in the world."
Up next was the chorus, directed by Derek Pulsifer, with Roger Emerson's arrangement of "Lava," by James Ford Murphy, from Pixar's animated short of the same name.
Perhaps one of the highlights from the show was the sound and stylings of the OVOC jazz band (Sarah Walker, Bob Hougham, Calvin Gorman, Don Pearce and Pulsifer) with their rendition Bobby Darin's 1959 hit "Beyond the Sea," arranged by Roger Holmes.
The chorus performed Randy Newman's "You've Got a Friend in Me," arranged by Mac Huff, from Disney's "Toy Story." It seemed that the individual video clips of performers may have been a little bit out of synchronization, but I'll bet many listeners didn't notice that.
The final number of the day was Chuck Sayre's arrangement of Harold Arlen's "Over the Rainbow," from "The Wizard of Oz."
This number brought a wide dynamic range, perhaps part of the groups' plan to save the best for last.
For more information about the group or to donate, see ovocmusic.org.
Folks who receive their television and radio signals in Okanogan Valley by Okanogan County TV District No. 1 should be restored soon after repairs are made to the main tower and antenna.
During a windstorm last month, the district "suffered a catastrophic collapse of its main tower and antenna," said a district announcement. "The antenna carried other channels or signals that were shared to the district's translator sites on Pickens Mountain, Mount Olive and Fox Mountain, in addition to being a relay for KSPS (public television) to Bridgeport and Chelan."
"At this time the first phase of the Omak restoration project involves restoring the main channels for KSPS, KXLY, KAYU and KHQ on a temporary basis," a statement from KSPS said. "For this to happen, the new antenna that has been purchased for the site needs to be available and the access road to the Omak site must be cleared.
"The new antenna was shipped today Feb. 11 and could take up to 10 days to arrive given it is being shipped from Florida," the statement said.
"Financial commitments have been received from Okanogan County, Washington state Department of Commerce Safe Start Funding, the Open Roads Alliance and the TV district reserve funds," said the district. "Several Spokane TV stations - KSPS, KXLY, KHQ and KAYU - are cooperating with the district and assisting with the planning and implementation for the recovery and growth of the TV District No. 1 system."
The short-term repair option is to move new antennas onto a pole tower to broadcast the Spokane channels.
If you're a fan of Americana, country, bluegrass, classic rock, folk, and rhythm and blues music, be sure to mark your calendars for Aug. 6-7.
"We are dedicated to promoting, developing and nurturing music for the benefit of our rural communities of the Inland Northwest," organizers said. "We joyfully create opportunities for the public's musical growth, enjoyment, education, and entertainment through performance-oriented musical enterprises and festival programs so we can help provide music scholarships for youth music lessons and workshops."
On a final note: Please keep Michael Duarte in your thoughts as he lost his home, transportation, musical instruments, and art supplies to a house fire last Thursday.
A GoFundMe page, which has raised more than $6,000, has been launched.
"We all know and love this guy and I'm asking the community to come together in any way they can to help out," fundraiser organizer Kirk Gildroy wrote. "Contribute to this fundraiser, donate needed goods or help, whatever it may be. This guy has gone out of his way to entertain and help a lot of people in this valley so let's give back and help out."
Duarte has performed in a variety of bands throughout the region, including a duo with his mother, Lota, and as bassist for the Road Dawgs.
"I want to thank each and every one of you for the love and support that you have given me," Duarte wrote on social media. "I love you all very much and thank you with all my heart."
I've posted a link to the GoFundMe on my Facebook page @okanogancenterstage.