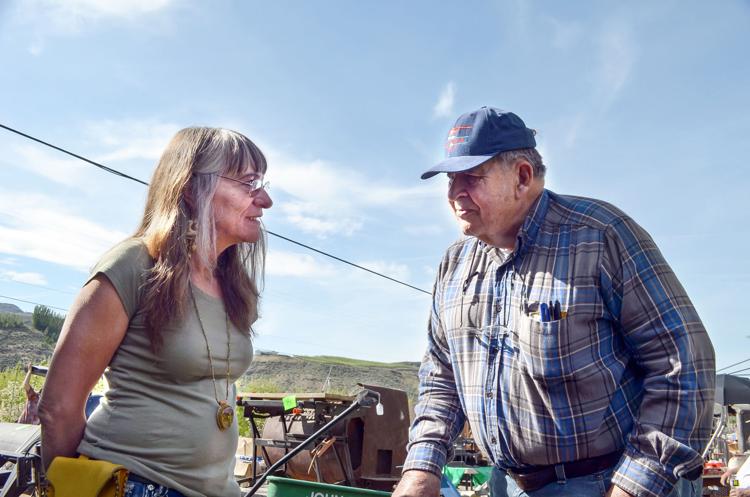 TONASKET - An annual community tradition hit its 25th anniversary when Jessie Cook hosted her yard sale at her home off Highway 7, north of Tonasket. Cook said at least 500 people attended the two-day event May 3-4.
"It was a wonderful turnout, and we counted over 500 people showing up this weekend," said Cook. "That's pretty fantastic for a yard sale."
With 11 vendors this year – and as many as 18 vendors in years past – Cook's event is far from a traditional yard sale.
"It's an event of the county. It's become more of a flea market, but I had to keep the name so people know it," said Cook. "Another thing I love about doing this, a lot of people I only see this weekend. It's like Barter Faire that way."
Cook said her inspiration for starting the yearly event began when she married her late husband Fred Cook.
"Coming into the Cook family, Howard and Eva (Fred's parents) had been doing yard sales for years. When I married into the family, it became part of my blood," said Cook. "They got me doing Barter Faire, too. It would have been my 25th Barter Faire last fall, but I got a new job."
Cook's artist cabin, where she would spend hours making glass mosaic mirrors and other creations, was transformed into a bargain basement for the yard sale.
"All the items in the cabin are half off," said Cook.
"We doubled the prices yesterday," joked her partner, George Wallis.
"Dreams and priorities change," said Cook. "I got a real job with the post office in Loomis. Things change."
A change in this year's yard sale was musicians providing music both days, all day long.
"Potter's Lighthouse is performing as a free gift for my 25th anniversary," said Cook. The group, made up of Sherry Potter and Rick Castor, was rounded out with Kyle McConnell and Brad Cookson.
Another change this year was a free raffle drawing, with several vendors donating prizes.
James Cunningham won a metal bouquet designed and welded by Cook. Carol Randall won a wooden birdhouse made by Mike Deharsh, John Guyaz won a mosaic mirror created by Cook, Jessica Otte won two fairy paintings by Bonnie Pleasants, Ronni won a fabric art quilt block sewn by Coryann Flohr and Brenda Ballard won a hand beaded necklace by Georgie Hayden.
"Three of the winners were from Oroville, one from Republic, one from Tonasket and one from somewhere else," said Cook. "That's great, it shows people from everywhere in the county came. We had a lot of people from Omak and Okanogan."
Food and drink were available, with Lynus and Nancy Berghorst manning the grills.
"I ran out of asparagus soup today, but will have more tomorrow," said Nancy. "We've been doing this about four years. We live close by and enjoy doing it."
Erica Swensrud, eating a hot dog served up by the Berghorst's, had a jewelry display next to the grills. This was her first year with a table at the yard sale.
"It's pretty awesome," said Swensrud Friday afternoon. "I'm excited for tomorrow. I had to work this morning, but the half day that I've been here has been pretty great."
Also taking advantage of the venue were siblings Bob Kennedy and Corey Flohr, whose father Floyd Kennedy recently passed away. Bob said they had about one fourth of his items up for sale, including old stoves and standing radios. Bob said his father was a two-time decorated WWII veteran, who was among the first occupying troops in Japan with the 11th Airborne attached to the 82nd division in the Army.
"They were planning on jumping in, but the population had planted sharp bamboo sticks, and they would all be dead if they had jumped in," said Bob. "He retired as an E8 sergeant, and went into bio-chemistry research, and was mentioned on the Nobel medical prize."
A 50th Anniversary of the 11th Airborne hat was among the items for sale, but Corey said most of her father's military memorabilia would remain in the family. 
Also sharing stories about days past was Jerry Cooksey, at the sale with his wife Jean.
Born at the Star Ranch south of Pateros in 1933, Jerry said he'd never been gone from the county except for school and the service.
"I lived at Palmer Lake many years," said Cooksey. "I was born at home at the Star Ranch, but it got covered up by the Wells Pool when they put Wells Dam in. The house is still there, but a lot of the land is underwater."
Cooksey said he hadn't been to the sale every year but came to some of the early ones.
Attending the last several years were Mike and Judy Daharsh, who moved to the Okanogan after retiring from the Navy.
"We do five- or six-yard sales a year, from Pateros to Oroville," said Mike. "The city-wide Pateros yard sale, that's a fun time too. It's all fun, we enjoy doing it. We'll be at the Oroville May Fest next weekend."
Daharsh said they make a donation in whatever town they're in.
"We give a donation to the Pateros Fire Department to set up. As soon as we're done (for the season) we give all the coats and clothes to organizations that need them, like the Royal Neighbors in Oroville and the senior centers."
Donating their time in helping run the sale were Deb Bevier, Hazel Wright and Debby Blair.
"It's been a good day," said Blair Friday afternoon. "A lot of stuff is gone."
"It's been a very full, wonderful day," said Cook as she announced 15 minutes to closing. "We've been blessed with the weather. We have had every kind of weather in years past except snow. Two years ago, we had a bad windstorm that totaled five canopies. The worst is the wind."
Cook made her last sale of the day, a 40-foot steel ladder for $40.
"Yay, one more thing I don't have to put away," laughed Cook. Speaking from her home Sunday evening, she added, "It's going to take me a week to clean up."