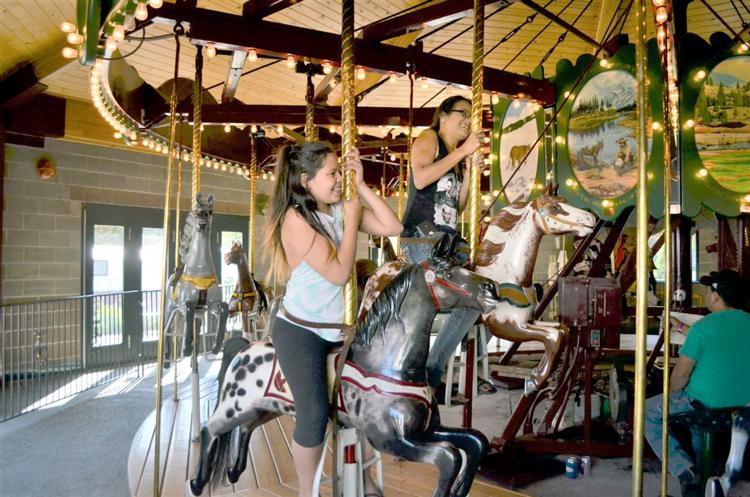 The 76th annual Ferry County Fair will kick off Friday and continue through Sunday at the fairgrounds, 14 Lawson Way.
This year's theme is "Stirrup Some Fun."
"Like many, I look forward to the fair all year long and can't wait for Labor Day weekend to roll around so that I can see all of the exhibits and animals, watch our exhibitors show and compete in their events, watch the horse and Indian Relay Races, enjoy all of the fantastic fair food and visit with friends and family that come to our fair," Fair Board President Travis Fletcher said. "It is an impressive feat to pull off such a wonderful event and it takes an enormous amount of time by countless volunteers to make our fair the highlight that it is."
"We will again be having the market sale at 6 p.m. on Saturday in order to encourage more people to come and support Ferry County youth by purchasing or supporting their market animals," Fletcher said. "I would like to thank all of the people and businesses that attended last year's sale and did such a wonderful job of supporting the kids that had worked long and hard to bring such high quality animals to the fair, and I would like to encourage everyone to attend the market sale and support our exhibitors again this year.
Tandice Fletcher will serve as queen.
"My horse, True, and I, have been busy traveling all over eastern Washington promoting our very fun and exciting fair every chance we get," she said. "I truly believe that our fair has something fun for everyone and I am proud to represent this fair everywhere I go."
Fletcher, a 2019 Republic High School graduate, said she participated at the fair from a young age.
"I am passionate about teaching and helping others grow their showmanship skills and have helped organize clinics to teach other 4-H members," she said. "I enjoy all the activities during the fair; however, my favorite events are the horse racing and our famous Indian relay races."
Pre-fair equestrian events started yesterday. The Exhibit Hall and Quilt Pavilion will be closed all day Thursday for judging.
Parking will be available on the grounds. Excess parking will be at the Republic High School, 30306 E. Highway 20; a free shuttle will be available.
Admission will be charged to those age 6 and older. Youth ages 6-17 will be admitted free on Kids' Day on Friday.
Three-day passes are also available for purchase.
Passes will be available in the fair office in the red exhibit hall from 10 a.m. to 5 p.m. today and tomorrow, and at the gates through Saturday of the fair.
"The goal of the Ferry County Fair Board is to make each fair better than the year before, and I am confident that we will reach our goal again this year," Travis Fletcher said. "Our managers, board members and volunteers have been working tirelessly to ensure that the 2019 fair will be great. I can't wait to see you all at this year's fair.