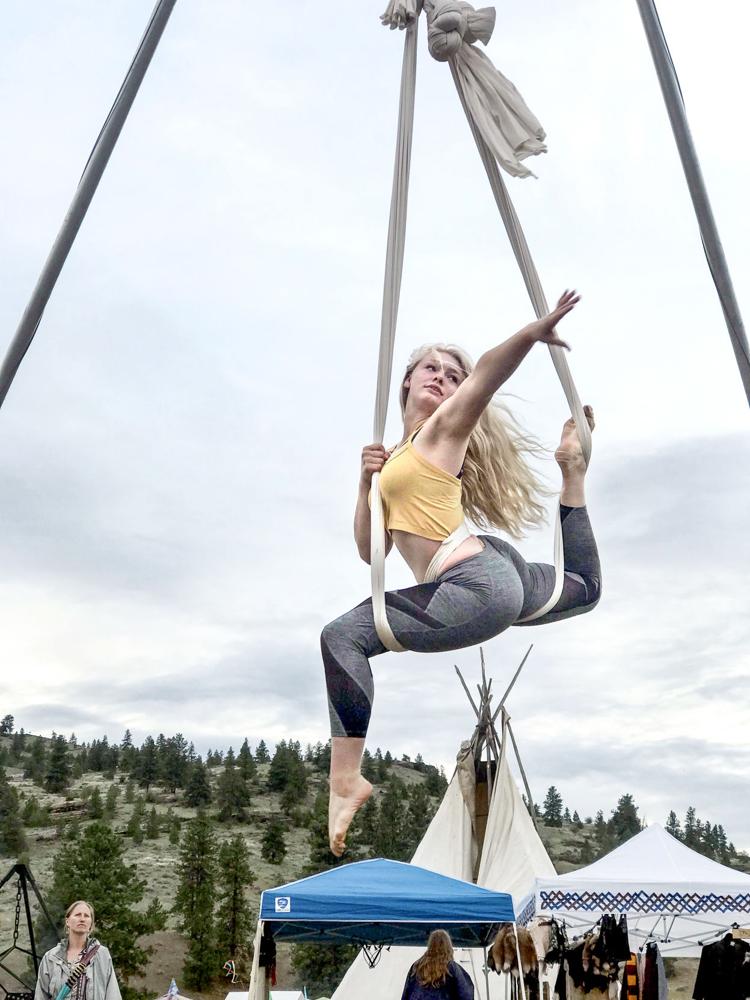 Eighteen-year-old Noni Alley of Tonasket is headed to the American Musical and Dramatic Academy (AMDA) in Manhattan, N.Y., this fall.
A highly competitive school, last year just 1,940 out of 9,153 applicants got in. Their website claims a "low chance of acceptance for typical applicants."
Engaged in the performing arts since she was a child, Alley is known locally for her outstanding talent in feats of the aerial arts and high-wire; gymnastics, singing, dancing, and acting.
She comes by it honestly.
"Tonasket's always had a talent show, and my parents and I, we would do a little gymnastics skit. I would stand on my dad's hands when he was standing up," said Alley.
Her involvement in the theatre started with the Missoula Children's Theatre and The Tonasket Players, led by Sara Kaiser.
"I was in the show 'You Learn Everything You Need to Know in Kindergarten,' and I did a small role in 'Little Women' with Sara's group," said Alley. Her first role onstage was with Omak's Youth Theatre, performing in Charlie and the Chocolate Factory at nine years old.
Her ongoing performances included gymnastics with her parents, Tim and Julie Alley; school and community plays featuring her musical gifts and talent shows highlighting her aerial skills.
Her audition for the AMDA included a song and a two-minute monologue.
"It was really fun," said Alley, who chose to sing "Let Me Be Your Star" from the musical "Smash."
"It's not a well-known musical, but a really good one," said Alley. "I did a monologue from a famous play called 'The Seagull.' I had never done a monologue in an audition before, but I had a book of monologues, and found one I liked. A couple days before the audition, I gave the book back to the person I borrowed it from and she said, 'Oh, you chose that one? That's a really hard one.' I thought 'Oh no, did I choose the wrong one?' But it got me in."
Alley was sitting in the student lounge at Wenatchee Valley College Omak when she got the email informing her of her acceptance into AMDA.
"I made a really weird sound, and everybody looked at me. I was like, 'It's okay, I just got into a really good school,'" laughed Alley.
She made a trip to New York with her parents last summer to look at schools.
"We didn't actually look at this school, but it has a lot of credibility with the career I'm going into, so I got sold on it," said Alley, who will be pursuing a bachelor's of fine arts (BFA) in musical theatre. 
Apparently the AMDA was sold on her as well.
"I got a really good merit scholarship from the school," said Alley. "I was surprised because coming from here, I didn't have us much experience as some of the others."
AMDA's merit-based awards are given to students based on the results of the audition, application and FAFSA.
Alley said it was hard to choose between the circus and musical theatre as a career.
"Musical theater and being on stage and having that feeling on stage when everything comes together, that's really powerful," said Alley, who also performs with the Wenatchee Youth Circus. This will be her third and final summer performing with the circus.
"I found out about the circus a couple years ago, and it worked out I could do it because it's just a couple of practices on the weekends in spring. The summer performances are mainly just Thursday through Sunday and some whole-week ones where we would go to fairs and do half-shows the whole day," said Alley, whose expertise increased each year, and included going from the low-wire to the high-wire.
"I like doing high-wire. I was surprised, because I went into the circus thinking I wouldn't like doing it because I preferred flying trapeze and aerials," said Alley. "But I really like it and that was a surprise."
Asked if a career in the circus was really a possibility, Alley responded "yes."
"There are a bunch of circuses across the U.S. and other countries. There's no school for circus in the U.S., but there are universities abroad I was looking into a little bit."
Travel with the circus includes stops all around Washington state, and one in Idaho. The season opened June 15 with a show in Entiat.
Alley said she was looking forward to a "fairly relaxing summer" traveling with the circus before school starts.
"And then a fresh start at college," Alley said with a twinkle in her eyes.
Asked how she felt about moving to a big city from a town of just over 1,100, Alley replied, "I'm nervous about Manhattan a lot less than I should be."
"Everyone keeps asking me that, and I'm really not. But it's coming," said Alley before explaining the ease she felt with The Big Apple last summer.
"It was not at all the stereotype city you imagine. People there were so friendly and helpful. If we were trying to figure out where to go, standing on the street looking at our map, people would just come right up and ask, 'where are you trying to go?' I think that's what makes me not be nervous about moving there," said Alley. "Also, I've worked with a lot of groups in this area, so I feel like I can really use the skills I learned; like how to run meetings and plan events. I'm on the OVOC (Okanogan Valley Orchestra and Chorus) board as a student representative this year."
Alley also served in student government at Wenatchee Valley College Omak, where she did Running Start her senior year in high school.
"I was the director of public relations, publicizing and getting the word out for all our events; doing posters and working with the advisor of student government," said Alley. "I really love the format of the college. It was fast-paced."
Her college credits over the past year won't be transferred to the AMDA, but she doesn't seem to mind.
"The credits aren't transferable, because it's an Arts college, but I'm still glad I did it," said Alley, adding, "I could just get a two-year certificate in music theatre at the New York campus, because it's a conservatory. But they have a campus in L.A. where I will be finishing up the BFA. So I get to go to both art capitals. I'm pretty excited about that. I had the option to just do L.A. or both, and I just really want to go to New York right now."
She leaves for Manhattan in October, with school starting on the 14th.
"I'm really excited to use the public transportation," said Alley. "I'm not going to bring my car, since driving it would actually take longer than just jumping on the subway."
Alley said she was also excited about all the different types of food to be found in New York.
"I want to learn more culinary arts. I do some baking and made some wedding cakes for people," said Alley "I'm excited about all the street food, too. That will be really fun."
She said she planned to get in touch with different circus groups in NY, and possibly pick up work while she's in college.
She's no amateur when it comes to earning money. One of her self-created side jobs is painting colorful scenery on tennis shoes. Holding up a pair of white sneakers she transformed into a seascape with sailing ships, she said she sells the shoes at Steam Bee Goods coffee house in Oroville.
"I did a New York scene, and some famous paintings," said Alley, showing a photo of sneakers she adorned with Vincent Van Gogh's 'Starry Night.'
Alley works on canvas also. Other than summer lessons at Apple Hill Art Camp, where she taught classes, she said she just "picked it up."
Moving to Tonasket with her parents at the age of five, Alley said she was a 13-year THS senior, kindergarten included.
She sang to her long-time friends and classmates at her high school graduation June 1.
"It took me a while to find the song, and it was a suggestion from Judy Johnston in OVOC," said Alley. "Every single line meant what graduation was, and I really wanted to say all that to all my classmates."
Singing Stephen Schwartz's "For Good" from the musical "Wicked," Alley told her classmates, "Because I knew you, I have been changed for good."
Asked where she saw herself living in the future with a degree in music theatre, Alley said she would probably live in New York.
"I want to do Broadway-style theatre, not so much screen art, and I would like to work with a company that travels and does tours," said Alley. "I just want to travel a lot. I went to Berlin and Amsterdam a couple months ago, to visit an exchange student my parents hosted, and I got to use my German I learned in school."
Asked if she had any parting advice for kids in the area, Alley contemplated the question quietly before confidently stating, "Don't be dissuaded by all the pressure to go into more traditional careers. There are so many options outside of a small town. I go to Wenatchee for the circus, so if you are willing to get out there....."