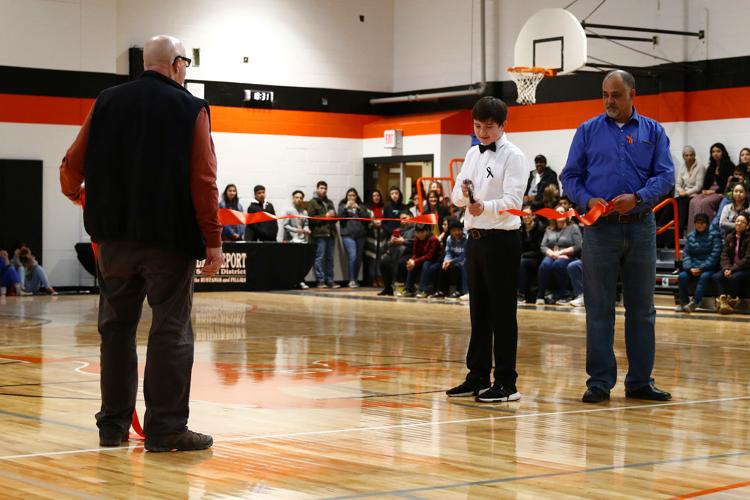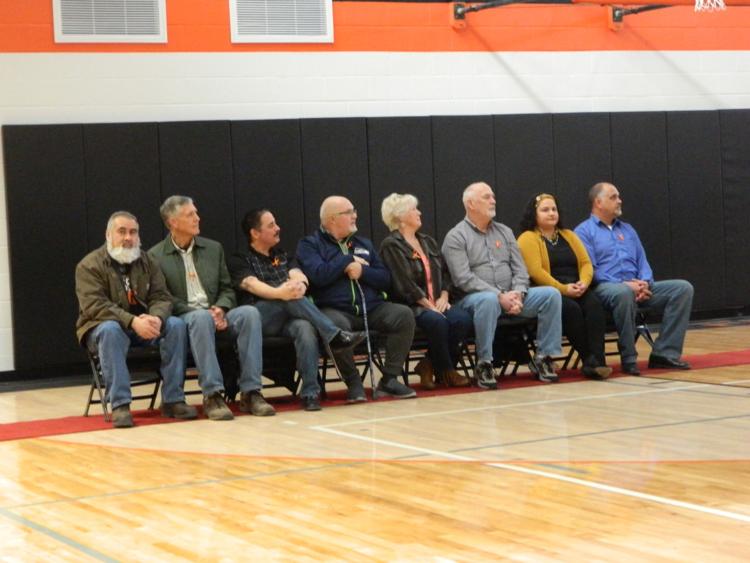 BRIDGEPORT - Eighth-grader Cesar DeDios, wielding an oversized pair of scissors, clipped an orange ribbon Feb. 22 to open the new Bridgeport Middle School officially.
Several hundred people gathered Saturday in the remodeled gym — the only remaining part of the former middle school — for the ribbon-cutting ceremony. Refreshments and building tours followed.
Assisting DeDios, the middle school associated student body president, were school board Chairman Tracy Zahn and Vice Chairman Matt West.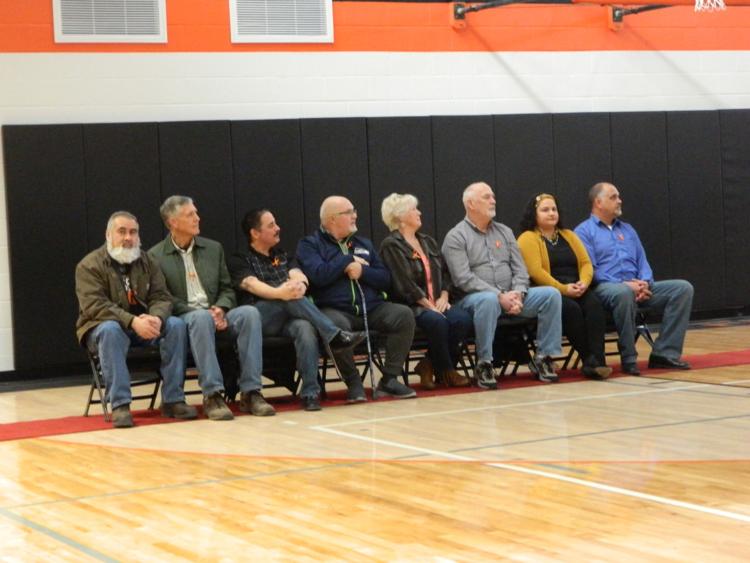 Superintendent Scott Sattler thanked voters for approving a $4.4 million bond issue to help pay for a district-wide construction and remodeling project. The state also contributed $10 million toward the project.
Three classes were added to the high school and five to the elementary school, which also got a new front office. The district kitchen was doubled in size.
Sattler acknowledged present school board members Zahn, West, Maggie Ochoa, Wayne vanZwoll and Bennie Polvos, and former board members Rick Halterman, Janie Jenkins and Zeke Martinez.
"It started with the vision of our school board," said Sattler. "This and past school board leaders had the courage to say, 'this is the time … we need to invest in our future.' There is no better investment than investing in our future."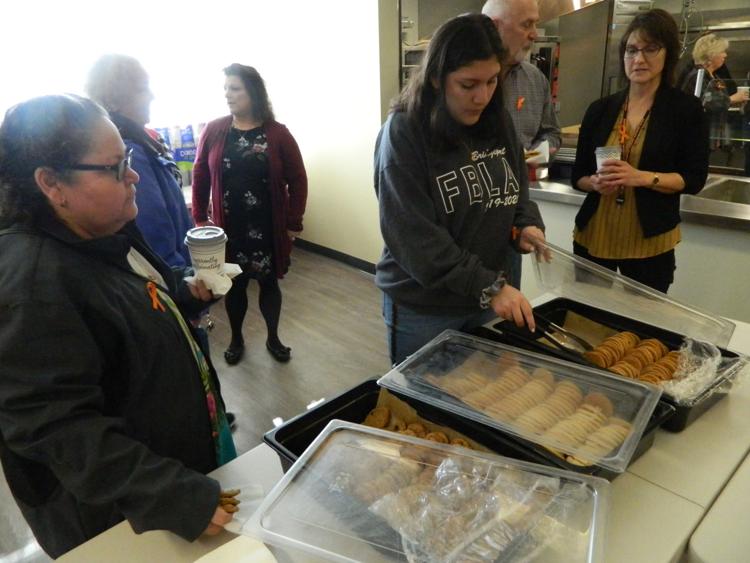 All eight board members, past and present, recognized the need to run a bond request "that would take care of overcrowding at all three of our buildings," he said.
Architects West designed the project, which was managed by Construction Services Group and built by T.W. Clark. Derek Miller, Jared Smith and Ed Champaign represented Architects West at the ceremony; Karen Soderquist and Dolly Ramminger represented Construction Services Group.
"Today is not only about the opening of new facilities, but it is about community — bringing folks together to share this amazing place — but equally as important is remembering and honoring the past," Sattler said.
He recognized past and present administrators, teachers and other employees.
A number of alumni also attended, including former basketball players Joe Harris, Rick Holt, Bill Alexander, Mike Hull, Stuart Dezellem and Dan Cavadini.
Sattler said board member Zahn joked that they should light up the scoreboard and throw out a basketball for the alumni.
The middle school gym, which was remodeled during the construction project, was the high school gym many years ago.
Other dignitaries attending included Douglas County Commissioner Marc Straub, Douglas County Sheriff Kevin Morris, North Central Educational Service District Superintendent Michelle Price and retired maintenance supervisor Randy Hurley.
Gene Schmidt, former Bridgeport superintendent, could not attend but wrote a letter of congratulations, and said he'd ordered a state flag to be flown over the Capitol in Olympia on Saturday to honor the district.
"Fly this flag with pride," he wrote.
Besides students, their families and school staff, the event drew community members and people from all over the area. One couple drove in from Oregon. Each person attending was given an orange ribbon — one of the school colors — to wear.
Sattler said the middle school is mostly complete. The kitchen and locker rooms need finishing and there's a "punch list" of small items needing attention, including paint touch-ups and tile work.
Students started moving in last week after spending months crowded into the high school, elementary school and several portable classrooms.
The elementary school is done and the high school addition is about two weeks from being finished.
Sattler noted that the school is branded with the Mustang/Fillies logo inside and out, with outdoor lighting and energy-efficient LED lighting both inside and out.
"You can see the (lighted) Mustang from across the (Columbia) River," he said. "You can turn off the lights during a basketball game and they'll come right back on."
All buildings have secure entries to limit people from walking in without checking in.
After the ribbon cutting, people were invited to snack on cookies, coffee and cocoa in the adjoining cafeteria, which sports a wall of inspirational sayings, and then stroll through the building and around the three-school grounds.
"Beautiful," "gorgeous" and "so pretty" were among the comments people made.