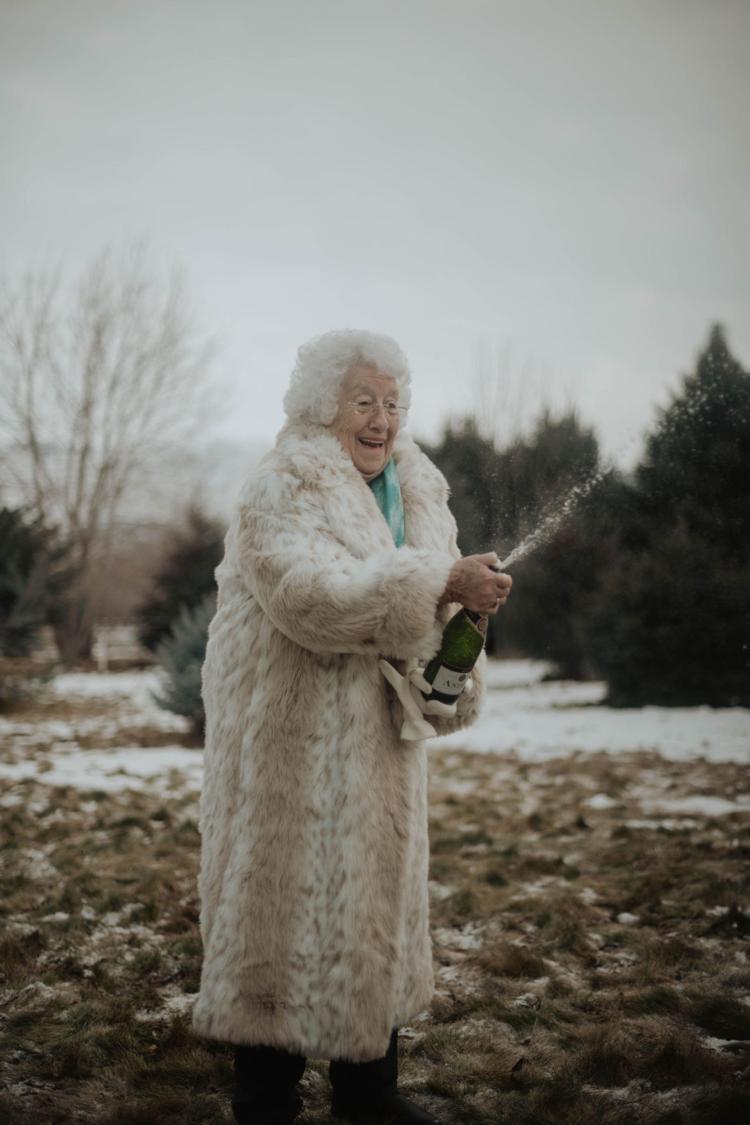 OKANOGAN - A 90th birthday celebration open house for life-long Okanogan Valley resident Ida Laurie is planned for Feb. 23.
Her children will host the event from 2-5 p.m. at the Okanogan Grange Hall, 305 Tyee St.
Her family said Laurie's memory for names and dates "is uncanny to most of her family. Drive north on either side of the Okanogan River, from Brewster to Canada, and Ida Laurie can probably tell you just about everyone who's lived on any property for the last 70 years."
She and her twin sister, Iva, were born on an orchard in Ellisforde in 1929. She has lived only a few places since then, ending up in her present house on Elmway in Okanogan 63 years ago.
Laurie graduated from Tonasket High School in 1946 and married Bernard Laurie, whose grandparents homesteaded in Wauconda where he was raised, and they moved to Okanogan in 1951. They bought a house on a 1.5-acre prune orchard on Elmway in 1956, tore out the prunes and planted apples, and eventually bought an adjacent orchard and another just up the road.
There they worked and raised five children, all of whom graduated from Okanogan High School. In 1970 Ida went to work at Virginia Grainger Elementary School as a teacher's aide and playground attendant, standing in the cold watching 19 years' worth of Okanogan kids grow up on the playground.
The Lauries were married 61 years until his death in 2010. They were longtime members of the Okanogan Area Senior Center, which she now serves as membership chairwoman and where she also works every Wednesday in the thrift shop. They square danced through most of the 1980s, from Entiat to Penticton, and she sewed their fancy matching outfits.
She remains involved in many activities and organizations in the valley. She and her husband were named state Grangers of the Year in 2003 in recognition of their 33 years of holding various offices in three levels of Grange. She is still secretary of both Okanogan and Pomona District Granges.
She's been a member of the Althea Orthopedic Guild for more than 65 years and serves as its secretary. She volunteers at the Okanogan Historical Museum and is a longtime member and contributor to the historical society. She and her husband were named Pioneers of the Year in 1998. She also is a member of two school retiree organizations, serving as historian in one of them.
Laurie is an avid pinochle player with a small group every Thursday and on Tuesdays at the Okanogan Eagles. In addition, she does water aerobics once or twice a week, reads at least two or three books and three newspapers every week, and sews several hours a day, making pot holders and aprons that are popular at local bazaars. She also leads a quilting group at her church; the group has made more than 100 quilts to sell for special church projects.
She loves to travel to family gatherings at her daughter Marilyn's beach house on the Outer Banks of North Carolina, and daughter RuthAnn's home in Livingston, Mont. Her son, Jeff, lives in Orting, and daughters Irene and Phyllis live in Okanogan.
She has four grandchildren and three great grandchildren.