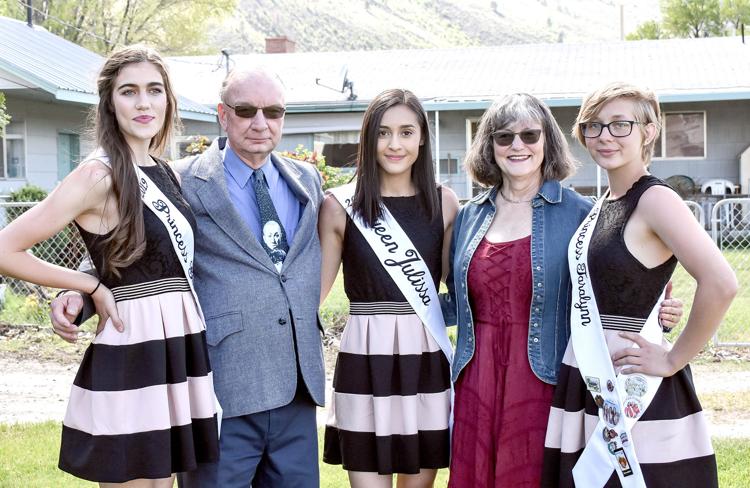 OROVILLE — The 85th annual May Festival will feature a weekend-long lineup of events from royalty coronation to a parade, basketball tournament, bass tournament and the traditional May Pole Dance, May 10-11.
Activities get underway at 7 p.m. Friday with the crowning of May Queen Julissa Alvarez and Princesses Taralynn Fox, Gwen Hankins and Mariya Mathis.
Royalty for various school classes also will be honored in the ceremony at Oroville High School, 1008 Ironwood St., followed by a mini parade through town.
This year's theme is "Take a Walk Down Memory Lane."
Saturday's activities start at 5 a.m. at Deep Bay Park on Lake Osoyoos with the annual bass tournament. Registration will be followed at 5:45 a.m. with a mandatory drivers meeting.
The tournament starts after the drivers meeting at 6 a.m. Weigh-in will be at 3 p.m. Trophies will be awarded for largest fish and first through third places.
An entry fee will be charged.
The 41st annual fun run will start at 8 a.m., with signups starting at 7 a.m. at the corner of Main Street and Appleway Avenue. Runs of two miles and 5K will be offered, with trophies and ribbons to be awarded.
The Oroville Booster Club will offer a 3-on-3 basketball tournament starting at 7:30 a.m. on the high school tennis courts.
Parade lineup starts at 8 a.m., with judging at 8:30 a.m. at the south end of Main Street. Entries can pre-register or sign up that morning.
The procession usually draws 80-120 entries.
The parade will be at 10 a.m. on Main Street. Through traffic will be diverted onto Eastside Oroville Road south of town and then back into town via Sawtells and Chesaw roads and Cherry Street.
A variety of divisions will be offered, with awards given. Divisions include various school/youth categories, royalty, community, tractors, cars, commercial, horse, mounted royalty, law enforcement and churches.
Motorists on U.S. 97 in town can expect a detour onto local streets while the highway through town is closed for the parade.
The May Pole dancing ceremony follows on the high school lawn.
A chamber of commerce barbecue will be available at 11:30 a.m. at the south end of the high school lawn. A fee is charged per plate with proceeds going toward the group's annual scholarship.
The Oroville Fire Department prepares a pit and watches over the meat all night as it slow cooks.
Oroville Masonic Lodge children's activities and games will be at noon on Ben Prince Field behind the school and the Oroville High School faculty will have a meet-and-greet event beginning at noon at the school.
The Oroville Borderlands Historical Society, 1210 Ironwood St., will host tours from 1-3 p.m. This year's exhibit is on early-day transportation in northern Okanogan County. Ice cream will be available for purchase.
Esther Bricques Winery, off Swanson Mill Road, and Tabor's, north of town, will host wine tastings.
Bands will play music at a variety of venues Saturday night.