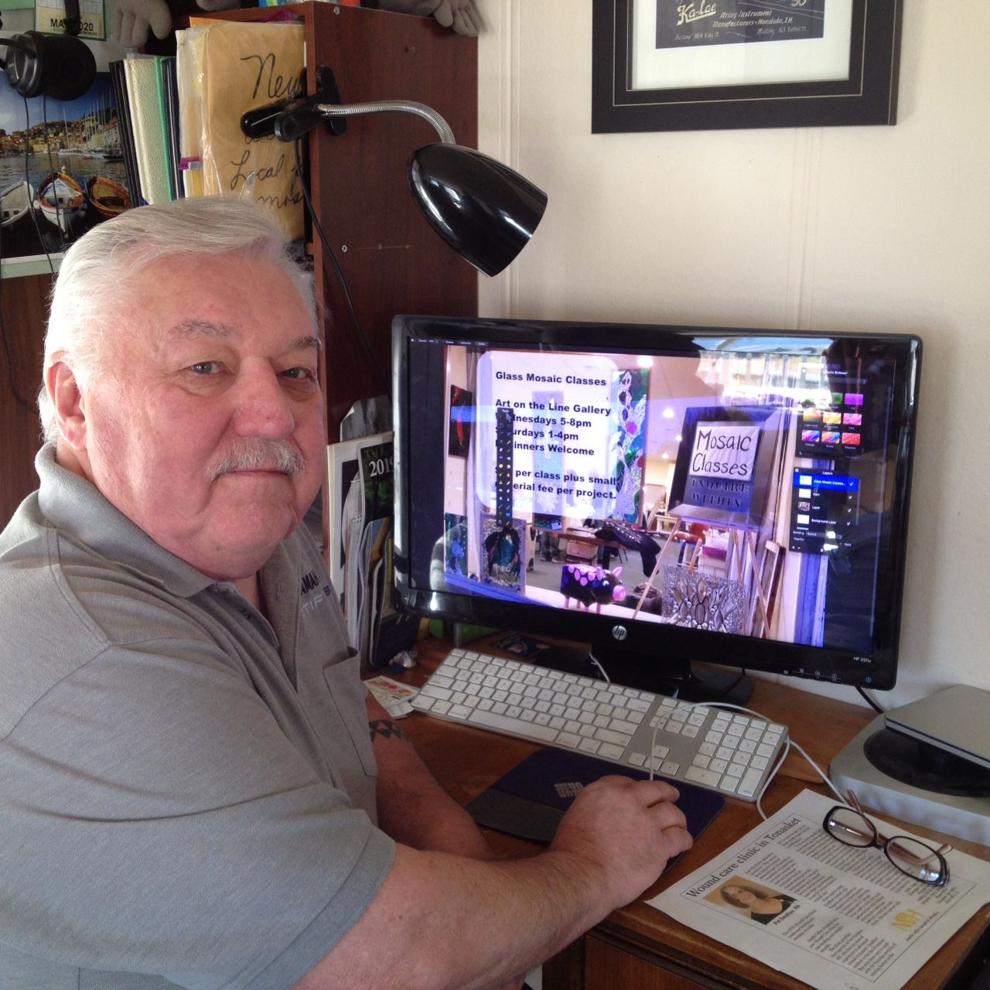 OROVILLE - Dennis and Nancy Peterson know just about every musical group in Okanogan Valley, and are helping to nurture the next generation of aspiring musicians.
The two operate an online magazine, maintain an events email list, offer free publicity for local musicians and venues, and purchase musical instruments for aspiring music students.
Upon moving to the region from Bellevue in 2014 — following Dennis Peterson's retirement from a career in information technology — the couple soon discovered an immediate need: Publicity for the region's many events.
"Clearly, Oroville is a small town," Dennis Peterson said. "It was really hard to know what was coming up."
Nancy, who has family roots in the valley that date back to the early 1900s, was eager to return to the Okanogan, but also hesitant because she wasn't sure what her husband would do to stay busy.
"I was concerned," Nancy Peterson said, noting her husband has always been one to stay busy. But not too long after settling into the region, Dennis said he found his niche.
Both self-described supporters of the arts and live entertainment, Dennis decided to start his own website devoted to northern Okanogan County.
"I decided that I could help publicize things," he said. "I thought, OK, I'll start a new website dedicated to this area."
The website, "North Okanogan – an Online Magazine," started out with a simple community calendar, before offering a business directory and short feature articles about the region's history, residents and recreational activities.
He soon discovered that many local venues and performing arts groups did little to promote their upcoming events.
"There weren't any posters, flyers," Dennis Peterson said. "I thought, 'This is going to be more work than I thought.'"
Starting with the Pastime Brewery, he created posters for its former weekly concert series "Twisted Tuesdays."
"I wanted to do kind of a branding," he said. "It grew organically, then I started branching out."
He said for a few venues he would even offer to hire a local artist, just so management could see the positive benefits of live entertainment. In many cases the venues would then re-book the artist, paying the full requested fee.
"People would come to me at different places and ask who's available (to perform)," he said, noting he started compiling a list of artist and bands ranging from a list of A (meaning top-notch, most expensive) to D (unique and eclectic) musicians.
"I knew what people were doing," he said. "But I would not be a middleman or talk money. I would say, 'I'll put you in touch with the band.'"
"This is how we stumbled into this promotion," Nancy Peterson said. "We've been so lucky to get to know so many musicians in this area, homegrown, professional musicians. And promoting them is kind of a natural thing."
Initially their promotional boundaries were the northern portion of the county. But as word spread about their volunteer service, they now encompass events from Wenatchee to Oliver, B.C., and Winthrop to Colville.
After seeing the success of his print materials for the Pastime, they then decided to explore social media and an email list.
"The reason I got into doing the email … there's a large portion of our population that doesn't do Facebook," Nancy Peterson said. "Facebook is OK, but things drop off really fast."
The couple said they offer their services free of charge, because they love to promote the area's musicians and businesses.
"We've got all of these wonderful friends that play great music," Nancy Peterson said. "We like the musicians and it's support for them. You need butts in the seats."
Local musician Lota Duarte said she is grateful for services Dennis and Nancy Peterson provide.
"They mean a bunch to us (musicians)," Duarte said. "They do their best to fill that hole for the community and the musicians."
"They promote everything," she said. "They come and support us all. Not only behind the scenes, (but) they show up to the shows."
Duarte also noted the couple often purchase instruments — or equipment — for musicians who are in need, either gifting items to them or allowing them to make payment.
"Dennis, he will give away or loan his stuff to somebody until they get it, or buy it for them," she said. "They're just really kind people."
Helping the future generation
While the couple enjoys promoting and attending local musical events, they also have their eyes set on the next generation of performers.
"Two years ago, I had a $1,500 budget for instruments for the school," Dennis Peterson said. "So, I just went on Amazon and bought several 40-key keyboards, 50 recorders and a bunch of xylophones.
"I got the nicest stack of thank you notes from the kids," he said. "We also bought all the student ukuleles off the wall from Sealja (Durkee's) Omak Music store for a school in Tonasket - about 10, I think."
Since then, they have continued to repair and donated several other musical instruments to the Oroville School District.
"I went down to Omak and bought a couple of guitars, a mandolin," Dennis Peterson said. "I've repaired a couple amplifiers for the school."
"The problem is, instruments are generally expensive, and a lot of families can't afford them," said Nancy, who is also president of the Oroville Scholarship Foundation. She said many people have unused musical instruments that could be donated to their local schools.
"The public schools really need those," she said.
The couple continues to watch the classified ads and online postings for other instruments and equipment that are in need of minor repairs to fix and donate to the school.
"I call them the Oroville Jr./Sr. High music program benefactors," said Oroville Jr./Sr. High School band and choir director Valerie Coolidge. "They purchased, repaired and donated a student flute to the band. It is in the possession of a seventh grader who will use it exclusively while she is in the program through to her senior year. If she is a lettering band member, she will get to keep the flute.
"Dennis repaired several of our old bass and guitar amps at no cost to us," Coolidge said. "They repaired the new bass we have and have donated several other guitars to our program. One of them was also repaired by Mark Kubiak, who donated his time. I love this couple."
Musicians in their own rights
Along with being supporters of the arts, the Petersons are both musically inclined.
Nancy Peterson is a former member of the Okanagan International Chorus, and Dennis plays harmonica and ukulele in the Randy Battle Bluz Band.
Dennis also assists with ukulele lessons at the Oroville Public Library.
"We used to go into Seattle when the blues bands would come," Dennis Peterson said. "We'd also drive out to Mount Si Tavern in North Bend. Great music. Every Thursday was blues. I still love the blues."