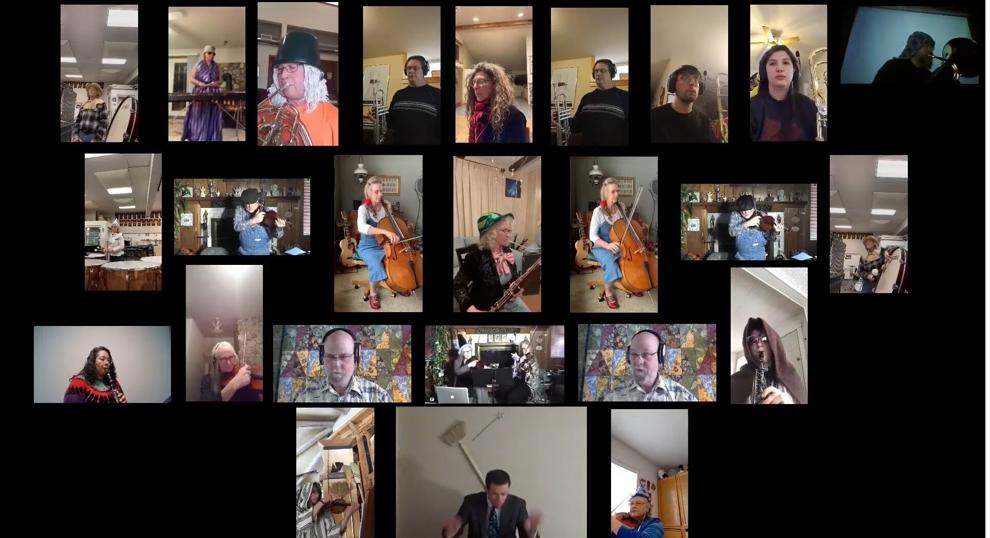 OMAK — Okanogan Valley Orchestra and Chorus will host its finale concert in the "Music is Vital" series virtually by 3 p.m. Saturday, April 17.
The program can be viewed on the OVOC YouTube page.
"This year has created challenges for directors Matt Brown (orchestra director) and Derek Pulsifer (chorus director) due to the restrictions of the COVID virus," OVOC coordinator Vera Zachow said. "Many hours of not only directing the groups, but also creating the final performances by combining each performer's submitted performances after hours of rehearsals with OVOC members are involved."
Zachow said the upcoming concert will highlight "a positive note" with members of the chorus from different states joining in the performance.
Howard Zosel, who has been a member of OVOC since it began, has been able to sing with his daughter, Heather Zosel LaMay in the spring concert.
LaMay, now of Virginia, was the chorus director for the 2007-2008 OVOC season and the accompanist for two seasons prior to becoming director.
"I think this is so fun," LaMay said. "My dad and I take every opportunity we can to sing together, usually 'Phantom of the Opera' duets. So, singing with him for this concert, even though we are states away from each other, is really special."
It's a similar experience for sisters Nadine Van Hees and Laloni Christenson.
Van Hees lives on a hilltop overlooking Winthrop and Christenson resides in Bend, Ore.
"I want to say how fortunate I am to have a sister who was happy to join us, and how amazing it is that we got to make music together again over all the miles," Van Hees said. "We started playing/singing music together when we were teenagers. We even sang in the Spokane talent show 'Starlit Stairway.'"
"This is so appropriate for us," she said. "I've experienced very little COVID stress due to wonderful opportunities like this one."
"This is pretty cool, being able to join you all with my sis," she said. "Joining my sister, Nadine, in the spring concert, has been both exciting and scary, as this 'virtual choir' is new to me.
"The Okanogan is a very special place for my family, and I loved my visits and understand why Nadine adored it," she said. "To be part of this concert is very meaningful to me, because it means being a part of your amazing community. Thanks to the choir for being so welcoming to me."
The chorus will perform "The Paring Glass (A Celtic Farewell)" originally performed by the Wailin' Jennys, and "It's only a Paper Moon" by Harold Arlen, arranged by Carl Strommen.
The orchestra will perform "Slavonic Dance No. 7" by Antonin Dvorak, "I Want to Hold Your Hand" by John Lennon and Paul McCartney, arranged by John Cacavas, and "The Stars and Stripes Forever" by John Philip Sousa, arranged by Keith Brian and Loras Schissel.
Members of the orchestra will perform the jazz tune, "Gospel John" by Jeffrey Steinberg, arranged by Andy Clark, and  BrassWorks will be performing "Selections from The Sound of Music" and "King Cotton" by John Philip Sousa.
A duet by Stephen Cockfield and Madra Likkel will be accompanied by OVOC orchestra members playing many different instruments, including Faith Lofthus playing violins, viola and cello, Cockfield playing oboe and Angela Cross playing bassoon. They will perform "As Steals the Morn" from L'Allegro, il Pensoroso ed il Moderato," by G. F. Handel.
The duet is based on a passage from "The Tempest" by William Shakespeare, and as the morning steals upon the night, melting the darkness, so their rising senses begin to ignore fumes that mantle the clearer reason, explained Cockfield.
Likkel, a soprano, sends her video files from her home in Michigan.
"I think this is so fun," she said. Likkel grew up in Lynden and performed in local stage productions and sang in many honor choruses in the Bellingham area.
The orchestra and chorus will combine for a performance of "Climb Every Mountain " from "The Sound of Music".
The OVOC spring musical, "Mamma Mia!" has been postponed until spring of 2022.