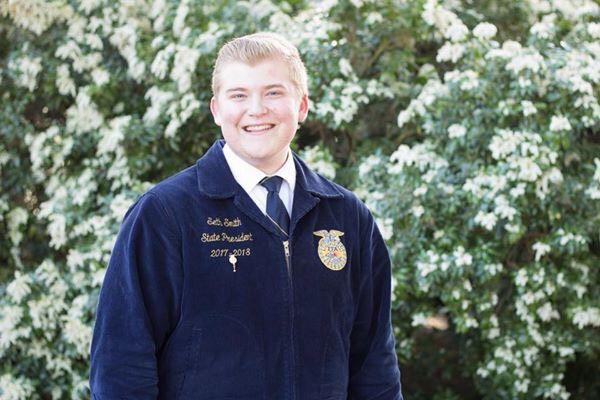 TONASKET — Seth Smith, a 2017 Tonasket High School graduate, has been nominated by Washington State FFA for a national FFA officer position. Each state can only nominate one candidate for one of six national positions annually.
Forty-four FFA members are competing nationally this year, the highest number of candidates in 15 years. Smith accepted his nomination at the state FFA convention at WSU May 9-11.
"I want to serve as a national officer because through FFA I found a home inside the blue corduroy jacket," said Smith in August. "Throughout the past six years I have grown, learned and connected with members across the country. These connections allowed me to feel at home even when I was hundreds of miles away from my family. I want to build connections and create a home for all students in FFA where we can grow together."
Smith received his American FFA Degree at the National Convention in Indianapolis October 2018, a degree he said less than one percent of all members earn. National candidates must hold the American FFA Degree at the time of election.
Smith served as Tonasket's FFA treasurer in 2015-16, the same year he served as the District VII FFA Vice President. In 2016-17, he was Tonasket's FFA president. Following graduation, he served as Washington FFA State President in 2017-2018.
Smith has wanted to pursue a career in politics since high school. He said if elected as an FFA National Officer, he will have the opportunity to connect with elected officials and advocate for Agriculture Education.
"As I travel through the year and connect with students, I will be exposed to the life of a politician as they travel and connect with constituents," said Smith last week. "I will continue to grow my skills in public speaking and communication, as well as my knowledge of the agriculture industry and agriculture education."
Smith said being an elected official is about serving one's community, and being a national officer is about serving students and the organization.
"I believe this opportunity to serve as a national officer will help me grow, learn, and gain insight into serving as an elected official," said Smith. "I plan to run for Congress right here in Washington state, hopefully in the near future."
Only six Washington state residents have served as national officers since 1928. Charles Fitzgerald served as 3rd VP in 1932-33. Clifford Bailey finished the second half of Californian Eugene Starkey's 1945-46 term as 2nd VP when Starkey entered military service. John Schultheis served as VP in 1953-54, and Julie Smiley served as the western region VP in 1976-77. The most recent national officer hailing from Washington state is Abbie Kammerzell serving as the western region VP 2001-02.
The election process takes place from Oct. 26-Nov. 2 at the National FFA Convention in Indianapolis. Half the candidates will be cut from each region Oct. 28, with the top half moving forward in the process, waiting for  elections Nov. 2.