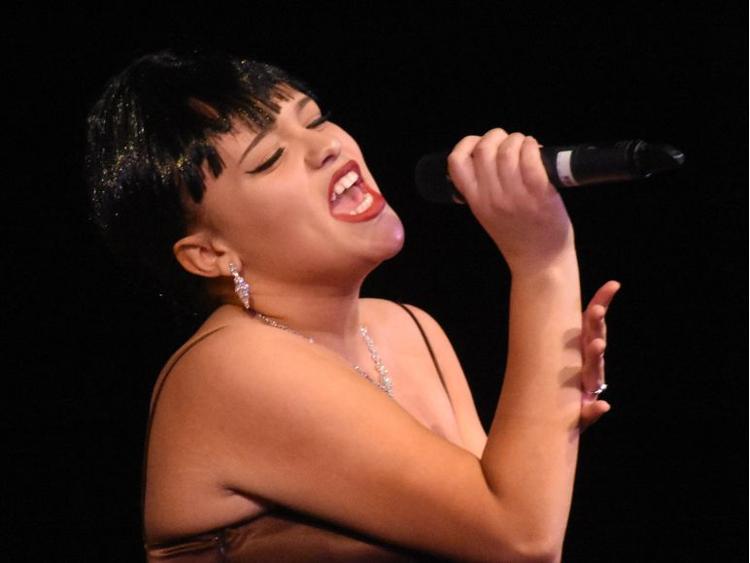 OMAK — Sultan senior Kiana Kendall was all smiles Saturday as she claimed the 2019 Washington State Nashville County Star title.
She took home $1,500 after topping a 14-contestant field in the competition finals before an appreciative crowd at the Omak Performing Arts Center.
Fitting with the 1950s and '60s theme for the first performance, Kendall performed Aretha Franklin's "(You Make Me Feel Like) A Natural Woman.
For the classic country segment she performed a cover of The Eagles' "Desperado."
Stevens County was also well represented at the finals.
Kettle Falls junior Zarah Johnson claimed second place.
Johnson's performances of Tammy Wynette's "Til' I Can Make It On My Own," and Aretha Franklin's "It Won't Be Long" earned her bragging rights along with a check for $750.
A $100 spirit award was presented to Rebecca Wright, also from Kettle Falls.
Other ranked contestants were senior Riley Bergan, East Wenatchee, third place, $600; senior Chloe Forsyth, East Wentachee, fourth place, $500; senior Sarah Kirkle, Port Townsend, fifth place, $400; junior Tori Minnihan, Port Townsend, sixth place, $300; and junior Raegan Beebe, seventh place, Selah, $200.
The remaining unranked contestants — each receiving $150 — were sophomore Ana Contreras, Kennewick; sophomore Anna Garriorr, Gig Harbor; junior Christina Herrick, Oroville; junior Cicely Beckman, Richland; senior Jayden Salazar, Kennewick; sophomore Natalee Grover, Gig Harbor; and senior Zoe Butler, Warden.
Guest performers included last year's co-champion April Lawson, Jose Lopez, Hannah Rickords and Melanie (Christensen) McAllister
The competition, now in its 15th season, began in 2005 after Ed Lisenbey was inspired by the former national television show "Nashville Star."
Over the years the program grew, and in 2009 Lisenbey opened entries to competitors statewide and changed the original name, "Okanogan Valley Nashville Star," to its present title.
Lisenbey and others involved with the competition - mainly Leslie and Jim Todd, Sharon Brown, Jack and Susan Brandt and Lisenbey's wife, Mary Lisenbey — form a non-profit group under the umbrella of the Omak Performing Arts Center Foundation, which handles the Nashville Country Star's finances.