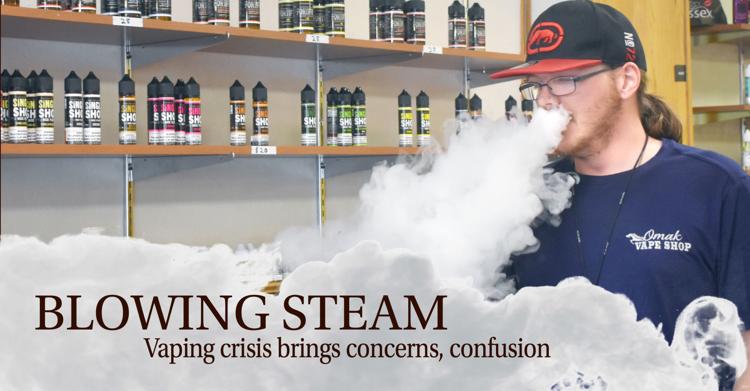 OLYMPIA - Last week Gov. Jay Inslee announced an executive order addressing the public health risk caused by vaping, leaving some local residents in question about the future of vape products.
Last month the Trump administration announced plans to ban flavored vape products throughout the country.
New York, Rhode Island and Michigan were some of the states instituting temporary bans. Massachusetts even issued a temporary four-month ban on all vaping products.
Washington state has not yet banned flavored vape products.
An executive order was issued in Seattle on Sept. 27, by Inslee requesting the state Board of Health to adopt emergency rules to ban all flavored vape products, including flavored THC products.
The order also directs the state Liquor and Cannabis Control Board and the state Department of Health to take certain actions immediately to protect public health.
In addition, the order calls for the disclosure to the Liquor and Cannabis Control Board of all compounds (including ingredients, solvents, additives) used in the production and processing of products that are vaped and vaping devices themselves. Public health officials have requested assistance in gathering additional information about ingredients in vapor products.
The decision to approve or reject the flavor ban in the state will be made Oct. 9.
Inslee said he wasn't waiting for "Big Tobacco" to disclose what was in their products.
"We aren't waiting for 'Big Tobacco' to tell us what is in their products," he said. "We aren't going to take health guidance from them because we know that their goals are to make money and create new customers. That is what they are interested in.
"We are interested in ensuring that adults and young people have known and regulated ingredients in vaping products," the governor said. "Everyone deserves to know what is in the vaping liquid they are inhaling into their lungs."
According to the state Department of Health Secretary John Wiesman, there have been seven cases of vaping lung disease in the state.
Sen. Patty Kuderer, D, 48th District, was the primary Senate sponsor of this year's Tobacco 21 bill, which raised the legal minimum age for tobacco purchases from 18 to 21. Kruderer said the tobacco industry has long targeted youth.
"For generations, teenagers have been the key market for the tobacco industry as they know full well that if you start people smoking young, they're likely to smoke for life," Kuderer said.
Kruderer noted the increase of vaping has threatened the hard-earned progress of reducing nicotine addiction by utilizing gimmicks to attract the younger generation and that most adults don't usually want cookies and cream, cotton candy, gummy bear, bubble gum flavors and so on for the e-cigarettes and such.
Kruderer went on to state that the above-mentioned flavors were created to pique the interest of younger adults and children to draw them towards their products.
With widespread attention on the vaping crisis, vape shops across the state are in danger of closing which may encourage people to pursue other – and sometimes less than legal - methods to acquire the flavored vape liquids.
 Late last month, the Omak Vape Shop announced on social media that it was in danger of closing, pending the decision of Inslee's the executive order.
"Pending the state Department of Health's up-coming vote on the 9th banning the sale of vapor products, there is a very real possibility that we will be closing our doors," the business announced. "Our staff is here to assist you up until the last moment we are legally allowed to be open. We appreciate your business and the personal connections that we have formed over the past year with our community and thank you for all of your continued support."
Daniel Angell, who is the manager of the 117 N. Main St., business said, if the flavor ban passes the shop will most likely have to close its doors.
"If the ban passes, we will have to cease sales immediately," Angell said. "We will have to immediately remove the flavored vape oils (E-juice) off the shelves."
Angell said the Omak Vape Shop is regulated by the U.S. Food and Drug Administration (FDA) and has 80 different flavors of e-juice that are created by the Wenatchee-based company Essex Liquid which is regulated by the FDA.
"Our E-juice flavors have four main ingredients," he said. "Vegetable glycerin (VG), propylene glycol (PG), PG-based flavors and nicotine."
Angell added vegetable glycerin is found in certain medications, many different products in the cosmetics industry, and many frozen foods, baked goods and other food items found every day in stores. Propylene glycol is found in inhalers and nebulizers, and has been in products since the 1950s. Propylene glycol is also found in popcorn, fast food, food coloring and many bread and dairy products.
"PG based flavors have been found in candy, ice cream, and drinks that the public purchases every day," Angell said.
Nicotine is found in the tobacco plant along with the tomato plants, potato, eggplant and pepper plants.
Angell said the company's main ingredients of the E-liquids consist of the following: 60-70 percent vegetable glycerin, 25-30 percent propylene glycol, 5-15 percent PG based flavors and 0-6 percent nicotine.
Angell said he thinks there is a no-win situation for vaping.
He said if the flavor ban passes, people will just look elsewhere (such as black markets) for the flavored E-liquids, which could possibly increase the number of vaping illnesses and vaping-related deaths. He added that if the flavor ban did not pass, more hysteria regarding vaping could happen, which would decrease sales for vape businesses and increase tobacco-related purchases.
Angell said the same thing happened with prohibition.
"People are going to do what they want regardless," said Angell.
Angell said if people want to smoke, they will smoke. And if they want to vape, they will find a way to vape.
"I was smoking three packs of Marlboro reds a day," Angell said. "After switching to vaping with the Master Blends orange cream flavored E-liquid and using it for three days, I cut back to smoking three cigarettes a day."
Angell said switching to vaping or alternating between vaping and smoking, can help reduce the constant need for nicotine consumption, which could be considered a less harmful alternative.
It's a similar situation for Brewster resident Antonio Garcia.
Garcia said he started sneaking cigarettes off his parents when he was 16, and when he reached the age 0f 18, he was smoking nearly two and half packs of cigarettes a day.
"I know smoking at 16 is not exactly legal, but I wanted to fit in with the cool kids," Garcia said. "I wish I would have never started smoking, because it is so addictive. Once vaping and the flavored vapes become available, I never went back to cigarettes.
"I haven't had a cigarette in almost eight years, and I only vape maybe five to six times a day," Garcia said. "I feel that vaping and the vape liquids have been a godsend, since I tried almost every trick in the book to quit smoking.
"I feel that if the flavor ban passes or doesn't pass, that it will be a bad situation all-around," said Garcia. "More people will purchase flavored vape liquids from black markets if the ban passes-which will lead to more illnesses and deaths."
Garcia added that nowhere in the mainstream media has it been said that a specific company or seller has been named as one of the producers (or suppliers) of the vaping liquid used by any of the living or deceased victims, which he felt proved that the items were purchased from the black market.
"I feel that 'Big Tobacco' is using people's hysteria in order to draw them away from vaping, because they feel threatened by any competition," Garcia said. "If the vaping ban doesn't pass, people may be too scared to continue with vaping, and possibly turn to cigarettes and/or chewing tobacco, which is more dangerous than the flavored vaping liquids.
"It is horrible that 13 people have died from the vaping illness and many more are ill or have been injured," Garcia said. "But the government and 'Big Tobacco' are treating this as if it is an epidemic. If they want to treat the vaping situation as an epidemic, then every single person who has died or has cancer from smoking cigarettes should be treated as an epidemic, and the tobacco and cigarette companies should be held accountable for every single one of those deaths and illnesses."
If vape users experience symptoms such as short-ness of breath, cough, nausea, chest pain, nausea, vomiting, diarrhea, fatigue, fever and/or weight loss, the state Department of Health encourages users to contact their medical professional immediately.