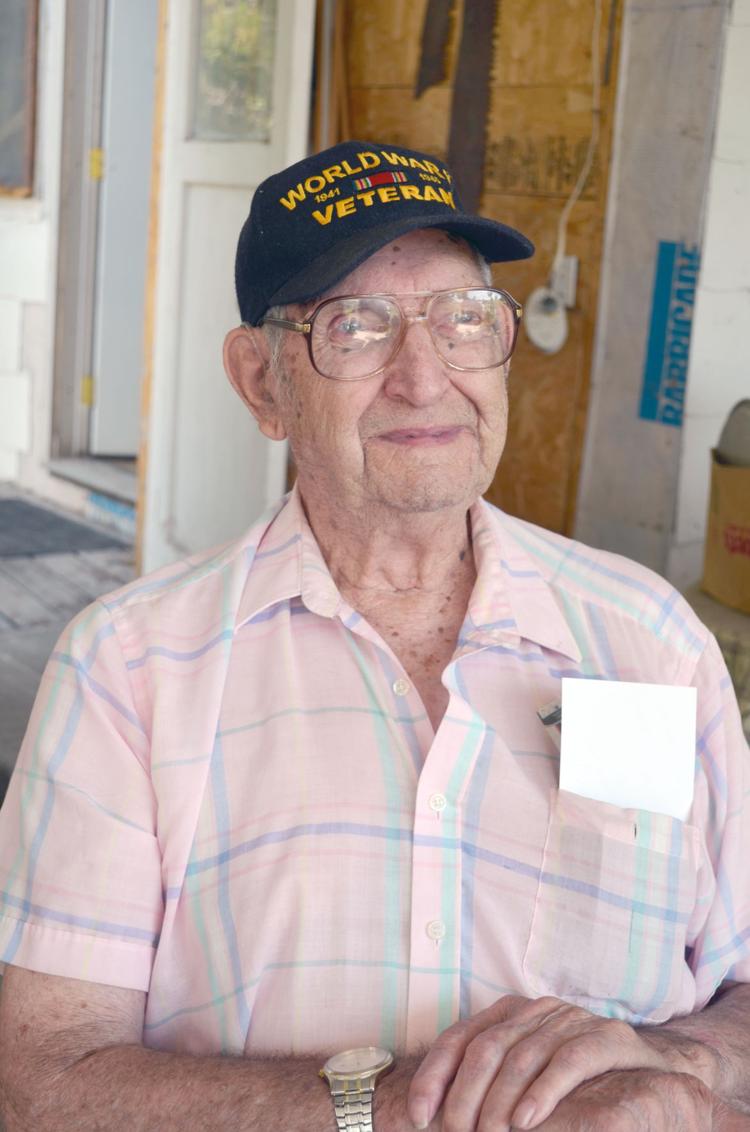 Leonard Garrett Paulsen, born in Oroville, served in the U.S. Navy for three years beginning in March 1943 at the age of 17.
Paulsen said he signed up for the Navy while a student at Omak High School, to avoid being drafted into the Army.
"The Army came and went through every school," said Paulsen of recruiting efforts during WWII. "They took 17 from the Omak school."
Paulsen spoke of his rescue from the sinking SS Cape San Juan when it was torpedoed November 12, 1943, about 300 miles from the Fiji Islands. The date in the U.S. was November 11, designated as Armistice Day in 1919, and later named Veterans Day to recognize all veterans.
Paulsen was on board the SS Cape San Juan as one of 42 Navy Armed Guard, along with 57 Merchant crew, three radio operators, three units of the U.S. Army Air Corps, 811 officers and enlisted men of the All Negro Engineers (Aviation) Battalion, 367 officers and enlisted men of the 1st Fighter Control and 162 officers and enlisted men of the 253rd Ordnance (Aviation) Company, and 21 "permanent" army personnel. The ship was commanded by Major Robert A. Barth.
The 6711-ton Cape San Juan, built as a C1-B freighter at Long Beach, California for the U.S. Maritime Commission, was converted as a troopship in the summer of 1943 and assigned to the American Hawaiian Steamship Company.
After a maiden round-trip voyage from San Francisco to the South Pacific in the early fall of 1943, the Cape San Juan struck out (without escort) for Townsville, Australia, with 1,348 American troops aboard.
In accordance with wartime operations, the ship was blacked out and following a zig-zag course traveling at 14.7 knots when disaster struck. The Japanese submarine 1-21, commanded by Hiroshi Inada, torpedoed the ship just after 5:30 a.m.
The torpedo struck an area of the ship where troops of the 855th Engineers (Aviation) Battalion were berthed. Sixteen men were killed immediately. Another 114 to 117 died from drowning, injuries or shark attacks after abandoning ship.
Paulsen, serving as a quartermaster, was on the bridge when the ship was struck.
"We got hit on the stern of the boat. I was up in the wheelhouse, just about in the middle of the ship," recalls Paulsen. "We didn't go into the water immediately. It didn't go down right when it got hit."
The ship immediately began to list, sinking the following day.
An S.O.S. was sent out immediately, and Commander Barth gave the order to abandon ship.
"We fired at the ship to make sure it went down," recalled Paulsen. "People were free to do whatever they want to the ship once the captain is gone off it."
According to Eric Stone, writing about the American-Hawaiian Steamship Co. during WWII, the Cape San Juan was equipped with six wooden lifeboats. The ship also carried four wooden rafts, but Carley floats were used for the majority of passengers; many of whom abandoned these in attempts to swim to lifeboats or rafts.
"We finally got into the water after a while," said Paulsen. "And then we got into the lifeboat. There were a lot of sharks. A lot of the guys never got into a boat at all. What happened to them after dark, I don't know. There were lots of sharks."
The men battled rough seas with white-capped waves as high as 15 feet at times.
The waters were infested with not just sharks, but oil from the ship, temporarily blinding some of the men. Others drowned when lifeboats and rafts being unloaded from the ship landed on top of them.
The first ship to arrive on the scene, five and a half hours after the distress signal was sent out, was the Liberty Ship Edwin T. Meredith, commanded by Murdoch D. MacRae. After transferring casualties and survivors still on board the Cape San Juan, the Meredith circled the waters, picking up survivors in an eight-hour rescue operation that involved cargo nets thrown over the side with Meredith crewmen helping exhausted and blinded or otherwise injured men up and onto the decks.
Close to 450 men were picked up by the Meredith and delivered to Noumea, New Caledonia. Five men who died en route from injuries were buried at sea.
"I helped bury those at sea, the captain and myself," said Paulsen. "He covered them,  and we took them out from there."
According to Stone, the second vehicle came to the rescue around 3 p.m.; an unarmed Pan American Martin PBM-3R Mariner flying boat. The civilian crew was led by Captain William W. "Bill" Moss, Jr.
Stone describes Moss making a violent landing in rough seas, followed by the crew going after the men who were in the water without lifeboats or rafts, devising a system of trolling for survivors by towing a string of small rafts as they zig-zagged through the heavy swells at the edge of the rescue area. They picked up 48 men, delivering the survivors to Fiji for medical care. 
The destroyer USS McCalla -DD-488 arrived late the first night, waiting until daylight to approach survivors. The McCalla was joined by the minesweeper YMS-241 and the submarine chaser SC-654.
Around 9 a.m. the destroyer USS Dempsey DE-26 arrived after a "high speed run" from Fiji. According to Stone, shortly after 10 a.m. Nov. 12 (Nov. 13 U.S. time), the four vessels had picked up all the survivors they could find and proceeded back to Fiji.
"I got onto a ship after dark, that night," recalled Paulsen, although he could no longer remember the name of the ship or where he was initially taken.
"Some of it is hard to remember, I'm getting so many years old," said Paulsen, who gave up cutting firewood just two years ago at age 92.
"It was a bunch of us, that got picked up. There must have been two or three hundred on our ship that we picked up."
After attending debriefings and returning home to Spokane for a month and a half, Paulsen was ready to ship out again.
"You just get up and go," said Paulsen.
He recalled fighting in several battles at Okinawa.
"We were getting shot at, then the war ended," Paulsen recalled. "There was a lot of us out there on ships."
Paulsen's naval adventures included eight trips to Hawaii.
"We would stop there for supplies and water. You never made your own water like they do now. We had to carry it with us," said Paulsen, adding they showered with saltwater and had saltwater soap.
Asked about highlights of his service years, Paulsen responded, "The good things was going to Australia, New Zealand and Africa and those places. Sydney and Brisbane in Australia, and Auckland in New Zealand. In Sydney, we were there about a month in dry dock.
"New Guinea is an interesting one," he laughed. "The headhunters were going good when we were there. You never went on shore without a gun."
Paulsen laughed again as he recalled a time when a train ride left him and other servicemen snowbound.
"I came home at Christmas time, and got an order to go to San Francisco, and was snowbound. I was two days late getting to my ship," said Paulsen. "There were several on that train; from the Army, Marines, everybody. They notified the bases. We were going from Spokane to California. We were snowbound for a couple days before they got us unplugged and we got out.
"I been to China, Japan and all of them," Paulsen continued. "I was in China when the war ended. We started hauling Chinese from Japan to China and Japanese from China to Japan. All of them back and forth, they were civilians. How they got there, I don't know."
Paulsen said he returned from the service on a convoy from China to Bremerton.
Afterwards, he moved back to Spokane (where his parents had moved when he enlisted) in 1947 and continued traveling; driving truck for 32 years and then, after retiring, driving charter bus part time for another eight years.
"I was running to Montana, Idaho, Oregon and up into Canada," Paulsen said. "It was fun. I started out with Okanogan Valley Motor Freight. They were there in The Chronicle building."
Paulsen finished his trucking career with Wallace Colville in Spokane.
"Everyone who worked there, they're all dead now," he said.
Asked if he would advise high school students to join the service, Paulsen responded, "I think they should, I really do. They'd learn something. I knew what I wanted to do (when I got out), so I did it. A lot of them got jobs in there, learned how to be a mechanic and everything else. They trained in the service. I think they should all go in there for two or three years; it would do them good."
Hands-on training in the Navy led to Paulsen's position as quartermaster, navigating by compass and sexton.
"You learned that in a hurry," he said. "Being a quartermaster, you've got to know where you're going. Out there on that water you go sometimes for five or six days and never see land."
Paulsen was awarded three medals for his wartime service; the Asiatic Pacific Area Campaign (lstar), the American Area Campaign Medal and the World War II Victory Medal.
"The lstar is for the fighting we were in; getting torpedoed and afterwards at Okinawa," Paulsen said.
He received his diploma from Omak High School at the age of 84, after reading about a wartime veteran receiving theirs.
"I got my diploma. I don't know what I'm going to do with it, but I got it," Paulsen said.
He was able to fly on one of the first Annual Inland Northwest Honor Flights to Washington D.C. in 2011.
"I knew just one other veteran on the flight, Bill Palmer. I went to school in Omak with him," Paulsen recalled.
After 43 years in Spokane as a commercial driver, Paulsen spent 27 years in Tonasket before returning to Spokane, where he lives with his daughter Cheryl Gagne.
He visited his home next to his stepson's in Tonasket over Stampede weekend to gather some tools.
"I still do some wood-working," Paulsen said. "Not as much as I used to; I can't stand up very long. I miss it."
Twice widowed, Paulsen is a five-times cancer survivor who lost an eye to a more recent bout with the disease.
"It didn't scare me none," he said of fighting cancer.
Paulson recalled another war-time brush with death in the South Pacific, when he volunteered as gunner on an airplane flying from Okinawa to Japan.
Fortunately, he somehow missed the flight.
"The plane never came back," said Paulsen.