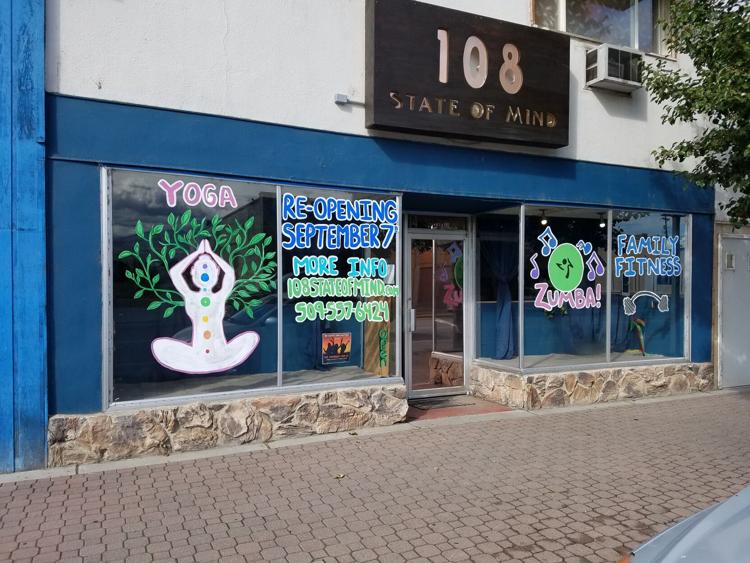 OMAK— Folks wanting to improve their mental and physical well being can do so at 108 State of Mind, a new yoga business at 12 S. Main St.  
Owner Nikki Watts said she was planning to open in March but was unable to because of the COVID-19 pandemic.
 "Due to the mandatory shut down, I was forced to close the doors for six months," she said. "I was set to reopen Sept. 7, but due to fires we had many students unavailable to attend class. We are officially open with limited class sizes of five, plus the instructor."
Watts said there are three yoga teachers, and the business also offers Zumba classes.  
108 State of Mind offers yoga classes, workshops and other events combining art, music, sound healing, essential oils, and more.
 108 State of Mind also has a weights and cardio room available for reservations for small groups.
"I do plan to bring on another instructor by the new year and add more classes," Watts said.
Watts said the name of the business came to her, because the number 108 is significant in many cultures and disciplines.
"Whether its random, just a coincidence, or magically in divine order, there is definitely something special about 108," said Watts.
Watts said the human body has 108 scared points (chakras), the average distance of the sun and moon to the Earth is 108 times their diameters, the Catholic rosary has 108 beads, there are 108 beads in a prayer necklace (Mala), meditations, prayers, and affirmations are often done up to 108 times.  There are 108 different names for Buddha, and many yoga practitioners honor the Winter and Summer Solstice with 108 Sun Salutations.
"I want to offer a safe space to practice and find a more 'peaceful state of mind' and help others heal as I continue to heal myself," Watts said.  "I'm so happy my journey brought me back home and that I have the opportunity to share yoga and grow with the community."
There are currently 11 classes on the drop-in schedule, which is from 6:30 a.m. to 9 a.m. Tuesday-Friday, and Saturday at 9 a.m.
Scheduled classes are 5:30-7:30 p.m. Monday-Thursday.
"Our 3,300 square foot studio has a front area/lobby, a main studio, and the fitness cardio room is available for other practitioners in the area for professional use by the hour or month and for occasional workshops," Watts said.  "It may be a great spot to host your special event as we move into Phase 3 and are able to gather in larger groups."