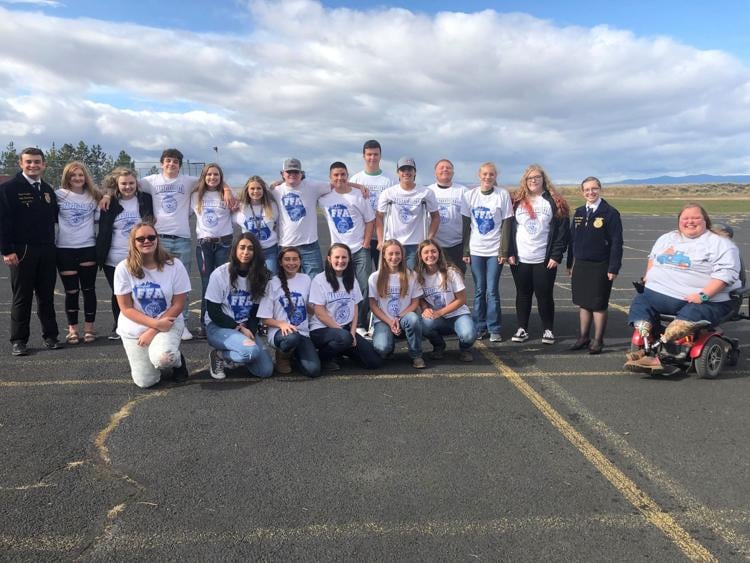 OMAK — Students in FFA groups across Okanogan Country are joining their counterparts nationwide in celebrating National FFA Week, Feb. 22-29.
Each year, FFA chapters around the country celebrate the week and share what their organization does and the impact it has on its members.
"National FFA Week is a time for FFA members to host activities that raise awareness about the role FFA plays in the development of agriculture's future leaders and the importance of agricultural education," said Kalli Reese, Omak chapter reporter.
FFA has nearly 650,000 members nationwide. The Omak chapter, advised by Elaine Lewis, has 36 of them.
The group began in 1928 as Future Farmers of America. The name was changed to The National FFA in 1988 to reflect he growing diversity of agriculture and focus on developing members' potential for premier leadership, personal growth and career success through agricultural education.
There are 8,612 chapters in all 50 states plus Puerto Rico and the U.S. Virgin Islands.
For FFA Week, the Omak chapter provide snacks and treats for the staff meeting "to show our appreciation for them helping us whenever we have to miss school for events or competitions," said Reese.
Today, Feb. 26, the group will attend a District 7 leadership event in Tonasket where district officer elections will take place. On Friday, the group plans to attend a hockey game in Spokane.
Beyond the special week, the group is working on its greenhouse, Greenhand and Chapter degrees, community service and honoring a member of the month.
Omak's annual plant sale will be May 7-9. The group grows plants from seed and plans to sell an assortment of basket stuffers, including zonal and ivy geraniums, petunias, alyssum, lobelia and calibrachoa, plus pre-planted pots with flower combinations. Tomatoes, cucumbers, squash, peppers and herbs also will be offered.
"This year we have 19 students in our greenhouse class (who) work hard to keep our greenhouse clean and our plants healthy," said Reese.
"The greenhouse is coming along faster and more efficiently than in previous years," said chapter President Kacie Vejraska. "The plant sale in May is the second-biggest fundraiser in our chapter, just falling short of the bar set by apple pie sales in September."
Profits from the plant sale will help fund activities and competitions. While earning money for the chapter, students also can learn skills that can be used in jobs in places such as plant and tree nurseries, said Reese.
FFA members can work toward different degrees, with greenhand being the first. Omak greenhands this year are Alex Austin, Adamarys Montoys, Hailey Smith, Kady Vejraska, Leighton Jensen, Quincy Downing, Garret Taylor, Derick Anderson, Mary MacDonald, Wyatt Youngblood, Spencer Smyth, Troy Oliver, Sedeaju Michel, Tucker Yaksic, Wylie Gray and Kortney Keaton.
A degree ceremony was Feb. 25.
Chapter degree is the second degree. Those earning the degree are Kayden Cate, Jesse Walker, Katrina Hendrickson, Bailey Reed, Kalli Reese, Evelyn Picking, Corbin Hale, Emma Blanton and Sophia Alexander. They also were honored Feb. 25.
For the past three years, the group has received National FFA $3,000 "Living to Serve" grants for community-based activities, including the garden project. Last fall and summer, the garden produced 1,052 pounds of food for the Omak Food Bank.
Other community projects included an Easter egg hunt at the Omak football field, with 138 food items and $219 collected; ag in the classroom for fourth- and fifth-graders; a seed growth demonstration and Mother's Day cards for kindergarten students; marking fences in Tunk Creek to help grouse; collecting $1,200 in donations of household cleaning goods, and teaming up with the school's TEA Club to focus on suicide awareness and prevention.
The club also names members of the month. So far, they include Wyatt Youngblood, September; Kady Vejraska, October; Quincy Downy, November; Tucker Yaksic, December; Evelyn Picking, January, and Adamarys Montoya Rojo, February.
Okanogan will celebrate the week by hosting a donkey basketball game at 7 p.m. Thursday, Feb. 27, in Dawson Gym at Okanogan High School, 244 S. Fifth Ave.
A silent auction, bake sale and concessions will be offered, said adviser Jesse White.
"We are also hosting the annual Sunny Okanogan Angus Judging competition at the Okanogan Livestock Market," he said.
The March 11 event is open to both FFA and 4-H chapters from around the state.
"The winning student will receive a first place buckle; second and third place individuals will receive a plaque," White said. "There will also be plaques for the top three teams. This event is sponsored by Sunny Okanogan Angus Ranch and Cattle Producers of Washington."
Okanogan boasts 39 members. Officers are Weston Wood, president; Sterling Ritch, vice president; Kaden Beetchenow, secretary; Hunter Chilmonik, treasurer; Brennan Pinson, reporter, and Claire Ives, sentinel.
"We have been competing in many events this year such as apple judging, tractor driving, trap shooting, ag mechanics, produce judging, livestock evaluation, agronomy and horse evaluation," said White.
Okanogan placed sixth in state in tractor driving last fall, with Wood placing eighth individually. The apple evaluation team competed at the state level but didn't place in the top 10.
"We are currently practicing forestry, agricultural sales, horse evaluation, livestock judging, meats evaluation, first-year member and trap shooting in preparation for local and state competitions," he said. "Our forestry team will be traveling to Acme on March 21 to compete at the Mount Baker FFA forestry contest, to Squilchuck near Wenatchee April 17 for the NCW forestry contest, and to Randle on April 25 for the state forestry event."
The agricultural sales teams will compete March 18 at the district level in Wenatchee.
"Our placing at this event will determine if we go on to compete at the state level at FFA State Convention in May," White said. "Students are building a sales plans for five different Stihl chainsaws for the ag sales competition."
The horse evaluation state competition will be April 22 in Ellensburg, state livestock evaluation is May 6 in Spokane and the state meat evaluation contest will be at state convention. Other competitions also are planned.
The trap shooting team has competed so far at Mansfield, Omak, Kettle Falls, St. John and its own match.
"We have several shoots still coming up and will compete at the State Invitational in Eastmont" April 17-18. "The trap team is also competing in the Washington State High School Clay Target League, which allows students to compete weekly with other teams from around the state via an online score center.
"Through this league, they can qualify and be invited to attend the USA High School Clay Target League Championship in Michigan. Weston Wood, Hunter Chilmonik and Trevor Caswell attended this national competition last summer and plan on attending again in July."
The Pateros FFA chapter attended Ag Expo in Spokane recently, and for FFA Week plans an official dress day and lunchtime barbecue for all members, said adviser Lyle Blackburn.
"Our trap team competed in the fall at Okanogan and Mansfield," he said. "We have two more shoots coming up in March, again at Mansfield and one in Omak. We also plan on attending livestock judging at Okanogan March 11 during the Sunny Okanogan Angus Sale."
Mansfield's chapter has 18 members in eighth through 12th grades, said adviser Jamey Jo Steele.
Last summer the group bought and raised a meat goat, and then sold it at the North Central Washington Fair. Money earned was donated back to the fair to use for improvements to the sheep and goat barn. The goat sold for $44 per pound.
The trap shooting team was active last fall, winning a third-place trophy at Omak. The team also hosted a trap shooting competition along with the Mansfield Sportsman's Club.
"We had a great turnout and are planning to host another shoot in March 21," said Steele.
Another half-dozen meets are planned, including the state shoot in April.
The group sold wreaths in December and pies in January. It also had a silent auction during homecoming in January.
"We will celebrate FFA Week with our annual staff/school board appreciation breakfast on Jan 26, chapter member luncheon on Jan 28 and our annual Ag Olympics contest on Jan 28," she said.
Members plan to raise steers, pigs and goats this summer to be shown and sold at the fair.
Tonasket FFA will celebrate with an FFA semi-formal tolo dance Friday for students.
District  7 leadership camp member barbecue on Thursday, and a staff and community appreciation day yesterday and Friday.
An all member recognition day will be Friday.