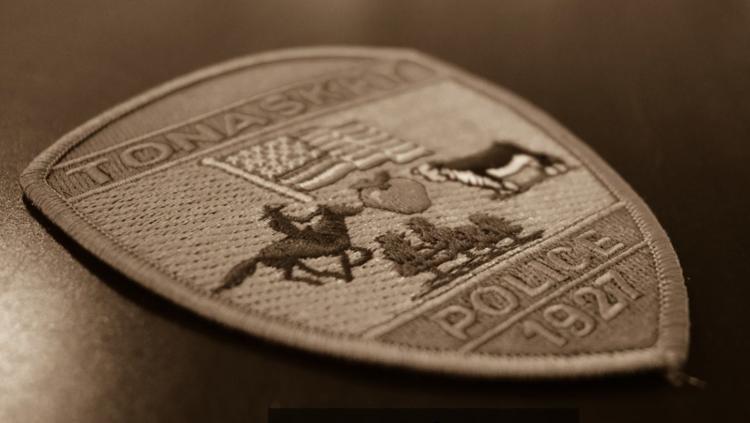 TONASKET — Cash, drugs and more than two-dozen firearms are missing or unaccounted from the former Tonasket Police Department buildings.
That is what Internal Compliance Administrator Steve Brown told the city council his internal audit revealed.
Council members sat with blank faces as Brown delivered his presentation and a 152-page report during a regular city council meeting Tuesday, June 26.
"These are just my findings," he said adding it is "not to place blame on the city, a chief or the mayor."
Brown, of no relation to Mayor Dennis Brown, was hired by the city earlier this year to properly secure and process all records and evidence following the council's vote to disband the police department and contract with the Okanogan County Sheriff's office.
The police chief and an officer were terminated. Another officer and the police clerk's positions were eliminated.
Brown, who previously worked for the Okanogan County Sheriff's Office, started the nearly one-hour discussion with his discovery that documents dating from 1984 to 2006 apparently were destroyed.
"I don't know who destroyed them," he said. "I don't know what documents were destroyed. I assume all the case files, but what you do have left are your evidence sheets."
He said his audit focused on four categories: Inventory, financials, evidence and files.
Brown said inventory stopped being collected "somewhere around 2012."
"Some time in 1984 and beyond, somebody…. was keeping track of everything up to about 2012," he said. "We just didn't do a very good job the last seven years of telling the city what we purchased at the police department, and where that is now."
He said two invoices were found for ballistic vests that were between $800 and $1,000, but they are nowhere to be found inside the police department.
"They don't exist," he said. "They're not on an inventory sheet. They're not on an asset form."
He also said an officer apparently bought a book for $325 that was still sitting in plastic at the department. It, and other items were returned to the place of purchase, Brown said.
"You literally purchased thousands of dollars' worth of equipment in 2018 that you cannot account for," Brown said. "I can't tell you where it is."
Brown said he went through the entire building, with the exception of the refrigerator, at the request of the Okanogan County Prosecuting Attorney's office.
"I can tell you that I highly doubt you have thousands of dollars' worth of equipment in the fridge," he said.
He said there were file cabinets that had locks and chains around them.
"That tells me that somebody doesn't want you in there," he said. "But when you open those, those are empty. There's nothing in there.
"I don't know where all those files went or why they were locked," Brown said. "But they don't exist anymore, whatever was in there."
"All chained cabinets contained either files or cite infraction books, and the logs when I would sign those books out," former Police Clerk Diane Foreman said. "Those were not empty on my last day."
Steve Perry of SEP Consulting - who has previously contracted with the city and specializes in property/evidence training, law enforcement records training and property room assessment - offered a different perspective to missing files.
"The issues about all of the records being destroyed prior to 2006, I researched that as well," Perry said. "Those records were destroyed pursuant to the law enforcement records retention schedule."
The state Secretary of State has a record retention schedule that outlines what and when documents can be purged.
Foreman said she was also concerned about unauthorized personnel having keys to the police department and access to case files with sensitive and proprietary information.
"People who are not law enforcement are not privy to proprietary information," she said.
When councilwoman Marylou Kriner pressed for the names of those believed to have entered the building, Foreman replied, "a council woman, Mayor Brown, (City Clerk) Alice (Attwood) had keys.
"That's the three that I know of," Foreman said. "Yes, it's a public building, but I didn't have keys to Alice's office."
Steve Brown said it's unclear whether anybody ever reconciled accounts, and if they did, "it was not on a regular basis."
"You had cash here for 26 years that belonged to the city police department that sat in an evidence locker," he said. "It was (drug) buy money that was given to, I assume, a detective.
"There's a lot of things that I just can't help you with because I don't know the answers."
Brown said a document presented to the city on behalf of SEP Consulting had cash amounts that were incorrect.
"You're missing cash from there," Brown said. "It says it was deposited, but it never was. It's still sitting over there in evidence."
Brown attributes some of the issues to police department employees not using a monetary form.
"So, if I took $500 cash from somebody or it was found property, it was evidence … it would go on a monetary evidence form," Brown said.
He gave the example of two one-dollar coins that were confiscated.
"Clearly, obviously, at some point regardless of who did it, someone took some money out of there, replaced it with some other money. Because the evidence sheet clearly says two one-dollar coins. There's only one one-dollar coin and somebody replaced that with a one-dollar bill.
"Not only did the PD make some mistakes, the city made some mistakes, too," he said. "We should own those mistakes. We shouldn't hide it, and neither should the city.
"If I bring you an envelope over here and tell you there's $7,000 in there, somebody should sit down with me and count out $7,000," he said. "I can guarantee you with 100 percent certainty that did not happen. Because if it did, we would know from day one that that document was incorrect."
Brown said there also appears to be cash missing.
"The other thing is you're missing cash, too," he said. "And I know you're missing cash. And I can't tell you where it's at.
"Just because I say cash is missing doesn't mean anybody stole it," Brown explained. "What it means is it's missing. If you guys want to dig through the answers for it, you're going to have to find that somewhere else because that's not what you paid me to do."
Brown also said there was a case where cash was found that apparently went missing.
"Police officers say they took cash and that's the last known place it is," he said. "It just flat disappeared. We can't find it.
"You guys seized drug money and you never paid a dime to the state," he said. "You just took somebody's drug money and kept it. I don't know what you did with it. I can't tell you.
"And nobody that works over here at city hall knew they were supposed to do that and nobody that worked at the PD knew they were supposed to do that."
The Chronicle contacted the state Auditor's Office for comment.
"We will consider this while planning the city's next audit, which is scheduled to begin next year and will examine the fiscal years of 2018 and 2019," spokeswoman Kathleen Cooper said. "We also plan to request a copy of the city's internal review."
The Chronicle has also filed a public records request for a copy of the complete internal audit.
Brown said evidence was another area of inaccuracies.
Sometime in 2018, the department created an active evidence logbook, inactive evidence logbook, evidence logbook by location and several stapled, mismatched documents, Brown said.
He said a policy manual apparently was in the midst of being updated, but nothing was "firm or concrete."
"Nobody read them front to back," he said. "If you read it, then you made a bunch of mistakes or violated policy."
Brown said officers often also used different types of evidence forms, and an accompanying control sheet often was not used.
"The reason I can't tell you what happened to everything is because it seems like, to me, that we did a really good job of listing what was on there and then when we put it into the evidence locker, then we did a very poor job of telling anybody what happened to it after that," he said.
Brown also noted a case from August 2018 in which drugs and cash were seized, but only drugs apparently made it into evidence.
"We can follow the drugs," Brown said. "We can follow them from the time they left the Omak PD to the time they went into your patrol. And the time they came out of the trunk of your patrol car and the time they went into temporary evidence. And the time they left temporary evidence and the time they were put in the locker. What you can't account for is what happened to the cash the minute it went from Omak PD to Tonasket PD. Doesn't exist."
Omak Police Chief Jeff Koplin wasn't immediately available for comment.
Former Tonasket Reserve Police officer John Cruz said the alleged missing money was a counterfeit $100 bill that was picked up in Tonasket and turned into the Omak Police Department. Former Tonasket officer Jose Perez echoed Cruz, adding he sent the counterfeit bill to the Secret Service for future investigation.
"You're missing 26 guns, how's that, since 1984?" Brown said. "I can't tell you where they are because your master log says that you took these guns as evidence.
"Theoretically, if it says that's where they are, I should go open the gun locker and I should see those guns there," he said. "They're not there. They don't exist."
Brown pointed out some of the firearms were taken in for safekeeping.
"All the new (firearms) purchases I can account for," Brown said. "And the sheriff's office has custody of all the city's firearms.
"But there are two firearms … I believe it was (former) Chief (Darin) Odegaard's inventory … there are two weapons on there that I can't find. They weren't here."
Perry said when he first opened the doors of the department in the summer of 2018, he discovered 33 firearms.
"Of those 33, we traded 23, destroyed six, four were kept for various purposes and then one came in literally a day or day before I left," Perry said. "Probably five firearms were left.
"I had first thought I found what were a bunch of missing firearms as well," Perry said. "Most of them I was able to … (find) out what happened to them. I think I reported to Chief Odegaard that there were like two firearms I couldn't account for."
The Chronicle contacted the Seattle division of the U.S. Bureau of Alcohol, Tobacco, Firearms and Explosives for comment. The agency did not respond by Chronicle press time.
"You have found property," Brown said. "You found a man's wallet and his cash and his ID. And you never attempted to return it. Never."
Brown said there was $400 cash in the wallet. A certified letter was sent to the owner "which was returned as no reciprocal at this address.
"You knew the man, you knew where he lived," Brown said. "I cannot tell you whether you ever went and knocked on the door and said, 'Here's your money back.' Or whether you just said, 'Ah, we're not even going to try. We sent him a certified letter, that's good enough, that's what the law requires us to do. Here, absorb the money.' Which is what you did. You took a man's $400."
He said there may be an answer, but he can't find documentation.
Brown went on to describe another incident in which a cellphone was confiscated and apparently never returned.
"You have a victim that had their property stolen from them that the police department actually found and retrieved, put in evidence and never gave back to the victim," he said. "What's a flip phone worth today?"
Brown said the city also claims to have 15 bicycles, but "you don't have one bike."
"I hear about the hard work that the men that worked here did and I will agree with that," Brown said, referencing the latest police force. "But if they did, I can tell you that you only have like, eight or nine items listed in that master (evidence) log for an entire year."
City attorney Mick Howe questioned the importance of the number of items listed and asked Brown to put the figure into context.
"What that means (is) over a calendar year, you only took in eight property numbers," Brown said. "I only took eight things from eight different cases.
"To me, what that says is that you didn't even do one investigation every month," Brown said. "You did less than that. Or if you did … where's all your evidence?"
Perry suggested eight or nine cases as not being a major concern.
"Just listening to (Okanogan County) Sheriff (Tony) Hawley's comment about service calls last month, it comes out to about 9 percent of the calls led to evidence," Perry said. "If that's the case, there's nothing abnormal about that. In fact, a lot of agencies, I would assume, have less than 9 percent."
Perry also pointed out that during a period of that time, "there were no police officers. So, all that I suspect might account for that."
Hawley reported the sheriff's office received 58 calls in the past 30 days inside the city limits.
Last year, Brown also said evidence was documented as sitting in the trunk of a patrol vehicle for a month and a half.
"At least they were honest about it," Brown said. "When you do things like that … things just get lost."
He also noted a case in which cash and drugs were apparently collected. The drugs made it into an evidence locker, but the cash appears to have disappeared.
"I can tell you that you have an officer that picked up drugs and cash and he puts it in his report. The drugs make it to evidence, the cash never does," Brown said. "That's a fact."
"You guys are missing drugs," Brown said. "I don't know where they went. They're not here."
"You have drugs that you have documents that you're using for training aids that can't be located."
Brown said some drugs were located in a safe, but also said a K-9 officer "actually took drugs from somebody and then used them as training aids.
"I can tell you that, that officer no longer works here," Brown said, not disclosing the identity of the officer.
"Where'd the dope go?" he said. "It wasn't turned back into the city because your property sheet says he still has it. And that's the last thing that we can go off of.
"I can't just make something up and go, 'Well, I'm sure he turned it in.' I'm sure he did, but you have no proof of that.
"I did find drug training aids in a desk and those were put in a safe in the old PD behind my office door," Foreman said. "Drugs in the vault were to be destroyed, or they were from 2012 to current, which was then to be researched by SEP."
The Chronicle contacted the Seattle division of the U.S. Drug Enforcement Administration for comment.
"(The) DEA does not get involved in other agencies' internal audits/investigations, nor do we comment on them," DEA Special Agent Jodie Underwood said.
Brown said some of the mistakes he uncovered were simple calculation and human errors. He also attributed some of the apparent errors to the high turnover rate at the department.
"You've got a lot of cops (that) leave here and go to other places," he said. "And the people that fill those positions were probably people that weren't capable of doing it. When you asked a guy that's only been a cop for a year and a half to be your new police chief you're probably going to run into some issues down the road, right?
"This is by no means over for the city," Brown said. "The prosecutor's office has every single item of evidence that I found. They know what complaint number it goes to."
He also said the city will continue to receive dispositions and needs to have a game plan.
Mayor Dennis Brown said he enjoyed working with Steve Brown, while other council members had different emotions.
Kriner stated she was "numb," and Christa "Teagan" Levine echoed that, saying she was in a state of "awe."
Council members Maria Moreno and Jensen Sackman said they were glad the audit was conducted and hope to rectify the issues before a new police department is formed.
"Put your mind at ease," Perry said. "I saw the shock on some of your faces. I understand that shock. But don't feel you're a lone wolf at this. There are other agencies going through this. We try to find was there significant theft, or any theft? Or is it paperwork problems?"
"Steve Brown conducted a very thorough investigation and his findings certainly validates the mayor and city council's actions in terminating the police officers and disbanding the police department," Howe told The Chronicle last week. "Although there appears to be a lot of missing property including cash, guns and drugs it is not surprising to me knowing the individuals involved.
"The next steps will be Steve Brown's meeting with the prosecutor and presentation of his findings which very well could lead to criminal charges against the members of the police department," he said. "Secondly, the fraud division of the state Auditor's Office will also be conducting follow-up investigations of the police department."
"With evidence and documentation as to the breach of the police department building in December, keys in possession of unauthorized city employees and council members, and with documentation as to all of the unauthorized people in and out of those buildings - from December until most recently when Steve Brown was working in there - the city has made it impossible to prove anything," Foreman told The Chronicle. "The chain of custody has been broken on so many levels.
"I will say that if Mr. Howe chooses to pursue criminal charges, I think it will be a good thing," she said. "Then, finally the whole story and the entire picture will come out. There have been so many violations of laws, ordinances and civil service rules by the city and city council, I think it would be great for all of that to come to light."