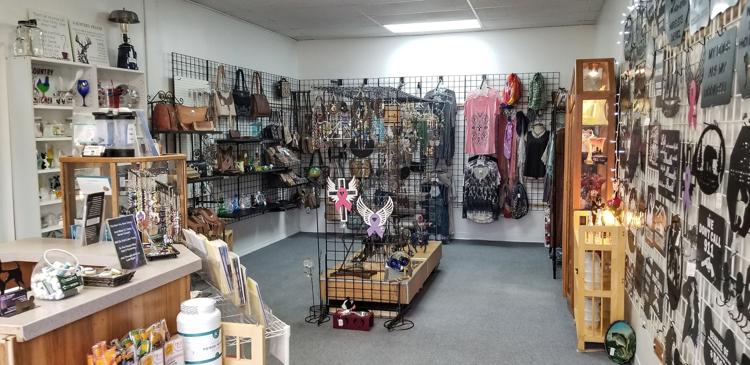 TONASKET — A grand opening is planned for Country Girls Emporium, a new and unique shop in town, March 15.
The store opened at the end of January, after Karla Stucker and Janet Montanye decided to join forces and pool their products to offer to customers in one setting.
Stucker has been selling "country bling" since 2012, and Montanye started a metal art business with her husband Dale in 2005.
Their collaboration resulted in the Country Girls Emporium, offering a wide variety of unique gifts, new and gently used apparel, cards, gift bags, candy, antiques and consignments.
The Montanyes started DJL Designs, a family-owned and operated business in 2005. The name represents Dale, Janet and their daughter Lacey. They began making metal welcome signs, wind chimes, metal garden stakes, household decor, unique "repurposed critters," and custom designs for the public.
Several of their custom design pieces can be seen on the outside of Rockwell Cellars, banners for the city of Twisp, The Lodge at Palmer Lake, and in the Jess Ford lobby in Omak.
"The life of a custom piece of art starts with a vision, whether it be mine or theirs," said Janet Montanye. "It then evolves as I listen to my customer, and a design starts to form into something uniquely personal for them."
Montanye said her "greatest joy" comes from presenting the piece to the customer, and "seeing the look on their face when they see their completed piece of art, that was once only a glimpse of their imagination.
"We are very strict on the quality of our products," said Montanye. "I personally inspect each and every piece that I produce from start to finish to assure that our customers are getting 'quality' for their hard-earned money."
Artwork from DJL Designs can be found as far away as Germany, Italy, Australia and other countries.  The Monatanyes have been traveling to craft shows, trade shows and farmers markets with their metal art designs for the past 14 years. They recently decided it's time to stay closer to home.
Meanwhile, Stucker began a traveling business called Country Crazy Cowgirl Bling seven years ago, going to rodeos and fairs to sell items including jewelry, home decor, clothing, western handbags and wallets out of a horse trailer.
In the fall of 2012, Stucker struck a deal with Jerry and Stephanie Bradley to rent a small corner in their video store to sell her bling.
"As the popularity of videos faded, my Country Crazy Cowgirl Bling was able to grow and expand into a very popular little shop," said Stucker.
Times are always changing, and in 2018, the church that owns the building the video store and country bling were in decided to expand, remodeling the shop's space into meeting rooms. Stucker had to move out, and she went back to traveling to rodeos and fairs.
"During the summer of tedious traveling, I grew tired of being away from my home and family," said Stucker. "I wanted to be home to do more with my youngest child and spend time with the whole family."
Stucker said she began searching for a permanent shop in town, preferably close to home and with a partner.
"My dream of selling what I loved was still very vivid," said Stucker.
She approached Montanye, and after much brain storming and planning, Country Girls Emporium was born.
"We believed we could pull together a fun, unique gift shop in Tonasket," said Montanye.
Their doors opened Jan. 31.
"Our business carries numerous products that aren't found in Tonasket," said Stucker. "All our metal art is handmade by a veteran, and exclusive to Country Girls Emporium."
Country Girls Emporium is located at 422 S. Whitcomb Ave., behind Subway.
Their winter hours are Tuesday through Friday from 10 a.m. to 5 p.m., with longer hours planned for the summer.