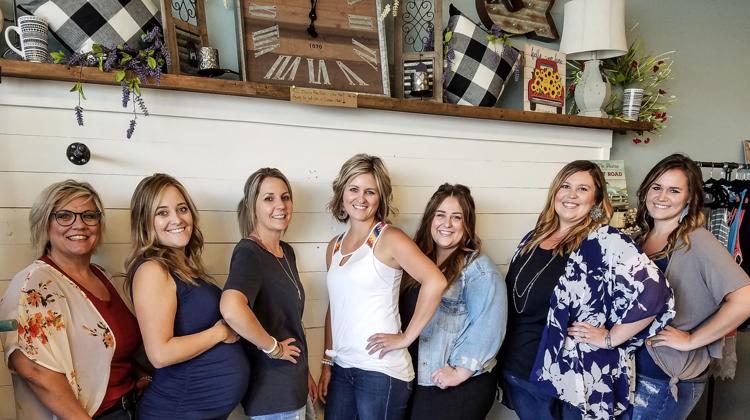 OMAK — Sweet Lemon Clothing Company Boutique has expanded its business just in time for its one-year anniversary sale, July 11 and 12.
 "A year ago, I purchased the Sweet Lemon Clothing Company Boutique," said owner Cortney Goodrich of the 705 Omache Drive business. "I asked Heather Kartchner to join me and open her Feathered Salon. We closed for two weeks and did a lot of remodeling and added Feathered Salon."
Kartchner is the owner of Feathered salon.
Goodrich and Kartchner came up with the business floorplan and opened the shop together on July 11, 2018.
"She offers hair services, waxing, eyelash extensions and spray tans," Goodrich said. "My part of the shop mainly consisted of clothing. I also had some purses, glassware, jewelry and accessories."
Tonasket resident Lisa Whitmore added a hair chair in Feathered Salon last year.
"She has been in the hair business for 25 years and has been an amazing asset to the shop," Goodrich said. "Lisa also has recently started a retail business in the Sweet Lemon shop."
Whitmore's business is called Joy. Whitmore said she likes to move items in the store around and rearrange the displays.
"You will never see something in the same spot more than once," Goodrich said. "She is enjoying adding her own inventory to the shop. She has purses, home decor, kitchen gadgets, clocks and countless other fun gifts you won't find in other stores around town."
Feathered Salon also welcomed Taylor Suder of Omak.
"She currently works Saturdays and Wednesdays and is looking into expanding to more days a week," Goodrich said. "She brings so much fun to the salon and the retail store."
Sweet Lemon also welcomed Marah Norris of Tonasket to the retail part of the shop.
Norris also operates a business named Farm Charmed which offers home decor and other gifts.
"She also coaches the Tonasket High School girls' soccer team," Goodrich said. "She also refinishes furniture and sells it in the shop."
The most recent addition to Sweet Lemon is Maeson Jean & Co. Maeson Jean & CO. is an online clothing boutique started by sisters Gretchen Jones and Karen Monroe, both of Tonasket. Their business started about a year and a half ago and offers clothing, jewelry, accessories and gifts.
"Their business model is the same as Sweet Lemon's and it has been so fun adding not only their inventory to the store, but their ideas and plans," Goodrich said. "As for Heather and myself, we are both loving the new additions to the shop, it brings a lot of energy and fun day to day."
Sweet Lemon's one-year anniversary sale will be July 11 and 12.
"We will be doing our fun balloon pop sale," Goodrich said. "For everyone that walks in the door they will get to pop a balloon with a discount inside. Every balloon has a discount and it is off your entire purchase."
Goodrich said discounts range from 10 to 35 percent.
"We will also have a very large gift basket that both the salon and the retail store are putting together," she said. "It will include gift cards, hair products, gifts, jewelry and so much more."
The basket will be a drawing, Goodrich said.
Summer Baker will be here with her business, Babycakes Cupcakery, will be onsite July 11, selling cupcakes as a drawing for chances to win free cupcakes.
Sweet Lemon is open 10 a.m. to 5 p.m. Monday through Friday, and 11 a.m. to 4 p.m. Saturday.
 "Cortney, Gretchen, and Lisa share the schedule of working the shop," said Goodrich. "Feathered Salon is open Tuesday - Saturday, their hours vary, they also do weddings on the weekend."