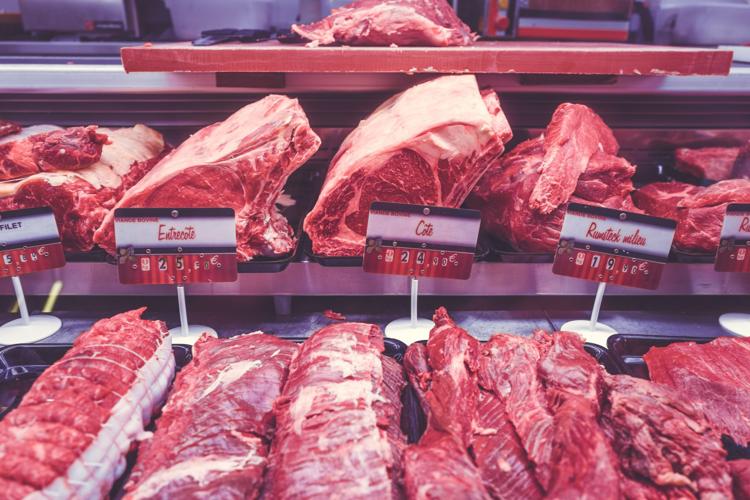 TONASKET — USDA-inspected meat processing will be available to local livestock producers in Tonasket in the near future, thanks to collaboration between the Methow Conservancy and Double S Meats. 
The Methow Conservancy purchased a USDA-approved, modular slaughter unit and will be leasing it to Double S Meats for the next five years.
"The mobile unit should be arriving within the next month," said the Methow Conservancy's Agriculture Coordinator Alyssa Jumars, last Tuesday.
This will be the first USDA-approved facility in Okanogan County. Livestock producers currently have to travel hundreds of miles to access USDA-inspected processing facilities located in Odessa, Toppenish or Basin City.
Meat processed in a USDA-inspected facility can be sold by the cut, in any quantity and to restaraunts, stores, CSAs and individuals. Meat processed in a state-inspected processing facility is custom-exempt and can only be sold to individuals and only as a whole, half or quarter beef.
"For decades, farmers and ranchers of the Methow Valley and Okanogan County have struggled with access to livestock processing, a critical step in the production of farm-to-table meats," said Jumars. "Many farms in our region have growing market opportunities for humanely and sustainably-raised meats. However, farms can't access the vast majority of these opportunities unless their animals are processed at a USDA-inspected facility."
"I have noticed working at the Farmers Market today's families don't have the storage capacity for a quarter or a half beef, and are looking for smaller quantities," said Tina Timmerman, who owns the five-generation Oberg Brothers Natural Beef outside of Tonasket with her husband Mark. "They still want grass-fed beef right from the ranch, but want to buy in 10-pounds instead of 150 pounds. There are bigger opportunities when you market your products USDA."
Jumars said for other rural farming communities across the West, limited access to livestock processing is often coupled with a decline in working agricultural lands.
"Here in Okanogan County, this is a trend we must buck," said Jumars. "Farming and ranching are core to the ethos, economy and cherished rural character of this place. And from the perspective of a land trust, successful working farms and ranches are critical for protecting valuable agricultural soils from development and also for maintaining the open spaces that are so beneficial to diverse wildlife."
The collaboration between Double S Meats and the Methow Conservancy follows a grant-funded study done in partnership with the Okanogan Conservation District and the Twispworks Foundation over the better part of 2018.
"Our goal was to collect data about the need for better access to USDA processing in Okanogan County," said Jumars.
A survey of 95 livestock producers across the county found significant demand for USDA-inspected processing services. Jumars said after evaluating diverse options for bringing USDA processing Okanogan County, they saw a promising opportunity to collaborate with Double S Meats, a custom-exempt butcher shop already operating in Tonasket, to expand to offer USDA-inspected processing.
"I think Double S Meats is very confident and comfortable with the USDA meat regulations," said Servando Garcia, manager at Double S Meats. "We do a lot of custom-cutting and wrapping for a lot of local customers."
"We have been doing business with Double S Meats for three or four years. I really enjoy working with these guys," said Timmerman. "They are very professional, they are timely, and if there's an obstacle they will work with you. I have a lot of repeat customers because of the quality of this facility."
Jumars said the Methow Conservancy carefully evaluated the financial and technical feasibility of the expansion, exploring a variety of possible approaches for implementation.
"The Methow Conservancy's purchase of the mobile unit will vastly expand the opportunities for small farms and ranches across the county to access growing niche market opportunities," said Jumars.
"We're really excited about this project. It's going to expand our markets, and hopefully we'll be will be in the business of raising sheep for generations to come," said Betsy Smith, who owns the five-generation BCS Livestock out of Winthrop with her husband Skip and son Casey.
"Having a direct marketing or farm-to-table opportunity would just be something else we could try; something new we can explore in an ever-changing beef industry," said Rachel McClure of the McClure Ranch outside of Nespelem.
"We will continue to work with a team of advisory livestock producers during the course of this effort, to ensure that farmers and ranchers have a voice and a vested interest in the success of the project," said Jumars. "We'll also work to ensure that best practices are used for humane and low-stress handling of livestock."
Jumars said a generous grant from the HumanLinks Foundation and Tilth Alliance would allow the Methow Conservancy to support Double S Meats in designing low-stress animal handling infrastructure for diverse species.
"We'll be working with Double S Meats to help them design animal holding pens, walkways and a kill box using industry standards that take into consideration lighting, footing, alley width and sight lines, and other factors that can reduce the stress to animals at the facility."
Jumars said that while this project is a highly unusual collaboration for a land trust like the Methow Conservancy, "it's not the first time a group like ours has stepped in to serve the chronically-unmet need for better access to USDA-inspected livestock processing."
In Washington state alone, the Lopez Community land Trust, the Community Agriculture Development Center of Colville and the Pierce County Conservation District have all purchased USDA-approved mobile slaughter units, and leased them to meat processors or producers groups, Jumars said.
"We are very fortunate to be able to draw on their experiences and expertise to guide us forward," said Jumars. "We are also very fortunate, as an organization, to be in a position to take on a unique project like this. We are a community with deep roots in agriculture and a particularly rich ranching heritage. A bright future for our farms is going to take unusual collaborations and a community willing to take risks for the sake of our farms and ranches."
"One of the things that Mark and I are excited about is having a slaughter facility that is local," said Timmerman.
"I want to thank the Methow Conservancy for putting together this project, and getting the study done so that we can hopefully move forward with this project," said Mark Timmerman.