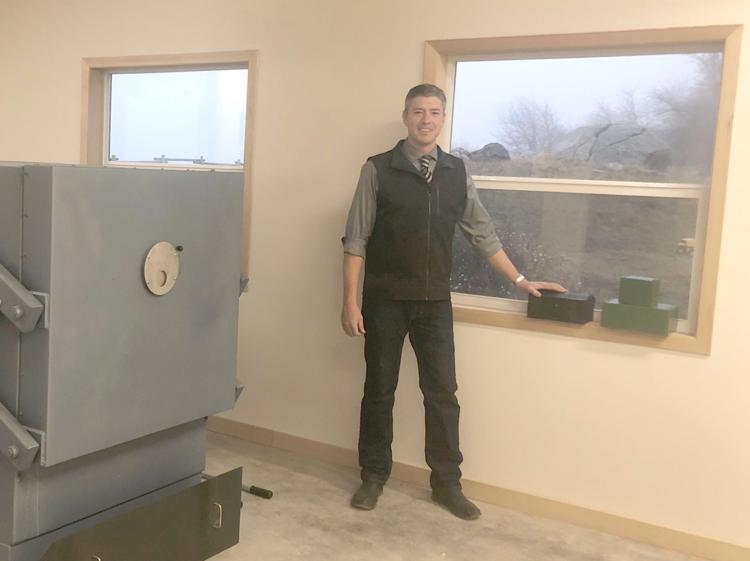 OKANOGAN — Okanogan County's first-ever pet crematory recently opened, and promises to provide professional, quality services.
North Central WA Pet Cremation of Okanogan is a facility with staff that have over 13 years of cremation specialist experience, according to owner Glenn Graves.
The crematory offers quality services for pet owners around the region.
"Back in 2006 the Okanogan County Crematory became the first facility to offer cremation services for people in our local area," Graves said. "North Central WA Pet Cremation is now the first facility in our area to offer pet cremation. Up 'till now people had to take or have their pets sent to Wenatchee or Spokane in order to be cremated."
Graves began working at the local funeral home as a summertime job, setting headstones and mowing the cemetery grass after graduating from Okanogan High School in 1999.
"After graduating college - and becoming licensed as a funeral director in 2005 - my responsibilities grew and the following year I built the first local crematory in our area," he said.
Working for Precht-Harrison-Nearents Chapel and operating the Okanogan County Crematory over the years, Graves said he has heard stories from families who wanted to have their pets cremated.
"Until now, we were unable to accommodate their requests because pet cremation requires dedicated equipment that is only used for pets," he said. "We now have that specialized equipment available to serve the public. We work through our local veterinary clinics where we offer pickup from the vets, cremation of the pet and return of the cremated remains to the vet clinic for pick up by the family.
"We also offer services that are similar to a funeral home where services are available for home pickups as well as a drop-off location in Okanogan," Graves said.
Graves said pets are treated with the same dignified and thorough manner that people are cared for with during the cremation process.
"If a pet has to be put down, all the local vets have our paperwork and will facilitate the process of pickup and cremation at NCW Pet Cremation on the family's behalf," Graves said. "If the pet dies at home, just call us and we can either meet the family in Okanogan or, if needed, we can arrange pick up of the pet at the home."
Graves said the pet crematory offers fast turn-around cremation services and boutique crematory equipment specifically designed for the cremation of small pets. The crematory has brand new state-of-the art equipment and offers affordable, local aftercare services for your pets.
"NCW Pet Cremation uses an entirely separate crematory retort which is similar to the one used for people but smaller in size," he said. "The pet crematory is located in an entirely new and separate wing of the crematory building at 557 Cold Springs Road outside of Okanogan. The Crematory building is located on a homestead ranch that was founded by my great-grandfather over 100 years ago where my family still resides."
Graves stated costs for pet cremation are based on weight and range from $100-$325.
"We are in the process of making pre-arrangements available through our website and financing through CareCredit," he said.
Graves said the website, ncwpetcremation.com, is under construction and should be completed at the end of the month.
"From the moment your pet enters our care and until they are returned, our crematory staff adhere to the strictest professional standards," Graves said. "Carried out in a gentle and respectful manner, NCW Pet Cremation's tracking system ensures that you may be confident your pet's cremated remains are returned to you, the respective pet owner."