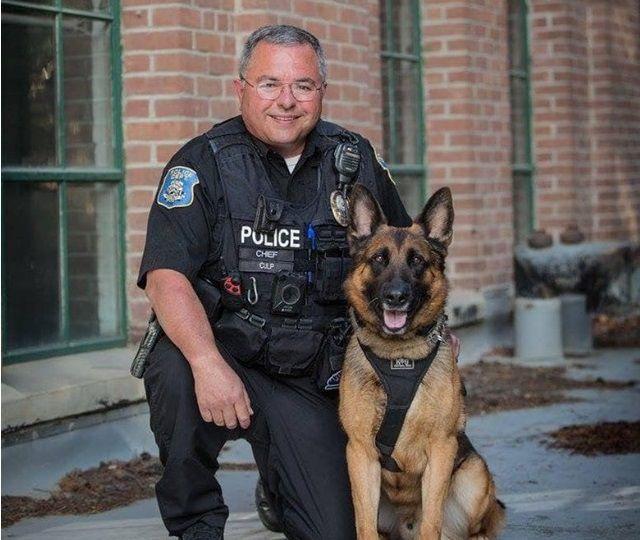 MESA, ARIZ. - Loren Culp received the Police Chief of the Decade award from the Constitutional Sheriffs and Peace Officers Association Saturday, Oct. 12.
The City of Republic Police Chief was presented the award by retired Graham County, Ariz. Sheriff Richard Mack, who gained distinction during the Clinton era by successfully opposing the federal government's Brady Bill.
"He said it was unconstitutional for the federal government to tell state governments what to do," said Culp. "He is the only sheriff to win a lawsuit against the federal government. It was a huge case for our second amendment rights."
Mack is the president and founder of the CSPOA.
"He is a very patriotic, constitutional sheriff," said Culp. "He has written seven books about our rights. It was quite an honor to be presented the award by him."
The plaque's inscription states it is presented to Culp "for his unprecedented stand for liberty and the example he has set for all peace officers throughout the United States of America in defense of the right of the people to keep and bear arms."
Culp published "American Cop: Upholding the Constitution and Defending Your Right to Keep and Bear Arms" earlier this year.
Culp said he was quite surprised by the award. Sheriff Mack invited him down a few weeks ago "for an award ceremony."
"He said I was possibly going to be named Police Chief of the Year," said Culp. "The Board of Directors voted to award me Police Chief of the Decade for my stance for citizens' rights."
Klickitat County's Sheriff Songer was awarded Sheriff of the Year.
Culp said he and his wife flew home Sunday, where they were met with another surprise.
"My brother called me and said he needed to meet me in Pine Grove, just outside Republic. He said he had a casserole for my wife Barb and I," laughed Culp. "When I turned onto Highway 21 I see 'Culp for Governor' signs and about 20 people there."
After "getting his feet back on the ground," Culp is off to Morton this weekend, where he is one of several speakers at a Second Amendment Rally.
"It's going to be huge," Culp said of the event that runs from 10 a.m. to 2 p.m. Oct. 19.
Culp said his book, "American Cop," is now available as an audiobook on Audible and at chiefculp.com.
"I hope to have an event soon in Okanogan county to speak about my race for governor," said Culp. "It's not scheduled yet, but we're working on it."
For more information or to host an event, contact Culp through his campaign website culpforgovernor.com.