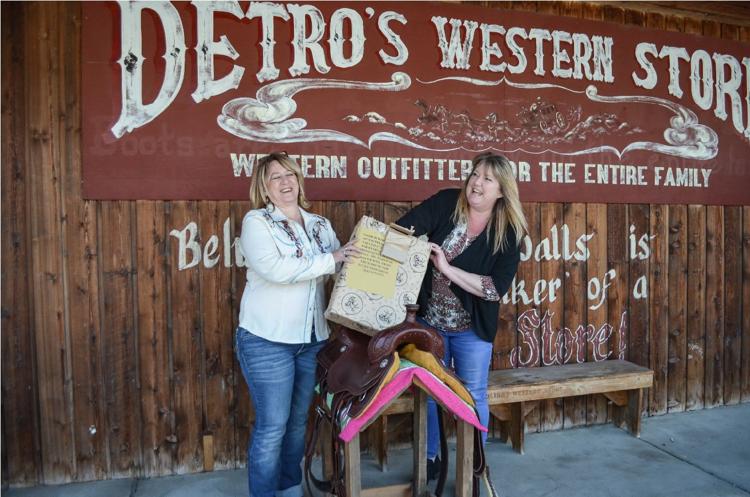 RIVERSIDE — Roger and Lori Sawyer celebrated one year of ownership of DeTros Western Store with a barbeque, saddle raffle and 30 percent off sale Tuesday, March 26.
Winning a 16-inch, all-leather trail saddle by Cactus Saddlery was Kaya Hayes.
"He was super-excited to hear the news," said Kim Sawyer, who called Hayes after his number was drawn at noon. Sawyer said the saddle, valued at $1,400, was good for roping or on the trail.
Customers received one raffle ticket for the drawing with every $100 they spent in the store, which carries a whole line of trail, ranch and roping saddles.
The store is stocked with western gear ranging from horse tack to boots, hats and clothing.
"We've updated the styles and brought in more modern fashions for guys and girls and more dress clothing," said Lori Sawyer. "We are the only carrier in the area for Miss Macie boots and shoes."
The store is also stocked with lines of work clothing from waterproof, steel toe work boots to "Brush Popper" heavy work shirts by Wrangler.
The Sawyers both said running the store this past year has been a lot of fun.
"The amazing part has been the contact with all the people," said Roger Sawyer. "The support all the people in the area are giving us to keep downtown Riverside vital has been great."
DeTros Western Store is one of just three businesses in Riverside, with the Riverside Grocery and Dave's Gun and Pawn the other two.
Roger said the store was built between 1914 and 1916 before burning down and re-opening in 1919, which is still the building the Sawyers are running the operation in now.
"It's been fun and a very big learning curve for both Lori and I on getting the right items," said Roger. "Lots of people have commented we don't carry the same things as North 40 or Rawsons, so people have a bigger choice in the valley because of what Lori's doing."