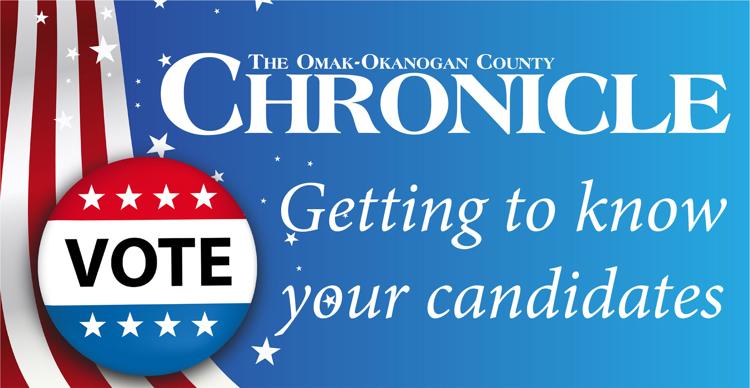 EDITOR'S NOTE: Voters around the region will have plenty of choices on the Nov. 5 ballot. Earlier this month, The Chronicle sent questions to all of the candidates who are in local contested races in Okanogan, Douglas and Ferry counties seeking answers to three questions, along with their age, town of residency and background. Some candidates responded, others did not. Candidates were asked to keep responses to 100 words per questions in our print edition. Full responses and responses received after Chronicle print deadline are published below. As additional responses are received, they will be added to this story.
Omak School District - District 2
Background: After retiring as Omak police chief in 1992, I went back to school. I eventually earned a master's degree in education and guidance counseling. While I was in school I worked as a tutor and teacher's aide for the Omak district. Then I ran the tribes' residential and child protective services before working at Paschal Sherman school for nine years as a counselor. I've been on the Omak School Board since 2007. I decided to run again because I'm in it for the kids.
What is your top priority for the school district?
As far as I'm concerned, the top priority is building a new middle school. Overcrowding is a real problem that is only going to get worse. We're also concerned with district-wide building security. The challenge is to make buildings safe without raising apprehension among the kids.
What are some of the most pressing challenges to the district?
We're at the mercy of the state for funding, and state funding hasn't been very logical. We're fortunate to have WAVA, the on-line learning program. It has benefitted the district financially and enabled students to take classes the district couldn't have provided otherwise.  One of the board's most important jobs will be recruiting and hiring a new superintendent. We've already begun that process by hiring a consultant. But we board members are actively involved throughout the process, visiting the candidates' districts and communicating with staff and public.
Should the district build a new middle school and why?
Enrollment is going up all the time. There's no way you can remodel something as old as the Emert building—the current middle school—for less money than building a new school. To waste money installing portables that last only a few years is nonsense. We want to provide the best opportunities for kids, and we need the best possible facilities to do that.
Background:  I have always believed in the importance of Education, Outreach and Community. I have a strong and balanced understanding of the current educational challenges and opportunities that face our District. 
What is your top priority for the school district?
1) Advocate for stressing inclusion and fairness to all students
2) Listen to the concerns of the parents, guardians, teachers, students and taxpayers through Community OUTREACH noting that our schools are only as strong as our public school.
3) Integrated student services and family engagement
4) Needs assessment to identify appropriate academic supports
5) Monitor the effects of student discipline
6) Development of community partnerships
7) Academic and Financial Accountability
Omak School District - District 3
Background: I grew up in Bridgeport and moved to Spokane immediately after graduation. After starting a family, my wife Becky and I compared the local schools in the Okanogan to the ones we would have been a part of in the Spokane area. We decided that we wanted to move back to this area to raise our children. Both of them are graduates of the Omak school district.  I worked for the mill from 1987 until it closed in 2000, then went back to school through Wenatchee Valley College. I now work for the Okanogan PUD as the Information Systems Manager.
What is your top priority for the school district?
My top priority for Omak school district, as a school board member, will be to help select the best person possible as the next school superintendent.  I cannot overstate how important it is to fill that position with someone who is capable of managing such a complex business.  Managing a school district, with all of the specific requirements, coming from so many different directions, is not an easy task.  I also believe we need a leader who is well respected by co-workers and members of their community, and who knows something about how small rural communities work.
What are some of the most pressing challenges to the district?
Omak school district, as well as other school districts, will continue to face many challenges.  Budget is one of those challenges, partially because of how the state dictates where state funding can be spent.  I personally do not believe it ever works out better to have some other group, who is far removed from our specific needs, decide what our funding should be spent on.  That said, one of Omak's challenges will be to get the most out of every dollar spent, that the school district actually has some control over.
Should the district build a new middle school and why?
I think the short answer is yes, Omak does need to build a new middle school.  The question is when?  Buildings eventually need to be replaced, and there are a lot of factors that weigh into when it's the right time, the most cost effective time, to replace the building.  I have not yet been involved in this process enough to say that I know what is best. If I am selected to serve as a school board member, I will be involved in the process and will work to facilitate the best outcome for our students and our community.
Background: Graduated from CWU with a BS in Business Administration with a minor in Chemistry. 2 Masters in Project Management (scholastic & technical).  Engineering Certificate in Water & Wastewater Treatment & Operations. Boeing training in Toyota Production Management & Database Design Programming. Retired utility technical expert in operations, hydraulic control systems, operations management, and public works director; including financial project design. For Boeing I was a 'change agent' hired to make changes politically sensitive to current structures. To this effect I led teams that saved Boeing $400M/year, designed the software to manage ramp up from 20 airplanes to 52 airplanes/year, and negotiated multi-million dollar contracts through technical services. Lessons learned, 'change is difficult', but it is necessary despite the fear associated with the unknown. It takes leadership based on experience, education, and faith to move failing processes into a better future. Have no fear!
What is your top priority for the school district?
Across America, the current brick & mortar (B&M) system of education delivery is failing to produce students who are ready to work upon graduation. The current thinking is that K12 graduation is only the first step to post graduate studies to get prepared for the workforce. WA spends approx. $12K/year on a student, yet upon graduation, they do not have the skills the workplace needs. My top priority is to re-focus the curriculum to allow graduating students to be 'skill ready' for the workplace. Those who choose a college liberal arts or science/engineering track will do so by the 10th grade. However, the majority of students will choose the skill based track. To this effect, the curriculum, staff, and methods of delivery will need to be adopted so that skill based industrial arts education becomes the focus for the Omak Public School System. A new emphasis on utilizing a matrix of WAVA home schooling with  B&M hands on training will be key to this success. The goal is for students to choose college or industrial arts by the 10th grade, then concentrate on that choice to be either college ready or job ready upon graduation. This will necessitate a shift in lawful priorities within the school system. The focus will shift to job ready outcomes instead of liberal arts preparation for college debt.
What are some of the most pressing challenges to the district? (Budget, enrollment, state funding, curriculum, security, other, etc.)
 Security can be addressed easily by arming staff in each school with weapons and train them to react to perceived threats. Posting signs at each school to this effect will prevent destructive cowards from even attempting deadly force on students. Cowards do not attack schools prepared to resist with deadly force according to law enforcement. Let's just get over the idea that gun free zones are anything but an invitation to violence. The utilization of NSA software to spy on the community is against constitutional law and civil rights which create a large liability risk of third party lawsuits. This should be avoided. One of my major concerns is that the state of WA is $40B in debt with unfunded liabilities, mostly against pension funds. This is too large of a risk. 53% of the revenue generated by the state goes funds education yet student outcomes are plummeting. The Omak School District #19 receives more money from Puget Sound than derived from local property taxes. The 'enrichment' funds over and above local property taxation is taken from other property owners in Puget Sound. I personally have a moral issue with this, yet this is the law and the district now is addicted to this 'theft' or 'redistribution'. I personally believe that this model is unsustainable. It will collapse in the future, as it poses a very large financial risk for everyone in the state. I believe we need to begin to think about weaning ourselves from the Puget Sound financial bubble, and prepare to fund education in a manner that is sustainable when the bubble in Puget Sound pops. This is my biggest concern. I believe there is a path to financial sustainability and security using online education to lower the unsustainable cost of B&M infrastructure. At the same time, I have faith that student outcomes can be increased so that students graduate ready to earn a living. I would like to help implement this vision in the Omak Public School System for the benefit of every student. Education is the great social equalizer and it is our moral obligation to utilize our resources to this end.
Should the district build a new middle school and why?
The district should not build a new middle school. The current board members and superintendent have not fully disclosed to the public the true intentions of their plans. The district owned enough land 10+ acres for a middle school in North Omak. They did not need to use surplus WAVA cash to purchase 100+ acres without any infrastructure to build a middle school. My personal interview with the current superintendent revealed the overall plan, which is to move the entire school infrastructure to the Sandflat property. Preliminary estimates for this exceed $300M...a sum that the community cannot afford as aforementioned. A tour of the middle school revealed that there is space for the upcoming enrollment. It is not ideal, but it is a functioning usable space, that if properly maintained will serve its intended purpose. The adjacent High School spaces are underutilized, and 2019 enrollment projections show a drop in high school attendance. By shifting middle school attendance to this underutilized space is much cheaper that building new buildings on land without any infrastructure. The future demographics are uncertain. Online home school education is growing quickly, where education can be delivered at 50% of B&M costs. There is a pathway by which the current infrastructure can be better utilized, in conjunction with online WAVA education to avoid the unaffordable mistake of building an entire new school compound.
Omak School District - District 4
Background: Born and raised in the Omak area.  Graduated from Omak High School.
Graduated with AWS Welding certification from Spokane Community College; AAS degree in Machine Shop Technology from Clark College in Vancouver.
Owned and operated Diebel's Welding & Machine, Inc. for last 40 years. 
Have served on Vocational Advisory boards for both Omak and Okanogan schools.
What is your top priority for the school district?
The need to bring skill based education back into the school system.  Omak High School was a leader in the vocational arts in the 1970's.  They have digressed from that by eliminating whole programs and liquidating machines and tools. 
Six million skilled trade jobs are unfulfilled in America today from lack of trained workers.  I want our young people to get the skills and knowledge to be successful.  All students can learn hands on.  Only a small percentage learns with academics only.
What are some of the most pressing challenges to the district?
Curriculum that teaches students practical application skills for a lifetime, not just to pass a state test.
The school district has a $64 million dollar annual budget and graduates about 120 students per year.  That comes to about $533,333 per graduate per year.  That seems high to me for a community our size.  The budget needs to be examined to make sure all funds are being spent wisely.   Maintenance funds need to be spent on maintenance instead of sand and sage brush.
Should the district build a new middle school and why?
No!  I keep hearing that there is not enough room in the schools.  Omak High School graduating class has been in the low 100's for many years.  If you look at this year's enrollment numbers the largest class size is 1st grade at 154 and the smallest class size is 10th grade at 84.  This is only one classroom larger than the norm.  With ingenuity and innovation current facilities could be added on to or remodeled for less money than a new building.
Background:  I was born and raised in Omak and am a 12-year veteran and graduate of the Omak School District. I have a bachelor's degree in economics from the University of Washington and over 20 years of business related experience in the private, public, and tribal sectors. I am presently the corporate officer who oversees various retail operations for the Colville Tribal Federal Corporation. I am also an enrolled tribal member and have been married for 12 years with two children who are current and future students of the Omak School District.
What is your top priority for the school district?
My top priority would be to hire a Superintendent who is the most qualified and suitable candidate for our students and community. With the current individual retiring, it is critical that the school board members collectively identify a Superintendent who is prepared to confront the growing challenges ahead on a sustained basis. The school board must facilitate this process in a prudent yet fluent manner to ensure the smoothest transition possible with the outgoing and incoming administrators. The district cannot afford any setbacks resulting from issues/delays in hiring the new Superintendent. 
What are some of the most pressing challenges to the district?
With any public agency, funding is a persisting issue that imposes challenges from both operational and capital improvement perspectives. Fortunately, the district has been able to overcome and minimize the observable effects with key personnel, but this wears on staff over time. With that said, hiring and retention are among the district's greatest challenges. It takes quality people to operate schools and educate our children, and it is not only about attracting them here initially, but more importantly, keeping them. Discipline and security also represent significant challenges that need to be addressed, and both are compounded by the district's broad diversity. 
Should the district build a new middle school and why?
Many stakeholders exist and it seems appropriate to assemble a steering committee comprised of community, business, and political members to assist in answering this question. While I typically oppose adding layers of bureaucracy to already cumbersome processes, we need to think outside the box given the large disparity between the district's financial needs and the community's resources. I personally believe the middle school requires significant capital expenditures; however, I further recognize that households and businesses already have their financial challenges and higher taxes would only complicate matters. Accordingly, capital improvement initiatives at varying funding levels should be thoroughly evaluated before any further bond measures are initiated.
Omak School District - District 5
Background: I was born in Omak to Bill and Ruth Anderson who raised me here, I graduated from Omak High School in 1964, attended EWU and have lived most of my life here. My late husband Jerry and I raised two daughters, who also graduated from Omak schools. I retired in 2008 after working for the Omak School District for 32 years as secretary to five superintendents. I have five grandchildren and three great grandchildren. I've been a school board member for 10 years and also serve on the Omak Performing Arts Center Foundation Board.
What is your top priority for the school district?
Safety and security for our students and staff will continue to be a top priority. Budgets are always a challenge, especially as the state continues to pass underfunded mandates. I want to see the district continue to develop partnerships that expand career and technical education and increase opportunities for our college bound students.
We must focus on student achievement with high expectations for student learning.
Our superintendent Dr. Swanson has indicated that he will be retiring at the end of the school year 2020. Hiring a superintendent is one of the most important functions of a school board member.
What are some of the most pressing challenges to the district?
Budgets are always a challenge as state funding continues to be unpredictable. As we face those challenges, we must do everything we can to ensure that support for all our schools is not compromised or diminished. It is difficult, especially in rural communities to modernize schools under current rules that determine how capital projects and construction can be funded. We must address the issues of our growing enrollment.
Most important, we need parent and community involvement as we work together to meet the needs of our students.
Should the district build a new middle school and why?
The current facility, built in 1948, does not provide enough space for the district's rapidly growing enrollment. Even though a bond has twice been rejected by the voters, we are still faced with how to move forward. Enrollment projections for the next five years indicate significant growth at East and Middle schools. There are no easy answers and a lot to consider as we reach building compacities and meet state class size requirements. We need to collaborate with community and stakeholders for their input, as we board members make decisions that impact the future of our students, school and community.
Background: I was born and raised in Okanogan County and have lived here all my life. I returned from my military
service in 1969 and started working as a carpenter apprentice on the plywood plant at the Biles-Coleman sawmill. I worked as a carpenter and supervisor for 15 years on many projects including schools in Omak, Lake Roosevelt, and Wenatchee Valley College. I then started my own business as a general contractor building houses, commercial buildings, and PUD substations in this area.
What is your top priority for the school district?
My top priority for the school is to increase vocational and trades education for students who are not college bound. We need to provide those students with the tools, equipment, and educators that can introduce them to different trades. After they decide what they want to do, we should offer advanced classes so they can learn more about that trade or business. When they graduate, they will be able to go right from school to a job that will pay a good wage. And with a trade, they would have the option to start a business of their own later.
What are some of the most pressing challenges to the district?
In the lower grades, the curriculum should focus more on the basics (reading, writing, math). If the students do not master these, they will have a hard time moving ahead. In the upper grades, students need more history and civics, so they will understand our constitutional republic form of government and the Bill of Rights. Security in our schools is another important issue. The best way to secure the school is to have armed personnel inside and signage outside, warning intruders that the building is protected. The armed personnel could be trained teachers, retired police, or hired guards.
Should the district build a new middle school and why?
We should not build a new middle school, especially on the Sand Flat, where we would have to bus students back and forth across Highway 97 every day. Unless we have major new industries come to the area, I do not think we will see a big enrollment increase. Until we really need more classrooms, we should make better use of the existing facilities. Building a new middle school would severely burden the taxpayers of the District. 
Tonasket City Council - Position 2
Candidate did not respond to Chronicle questions.
Background: I'm a life long resident of Tonasket. I attended Tonasket Public Schools and graduated in 1977. I graduated from WSU in 1981. I worked in the fruit industry my whole and I'm now semi retired.
What are some of the most pressing challenges to the city?
Infrastructure and the economy. We have streets and buildings that are in dire need of repair and maintenance. Finding the money to do this is going to be a big challenge. We have three major employers in town. The hospital district, the school district, and the Forest Service. We need to do what we can to preserve those jobs.
Do you think the city should work to bring back its own police department?
I would like to see it re- established, with the key word "like". First priority is to fund a new station. Second is to commit to a competitive wage for the officers, then we have to equip them. A very careful cost analysis needs to be done to determine the financial viability of having our own force.
Tell voters what distinguishes you from your opponent.
I'm a fiscal conservative with strong libertarian leanings and I believe in very small and limited government and that starts at the local level.
Tonasket City Council - Position 4
Background: I grew up in Colorado on a farm and moved to Tonasket in 1971. I was employed by Hodgson Tractor and Hedlund Chevrolet as a mechanic and service manager and later owned a parts store and shop. My wife and I have been married 40 years and raised two daughters who attended Tonasket schools. One daughter was in the Marines with a husband in the army and the other son-in-law in the Air Force. I support our veterans and volunteer at the school as well as belong to numerous service organizations. I am a member of the picture planning commission.
What are some of the most pressing challenges to the city?
The employees are vital to make our city function efficiently and working hand in hand with them to meet their needs and give them the tools to do their jobs whether that is ongoing training or equipment to keep our city going. There are needs and wants for the city that should be prioritized. Being financially responsible of city funds to keep costs to citizens down and applying for grants to enhance the payment of projects, etc as much as possible.
Do you think the city should work to bring back its own police department?
Although it would be best to have our own police force but Evaluating All aspects such as the shortage of officers, wages, office space and perhaps continuing to contract with the sheriff department might be the most efficient in all ways.
Tell voters what distinguishes you from your opponent.
I have owned several successful businesses in Tonasket and experience with businesses in Tonasket over the last 40 years that I feel have provided me with the skills in budgeting and being financial responsibility to tackle and solve issues at the city level. Assisting and promoting the businesses (merchants,hospital, school, farmers, etc.) in the area By Listening to their needs to be successful which in turn makes TONASKET successful.
Background: After growing up in the Tonasket area, I chose to return with my husband, John McReynolds, to raise our two children. I graduated from EWU and received a Teaching Endorsement in Special Education from CWU. For eight years, I oversaw a staff and worked closely with a team of professionals serving students with all different types of disabilities. I left teaching to start a family, and since moving back to Tonasket I have enjoyed devoting my time to improving our community. I co-founded and Chaired the Tonasket Parks Improvement Committee, started the tonasket.org website and created a city-wide survey.
What are some of the most pressing challenges to the city?
The three most pressing challenges for Tonasket are financial stability, increasing transparency/building trust, and deciding about the future of law enforcement. Along with these, we are needing to invest in our infrastructure, and promote Tonasket for the community minded and welcoming place that we are. There are a lot of challenges facing small cities, however I believe that the spirit of Tonasket is strong and we will overcome the hurdles we are faced with if we handle them in a respectful, ethical and informed manner.
Do you think the city should work to bring back its own police department?
This is a huge question that needs much thought and discussion. First, it is disappointing how we lost the department and the circumstances that surrounded the disbandment. Now that we find ourselves in this position and before we jump to making decisions, we need to assess our needs are and how we go about meeting those needs. Small town police departments are expensive to run and are struggling to attract and keep officers because of the rural location and the inability to offer a competitive wage. However, it is also too soon to evaluate the coverage of the Sheriff's contract.
Tell voters what distinguishes you from your opponent.
I have known George to be a kind and well respected person in our community who volunteers and works hard. I think our focuses and approaches could be different as a council member. I'll just talk about how my approach would be to better understand our citizens perspectives, including, our hispanic population, all age groups and economic status and to take steps to work closely with the School, Hospital, Library, local businesses and organizations to collaborate and uplift our community. I would also focus on policies and procedures to ensure the best outcome for all.
Fire District 6 - Position 2
Background: I was born and raised in the Methow Valley. After High School I began volunteering for the Fire Department here, I decided to pursue a career in Fire and E.M.S., attending Bates Technical College, working in Fire residency programs and volunteering with Aero Methow Rescue. I was hired by Bothell Fire and E.M.S. in 1997 and continue my career there. I have volunteered many years here, attended many commissioner meetings and applied for the station site committee (I was not selected). I believe new leadership is needed on the Fire commissioner board to improve the direction and success of Okanogan County Fire District #6.
What are some of the most pressing challenges to fire district:
I believe a new, larger and modern station is badly needed in Winthrop. However, taxpayers must believe their money is being well spent. I will work to build the right station, in the right location and most importantly a station which will be supported by the community. Fiscal responsibility is essential in any operation/organization. We need better accountability from our Fire District 6 commissioners than we have had in the recent past. The last two fire hall construction levies failed, the site and basic layout for the new station is virtually unchanged. Voters need a new approach to solving our needed goals.
Tell voters what distinguishes you from your opponent:
I will bring my 25+ year experience as a professional firefighter and previous FD6 volunteer to the commission. In addition to experience, I also bring years of continuing "fire" education, certification and awards. As a local business entrepreneur, I know how to effectively buy equipment, stay within a budget and still provide public service. A "valley wide plan" which applies resources proportionately will attract additional volunteers more readily than the status quo.
What is your top priority for the district:
I believe we need to do a much better job at recruiting, retaining and training volunteers at each of our stations. Our district website states a minimum of 75 firefighters needed in FD6. Currently, we have about 40. I will work tirelessly to get to that minimum goal. I will do this by implementing a High School program I first presented a few years ago. I will encourage all commissioners, Chief and firefighters to reach out to the community to find innovative ways to use volunteers in whatever capacity they can offer.
Candidate did not respond to Chronicle questions.
Hospital District No. 6 - Position 6
Background:  I have lived in the Grant County Hospital District #6 for two years.  My husband Paul and I have always been small town people and supportive of rural hospitals.  Three of our 4 children were born in Critical Access Hospitals in rural eastern and central Washington. I have worked in the medical field as a receptionist, insurance billing and most recently as Executive Assistant in a rural North Central Washington Critical Access Hospital.  I have always had a heart for healthcare.
What are some of the most pressing challenges to hospital? 
The ever changing federal, state and local guidelines and laws that are coming to Rural Hospitals that must be addressed and handled properly in order to keep the organization running smoothly.  It is always important to network and know what we are facing and finding the best avenue to stay on top of these changes rather than finding a solution when it is too late.
Tell voters what distinguishes you from your opponent.
I am an interested citizen with knowledge of healthcare.  I have witnessed many of the central Washington Critical Access Hospitals owing millions in warrants to the county; to no longer being in debt to the county.  This is very important with the changing healthcare guidelines that we manage the financials well as to not overspend.  Collecting diligently from our patients and their insurance for service rendered is crucial.  I will be delighted to serve on the board and promise to always be honest and fair for the staff and the community.
What is your top priority for the hospital?
Customer service is utmost important to me in our Greater Coulee community.  Our patients need to know they are being served in a quality health care facility close to home.  It is equally important to me that Coulee Medical Center be the Employer of Choice.  I believe it is important to acknowledge the employees letting them know they are valued. This provides a positive culture within the hospital setting along with promoting the best customer service in order to have a facility that serves the community well.
Candidate did not respond to Chronicle questions.
Republic City Council - Position 2
Backround: I moved to Republic Washington in 2011, from then on until the present day I have worked with my family at the Republic Pizza Co. Having spent my teenage years in this community I desire to give back by offering my time and energy to contribute in a greater way than in the past. I am an Eagle Scout, and I have also given service in other countries helping people less fortunate than us. As a business owner, I know what its like to try and survive financially in a small town and the difficulties of making ends meet.
What are some of the most pressing challenges to the city/town?
Community and Jurisdictional autonomy. I believe our community has been losing its ability to act and sustain itself independently. Tourism will only take us as far as the greater national economy will let it and when said economy begins to wither away, we will begin to hurt greatly. We also require strong independence in city government. We cannot allow outside influencers to control the local politics and city management and pretend to know what we want better than what we know we need.
Tell voters what distinguishes you from your opponent.
 I have never held political office, nor worked for any governmental organization. I do believe to hold a unique perspective on politics and governance because I have not sought for office as a livelihood nor as a platform to goad those with whom I disagree. I am energetic and proactive in engaging in the city council as it currently stands, and will continue to do so regardless of the outcome of this election.
What is your top priority for the city?
I believe it essential to bring the community of Republic together. As a servant of the people, I promise to set aside all personal matters to put you, the people, first. If I win, I am dedicated to seeing to the needs of this community, what do the people of Republic want? I will gladly hear them and support and voice their opinions in the council. I promise to protect this city and maintain both its financial and physical wellbeing.
Candidate did not respond to Chronicle questions.
What are some of the most pressing challenges to the city/town?
Several needs were identified following the 2014/2015 wildfires, like a functioning facility and communications capability for law enforcement. Now with full-funding in place for an EOC, we need to build it.  Overdue repairs to the water and sewer systems (lifelines in fighting fires) is needed because some neighborhoods don't have adequate flow and upgrades are needed at the sewer plant to handle increased capacity.
And, we have complex issues that need to be solved like acquiring water rights to restore historically lost rights; replacement of an aging pool; addressing drug addiction and crime; and providing affordable housing for our community.
Tell voters what distinguishes you from your opponent.
It has been an honor to have served as Twisp Mayor for the past 9 years. During my tenure, our community has overcome many challenges (including disasters) to become a stronger community. Together, we have managed to recapture a portion of our water rights; procured $4M in funding to construct a new public works facility and townhall/EOC; built our first segment of trail; reconstruction of a Sports Complex; repaired vital water/sewer infrastructure; and fixed 35% of town streets. I believe that by fostering strong partnerships to collaboratively work together across jurisdictions with private/public partners we will continue to be successful. 
What is your top priority for the city?
I am very proud of the work that my staff team has already completed and I would like to see us continue to build on recent accomplishments. In the near term, my priority remains in working toward fully restoring water rights; complete construction of the new townhall/EOC; complete overdue water/sewer improvements; improve critical communications infrastructure for local public safety and economy; and continue to work collaboratively with partners to be innovative in solving increasingly complex issues: drugs, crime, affordable housing, and how to properly maintain public assets like the pool, streets, and other facilities despite limited local and state resources.
Candidate did not respond to Chronicle questions.
Twisp Town Council - Position 3
Background: Resident of Twisp for over eight years. Serving on Twisp Town Council since 2016
What are some of the most pressing challenges to the city/town? 
Our town is in a growth phase. This is an exciting time and presents many opportunities. We have a growing business sector, a vibrant non-profit community and a clean environment.
It's thanks to the dedication and commitment of our elected team and the excellence of our town staff that we can say this. We remain focused on providing thoughtful and responsible management of our town resources such as our streets and infrastructure, our law enforcement and emergency responders and our parks.
As I have said, we will remain focused and responsible so that we can all be proud of our town, now and as we prepare and plan for our future needs.
Tell voters what distinguishes you from your opponent.
Since I don't know the platform of the other person running for Council position #3, I will refrain from answering this question.
What is your top priority for the city?
To continue moving forward with the progress that has been taking  place the past few years. Responsible economic and residential growth. Continuing with the implemented improvement plans for our streets, water and sewer upgrades, and other infrastructure issues facing our community.
Candidate did not respond to Chronicle questions.
Twisp Town Council - Position 4
Background: I was appointed to the Town Council in early 2018 and have gained invaluable experience working with the other council members and the Mayor. My background is in retail and property management, since moving to Twisp I've work fulltime as an artist.
What are some of the most pressing challenges to the city/town?
There are many. Affordable housing, water meter replacement, fire flow, waste water treatment plant improvements, emergency preparedness, the impact of climate change, the swimming pool, continued infrastructure improvements, and sustainable economic growth. And maintaining and improving current services that we all want, need, and use, like road plowing, water delivery, and police protection to name a few. The task is to move it all forward in a way that serves the community and is affordable without putting an undue burden on the community.
What is your top priority for the city?
As I stated above there are many. The task is to move forward in a way that serves the community, and is affordable and equitable to all, without putting an undue burden on the community. I do feel we have an amazing team in place, from public works, police, to town clerk's office and the mayor, along with a town council that is dedicated to improving the quality of life in Twisp.
Tell voters what distinguishes you from your opponent.
I was appointed to this position in early 2018 and have gained invaluable experience working with the other council members and the mayor. I will use that knowledge going forward to better serve. I have no ties to special interests, so can bring an objective perspective to the position.
I want to continue the hard, but good, work the Town is doing to improve the quality of life in Twisp for everyone in the community. To continue to work to increase truly affordable housing units, to continue to bring infrastructure up to date throughout the town.
Candidate did not respond to Chronicle questions.