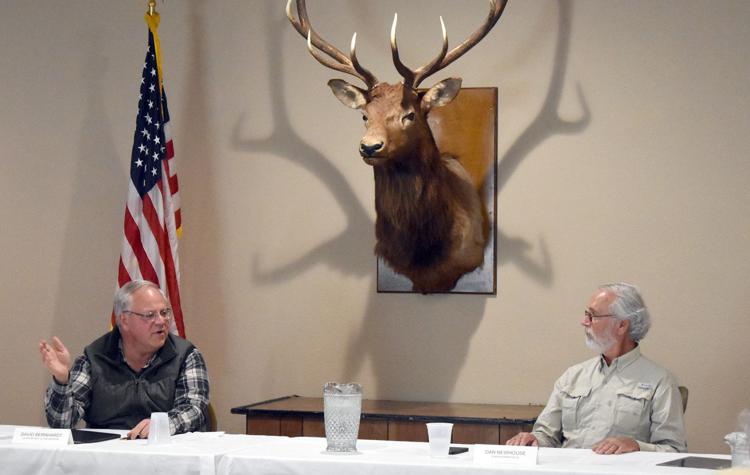 OMAK — The U.S. Department of the Interior is abandoning plans to reintroduce grizzly bears to the North Cascades after listening to concerns from residents.
U.S. Secretary of the Interior David L. Bernhardt made the announcement Tuesday, July 7, at a roundtable discussion with local elected officials and stakeholders at the Omak Elks Lodge.
"Rep. (Dan) Newhouse has been a tireless advocate for his community and his constituents regarding plans to reintroduce grizzly bears into the North Cascades ecosystem," Bernhardt said.
"The Trump administration is committed to being a good neighbor, and the people who live and work in north central Washington have made their voices clear that they do not want grizzly bears reintroduced into the North Cascades. Grizzly bears are not in danger of extinction, and Interior will continue to build on its conservation successes managing healthy grizzly bear populations across their existing range."
"This announcement is welcomed by my constituents in central Washington who have consistently shared my same concerns about introducing an apex predator into the North Cascades," said U.S. Rep. Dan Newhouse, R-4th District. "Homeowners, farmers, ranchers and small business owners in our rural communities were loud and clear: 'We do not want grizzly bears in North Central Washington.'"
Sen. Shelly Short, R-Addy, said she was pleased by the decision.
"I am ecstatic that the reintroduction of grizzly bears into the North Cascades has been stopped," she said. "For years, those impacted by this reintroduction have been ignored. Finally, a decision that recognizes the importance of the safety of our communities and our local economy."
"Much like 'taxation without representation,' our rural communities are suffering from 'regulation without representation,'" Rep. Jacquelin Maycumber, R-Republic, said. "Secretary Bernhardt listened to the extensive community and local elected comments in opposition to grizzly bears in the North Cascades and, finally, delivered this decision for North Central Washington."
Douglas County Commissioner Marc Straub said the decision "gives our local communities the confidence that their voices are being heard, and we are grateful for the decisive leadership on the grizzly bear proposal."
Jeff Dawson of the Washington Cattlemen's Association said the decision is "good news for Central Washington's livestock producers, which is something we don't hear very often."
Jeff Keane, Second vice president of the Washington Cattlemen's Association agreed.
"It is much appreciated that government officials really looked at the total picture of adequate habitat and food supply for grizzly bears and especially listened to the concerns of citizens most affected by the proposal," Keane said.
The Department of the Interior began planning the environmental review process for an updated grizzly bear restoration plan for the North Cascades ecosystem in February 2015 under the Obama administration without comprehensive public involvement and engagement.
In 2017, the department had numerous public meetings, tribal consultations and more than 70 stakeholder briefings, during which overwhelming opposition was received for the plan. Two public review and comment periods were held on the draft environmental impact statement, with more than 143,000 comments submitted.
Separate from the issue of reintroducing grizzly bears into the North Cascades, the recovery of grizzly bears in the lower 48 states is considered a success story because of collaborative conservation efforts led by federal, tribal, state and other partners. The National Park Service and U.S. Fish and Wildlife Services led the efforts for self-sustaining grizzly bear populations, primarily focused in six areas of Idaho, Montana, Washington and Wyoming.
The Greater Yellowstone ecosystem (GYE) has been the primary focus of grizzly recovery efforts to date. The GYE grizzly bear population is one of the most studied bear populations in the world because of the longstanding efforts of the Interagency Grizzly Bear Study Team (IGBST), with grizzly bear populations increasing significantly since being listed under the Endangered Species Act in 1975.
In October of last year, Bernhardt visited Montana with U.S. Rep. Greg Gianforte, R-Mont., speaking to additional actions that have now since been taken by the department to strengthen state management of grizzly bears, help limit human conflict and effectively manage healthy populations of the species, officials said.
While the decision to cancel the grizzly bear reintroduction plan was well received by the small group of officials and stakeholders Tuesday morning, others aren't pleased.
"Recent public comment periods and past polling show that roughly 80 percent of respondents support grizzly bear restoration in the backcountry in and around North Cascades National Park, including residents on both sides of the Cascade Crest," said Conservation Northwest spokesman Chase Gunnell. "Despite what Rep. Dan Newhouse has claimed, many local residents of Okanogan County support grizzly bear restoration, including attendees at the Omak event last fall and many of the more than 250 people who turned out for Conservation Northwest and Methow Valley Citizens Council's event in Winthrop in October.
"We're concerned about the lack of transparency that led to this decision, and its departure from the years-long public process that consistently documented strong public support for careful grizzly bear restoration led by science and community input, including more than 130,000 supportive comments," Gunnell said.
"I hunt deer, hike and backpack in the backcountry of the North Cascades in Chelan County every fall and have had my share of grizzly run-ins in Montana and Alaska; all positive experiences," he said. "With some straightforward precautions, there's no reason we hunters and outdoor recreationists can't continue to enjoy this rugged landscape. I believe our experiences and natural heritage will be enhanced knowing these iconic creatures share this wilderness."
Gunnell said experiences in other states - like Montana and Alaska - have shown it is possible for people who live, work and recreate in bear country to coexist safely with the native animals.
"Hikers, backpackers, ranchers, hunters and others who visit North Cascades National Park and surrounding wilderness areas are capable of sharing this landscape with grizzly bears," he said. "We believe grizzly bears will eventually be restored to wild backcountry of the North Cascades, their home for thousands of years, as action is legally required under the Endangered Species Act and federal grizzly bear recovery plans, and public support for restoring this native species remains strong."
Conservation Northwest International Programs Director Joe Scott agreed.
"It's unfortunate for a number of reasons," Scott said noting discussion and research into the reintroduction of the bears have been underway for nearly 40 years.
He called the swift decision "not right."
"It's not ethical," he said. "It's not good public process. It flouts the science and is unfair to those involved and interested. It's not good for the species."
"I've been working personally on this for almost 30 years now," Scott said. "And those of us who have done this are pretty immersed in this."
Methow Valley Citizens Council Executive Director Jasmine Minbashian agreed.
"Newhouse is ignoring a large majority of his constituents who support grizzly bear recovery, many of whom who live in the heart of the proposed recovery area," Minbashian said. ""He can do better than this. The proposed restoration plan is a modest plan that would give grizzly bears a chance at survival in their native home – the North Cascades."