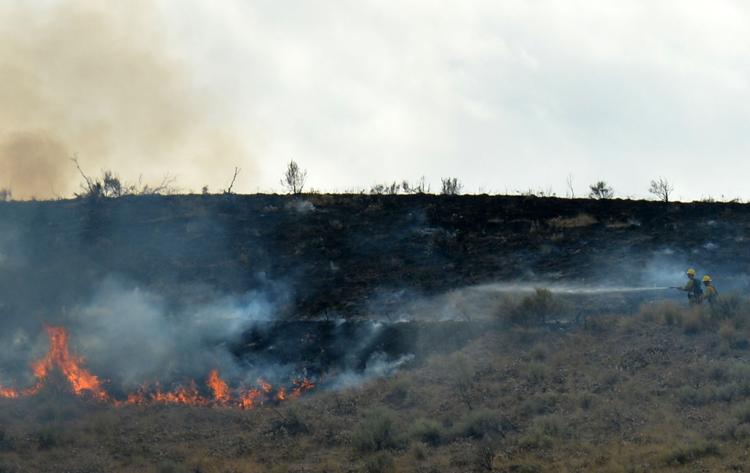 OKANOGAN – A Tuesday evening lightning storm brought smoke checks and ignited several small wildfires across eastern Washington.
According to the National Weather Service, there were 3,499 cloud-to-ground strikes, and 28,630 cloud flashes in the past 24 hours. 
"Firefighters working throughout the day and into the evening yesterday have confirmed 30 wildfires on the national forest resulting from the lightning storms of the past 24 hours," officials from the U.S. Forest Service said Wednesday morning. "Crews are currently staffing wildfires from the Methow Valley all the way to Naches with all wildfires currently being under .5 acres in size.
"Aerial reconnaissance will also be utilized over the coming days to detect wildfires in remote back-country and Wilderness areas," officials said. "As new fires are discovered, each one will be carefully evaluated for the right strategy- this could mean 'putting it out' to allowing fire to play its natural role in the ecosystem or a combination of strategies based on the unique firefighter and public safety, location, terrain, resources, weather and values of each fire."
According to the Northeast Washington Interagency Communications Center, smoke checks in Okanogan County included the areas of Paradise Hill, Nicholson Creek, Loomis, Diamond Lake, Eider Road, Wannacut, Palmer Mountain, Chesaw Road, Whiskey Mountain, Mount Hull, Fancher Dam area, and Cayuse Mountain.
Fire in Okanogan County included the areas of Jones Hill, 15 acres; Seven Flat, 0.1; Corner Butte, 0.1; and Holmes, 0.2 acres.
The lightning storm came a day after blazes ignited on Limebelt Road and Dry Coulee Road.
The Limebelt Road fire was contained Tuesday at 22.09 acres.
The Dry Coulee Road blaze was contained Monday at 11.5 acres. Both fires prompted Level 1 (be aware) advisories.
Colville Confederate Tribe
As of Wednesday morning, the Colville Confederated Tribe announced there were nine active fires on the reservation.
"Within the past three days, the Colville Reservation has experienced a few fires caused by lightning strikes," officials said. "Resources here are on standby for more lightning caused fires that may develop later this week."
Reservation fires include the areas of Cooper Creek II, 3.73 acres; Upper Wilmont, 1.8 acres; Cook Creek, 11.6 acres; Lower Granite, less than an acre; Gold Mountain, less than an acre; Cameron Lake, no acreage report yet; 13 Mile, no acreage report yet; Hall Creek,no acreage report yet.
Smoke reports from Ferry County include in the areas of Matson Creek, Deer Creek, Graphite Mountain, and Rattlesnake Gulch.
Smoke reports from Stevens County include in the areas of Red Lake, Hill Loop Road, Sisters, Burroughs Road, Orient, Harvey Creek, Stoney Mountain, Williams Lake, Williams Valley, Gifford, North Horse, Ponderosa Ridge, Addy-Gifford Road, Quartside, Peterson Swamp, Ellsworth Road, Razey Road, Northport Flat Creek, Sand Creek and Cottonwood Creek.