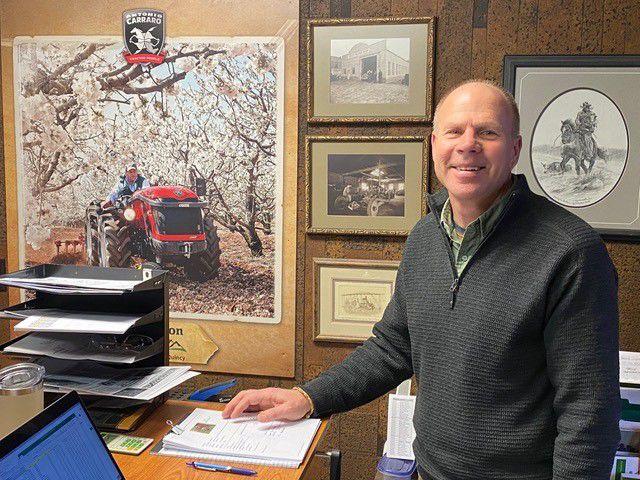 OKANOGAN - Greg Hamilton, who worked for more than 40 years at the family business, Hamilton Farm Equipment and now Washington Tractor, is retiring this month.
A party in his honor will be from 2-4 p.m. Thursday, Feb. 27, at the store, 1 Patrol St., Okanogan. A no-host after-party will be at 5:30 p.m. at The Club Sports Bar and Grill, 199 Pine St., Okanogan. Both events are open to the public.
Feb. 27 also is his official retirement date.
The Hamilton family has owned and managed the Okanogan store since 1934 under the names Graves Machine Shop, Hamilton Farm Equipment and Washington Tractor. Greg Hamilton is the third generation to own and operate the store.
In the 1970s, he worked for the family business during the summers. He recalls seeing irrigation plans laid out at home, as his dad, Jack, designed irrigation systems. He also helped with installation.
He graduated from the University of Washington in 1978 with a degree in business administration. He returned to Okanogan and started in the parts department and then became parts manager. He went into sales in 1983 and, in 1991, became general manager.
He was part of the company's expansion to add various brands. The store later added rentals.
In 2012, Hamilton Farm Equipment became Washington Tractor when Hamilton merged with three other owner groups to create what is now 12 stores and 310 employees.
Greg Hamilton and his wife, Mary, met during their senior year of high school when she moved from Spokane to Okanogan. They married after their sophomore year in college and moved to Seattle to attend the UW.
They have a son, Conor, who joined the family business in 2009.
Mary Hamilton plans to continue working at Washington Tractor.
In retirement, Greg Hamilton plans to stay active in Okanogan-Omak Rotary Club and as the main organizer for Business Week, which brings together juniors from Omak and Okanogan high schools to learn about business. This year's event is March 16-20.
He said he looks forward to spending more time on hobbies and with community involvement.
The Hamiltons retain ownership in Washington Tractor and he will remain on the board of directors. He said the business has been good to the family, and he has enjoyed working with other small businesses and farmers.